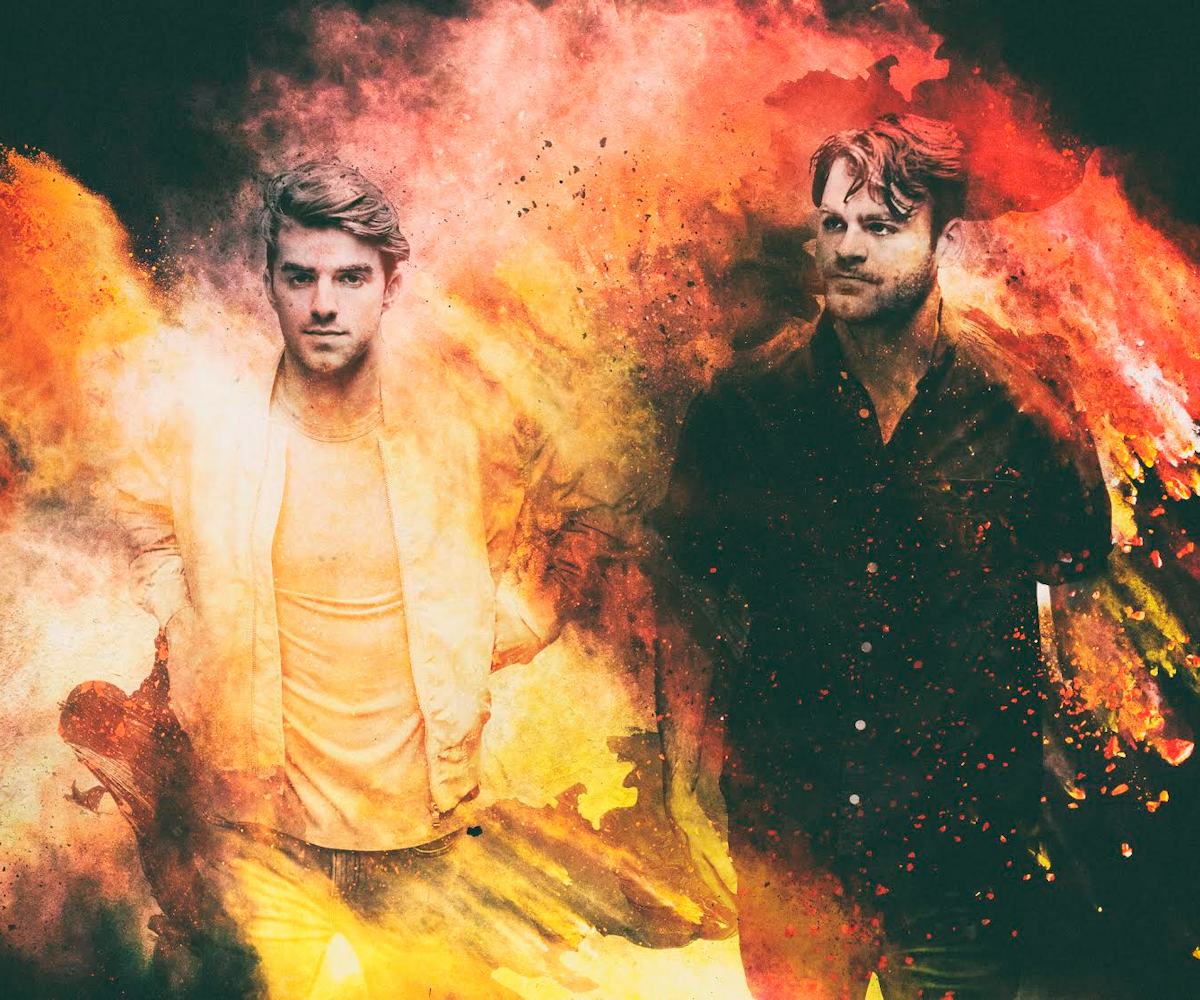 Photo by Maarten de Boer
The Chainsmokers Get One Step "Closer" With Halsey
We ain't ever getting older
New York's Alex Pall and Drew Taggart, aka The Chainsmokers, have had a wild ride the past couple of years. Every release they've had seems to advance them 10 steps forward. "Kanye" gave us all ego boosts for when we're feeling down; "Roses" made us sigh while we daydreamed of relationship goals; and now, working together with Halsey, we have "Closer," their biggest song to date, which debuted in the Billboard Hot 100 at number nine. It's a more personal journey, lyrics-wise, than previous efforts, and gives a glimpse into who Pall and Taggart are in a way never before seen in their other creations. Now riding a stratospheric rise that sees the acrobatic and mid-set jump-loving duo working at a pace faster than ever before, we took a few minutes to chat about creating "Closer," if fame affects them, and naturally, where to find the best pizza in New York.
"Closer" is written about a very specific kind of interaction with an ex... Is there a story behind it?
We aren't trying to call anyone out, but this was specifically written about some of Drew's exes from Syracuse. But the idea isn't meant to be super vengeful. It's just this concept we had for a song that we can relate to. The idea came from many experiences in our past of running into an ex, and thinking they look really hot, and for that moment forgetting all the reasons why you broke up, and then hooking up... And quickly remembering. It's sort of comical really, but very relatable.
What was it like working with Halsey?
She is one of the most real and talented artists around at the moment. We also drooled over the idea of working with her and with this song it seemed like the perfect opportunity. Originally, the song was just about us and our experience with exes but when Halsey was on it, it added a whole new dimension. It became so much more of a story of a relationship. 
How so?
When we originally cut the song it was a one-sided story. When Halsey got on the song it changed the dynamic in such an amazing way. It became more of a dialogue with her on the track of a failed relationship that's being rekindled, and thus added this really awesome layer of depth. 
This is the first time Drew has sung on a song. Is this some super-talent that you have miraculously hidden for years?
[Laughs]
Yes, we have kept it hidden, but it's something we always planned on doing when the time felt right. It really came down to a buddy of ours, Shaun Frank, who also helped write the song. We expressed our interest in getting Drew to sing and Shaun is a wiz at processing vocals and said he could make Drew sound like Aretha
[laughs]
, so he taught us some tricks and
voilà
! But truth is, Drew is a good singer, and a lot of it has to do with confidence.
If we go out for a drink together, what are we having?
1942 without a doubt. It's expensive and all, but that is the best-tasting tequila, period! Fireball served us well, and for a quick turn-up there's nothing better, but it's done lasting damage on our psyches.
Who jumps better, you guys or Steve Aoki?
We do. Well, actually, if you factor in Alex, maybe Steve cause Alex can't jump for shit.
It seems like every single released is exponentially bigger than the last. Is there anything about fame that weirds you out or you find scary?
We are for sure lucky to be having the success we are with our music, but fame is an entirely different thing. That's walking down the street and people mobbing you, or tabloids creating fake stories. We are just really excited that the stuff we are doing, which is inherently us, is being welcomed so warmly. Obviously you can stress about what your next song will be, or why your Instagram isn't popping, but that is the wrong stuff to focus on. We want to keep enjoying this, and build on it more and more. For us, it's about making the connection between our music, which everyone seems to be enjoying for now, and us as artists/people. Additionally, there's the idea that we are just two middle-class white guys... We don't exactly scream "exciting stories," so it's about finding inspiration in unexpected places and writing things like "Closer" that people find entertaining and relatable.
Is there a particular moment with a fan that sticks out in your memory?
In Australia we heard there was this fan of ours that just had open heart surgery and really wanted to meet us. So we connected with his friend and surprised him at the hospital. It's not something we had done before, and it was the first time we realized that just taking a little time out of our day could make such a big difference to someone else. 
What do you find inspirational right now, that's not musical?
The Rock, Dwayne Johnson! We have both been huge fans of his but that guy is literally our number one inspiration. He works so hard, is so cool, and does so many great things for so many people. Anytime we think we can't push a little harder or do a little more, we think about what that dude is doing and suck it the fuck up.
You guys are from New York—what's the one non-touristy New York thing people should do when they visit?
Hm... Honestly, Rubirosa pizza, that is our jam! 
What's coming up next for The Chainsmokers this year?
We are excited right now. "Closer" is proof of concept, and a lot of the stuff we are working on that is up next has us really excited. With every new song new opportunities arise so we are just pumped about the possibilities at the moment... but for now we're gonna keep it chill
—
light beer and late nights.
With all your time traveling, there must be shows you're binge-watching?
Stranger Things
is our crack right now!