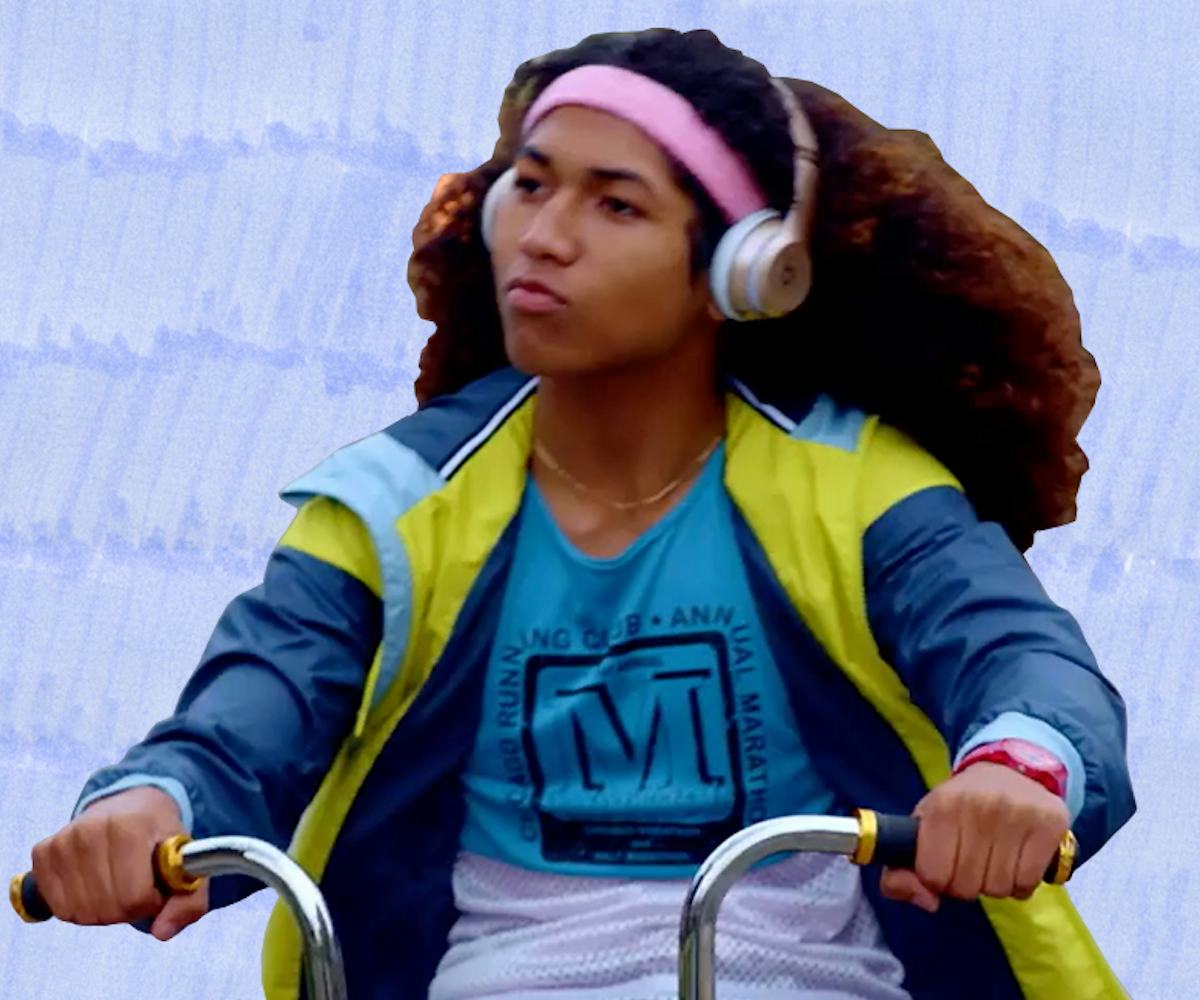 Photo from SHOWTIME
A Truly Chicago Story: Inside The Musical Universe Of 'The Chi'
Talking to Chicago's musicians about the seminal show
A teenager swoops through the dusky Southside streets to the booming digitized gospel of Chance the Rapper's "All We Got" featuring Kanye West. A fated (and nearly fatal) confrontation is punctuated by the hellish, disembodied synths of Alex Wiley's "Time." The DJ at a neighborhood block party cycles through Common, Jodeci, and Peabo Bryson while attempting the Sisyphean task of catering to the divergent tastes of multiple generations.
Lena Waithe's series The Chi, which airs its first season finale on March 18, depicts a Chicago that is equal parts joyous and dangerous, but not in the sensationalized way we've grown accustomed to seeing the city depicted in the media. Working with Common, Rick Famuyiwa, and a talented crop of writers, including Elwood Reid and Ayanna Floyd Davis, Waithe's show is a broad look at life on the city's Southside, examining the ripple effects of violence, the strength and struggles of families, and the clash between the characters' ambition and their circumstances. Waithe focused heavily on four African-American males, the youngest, Kevin (Alex Hibbert), navigating the hazards of middle school, while the eldest, Ronnie (Ntare Guma Mbaho Mwine), finding himself firmly middle-aged, grief-stricken and adrift in life. "My mission is to show these young black men are not born with a gun in their hand," Waithe told The New York Times. 
To combat that grizzly and shallow stereotype, Waithe turned to veteran music supervisor Barry Cole, who dove deep into Chicago's rich history, both its past as a hotbed of blues and R&B and its present turn as a well of soulful, honest, incisive music. With the current flood of musical talent the city has been producing, finding material was the easy part (Cole already has plenty in the chamber for the show's recently announced second season), but many young artists were initially wary of more media trying to depict life in their city.
"Chi-Raq had come out before, and it wasn't the best representation of what we wanted our city to be portrayed as, what I wanted my city to be portrayed as, so I didn't know what to think," said Taylor Bennett, a major figure in the city's independent rap scene who had two tracks appear in the series premiere. "But after finding out that Lena Waithe was the head of it and she was working on it, I knew it was going to be something that I liked, but nothing could have prepared me, man. It's a great show."
Bennett wasn't alone in his trepidation. Rapper Alex Wiley said he didn't tell anyone he had songs featured in the series until he had the chance to see it for himself, while Nico Segal, producer of "All We Got" and member of The Social Experiment, admitted that he was "a little apprehensive" until he, too, heard Waithe was behind the show. Singer theMind was likewise heartened by her presence, citing The Chi and shows like Atlanta, Insecure, and Quinta vs. Everything as important steps toward reflecting the black diaspora and African-American experiences onscreen. The involvement of Waithe, who became the first black woman to ever win the Emmy for Outstanding Writing for a Comedy Series in 2017, was also a strong selling point for Mick Jenkins, whose funky come-on, "Your Love," soundtracks a frenzied sneaker sale in Episode 6 along with The Cool Kids' "T.D.A."
"For a long time, I've felt that we were missing out on black stories being told from real black perspectives in TV, with relevant black language and attitudes," said Jenkins. "To be a part of the telling of a truly Chicago story is a dream come true. Music is my art. Storytelling is my art, so to see it laced over a medium I enjoy, written by a black artist from Chicago, telling a Chicago story... it's a great feeling."
Part of what elevated The Chi's music above the usual crate-digging and Spotify-scouring typical of TV music supervisors were the relationships Cole built with the artists, Kiara Lanier and Wiley in particular. Lanier, who sings "Precious Lord" a cappella during a heart-wrenching funeral scene as the show's sole on-camera vocal performance, was brought in through an audition, winning the part with her equally powerful and vulnerable delivery. Lanier described the experience as "inspiring," and said she grew close with actors like Jason Mitchell and Sonja Sohn, as well as Cole, who was on set for the performance. After meeting Lanier, Cole invited her to submit music for the series and wound up selecting her song, "Body Was Made for Mine," to use in an intimate scene.
Lanier said she appreciated that The Chi challenged the "narrow and jaded perspective" most media has toward her city, and that, having lived all over Chicago, including in Chatham—the Southside neighborhood where Chance, Taylor Bennett, and Waithe all grew up—she was aware of violence, but also of the harmony of the city's residents.
"I've never gone outside and seen bodies on the street. I can count on one hand how many times I've even heard a gunshot. I don't personally have that experience of the Southside, and my family has lived on the Southside all my life," she said. "I have the experience of seeing black people hustling, striving, shoveling their neighbor's sidewalk. I have lived a different perspective than what people believe the Southside is. Not to say that crime and violence don't exist, sure it does. I think there is a higher concentration of crime in different small pockets of Chicago, but it's not ubiquitous."
In Wiley's case, publishing and sample clearance issues kept two of his songs Cole had wanted to use from making the cut, but the rapper said he worked with the music team to find records that worked, something that never happened when he previously had music licensed. Wiley and Cole have since become friends, meeting in real life for lunch when they were both in New York. Through this experience, Wiley became intrigued by the process of music supervision and hopes he can have an active role helping select songs for Season Two.
"I'd like to be more involved in helping curate the music for it, but that's just conversations that I've been having with Barry about being a bit more hands-on with the music. It honestly seems hella fun," Wiley said.
Beyond the contemporary rap and R&B that Cole relied on, the show also employed its share of the city's classic blues, funk, and soul. With a background as a DJ, Cole set to work assembling a massive shared resource of music for his team that incorporated veteran Chicago artists like Buddy Guy, Chaka Khan, and Darrow Fletcher. He said the key was thinking not just about how the music would make the audience feel, but how it would illustrate the differences between characters. In the show's block party scene, for example, conflict arises over the DJ refusing to play rappers like Lil Bibby and King Louie. For Segal, who makes hip-hop with artists like Chance, Noname, and Saba, as well as jazz fusion with his band The JuJu Exchange, the array of music featured in the show is essential for capturing the sonic breadth of his hometown.
"That's very true to our city, where there's a crazy rock or punk show happening down the street from a crazy rap show, down the street from an amazing jazz show, down the street from a crazy salsa show," said Segal. "It's just a very diverse place in that way, especially musically. Being in the Midwest, we're influenced by any- and everything."
"I just think they did it correctly, and it seems like it like stands out when people do it correctly with Chicago because it's so often done incorrectly," Wiley said.
In the face of these external misconceptions, Chicago's musical community has thrived and grown close despite neighborhood and genre differences. The artists involved, from Chance and Segal to Lanier to Noname to theMind have all been collaborating for years, many long before they were in the public eye. Segal, who lived on the Northside in Rogers Park, said that playing music opened up a city for him that has been criticized for being among America's most segregated.
"Music was instantly the thing that tied us together, and we're all from completely different places. A lot of my closest friends growing up, like Vic [Mensa], lived on the Southside, and I've always traveled because I had to play music. The trumpet is what would really take me all over the city and in places that I would never really be and, a lot of times, in areas where people would ask me if I was lost or what I was doing there," said Segal. "I always was playing music, I was always on my way to study with some trumpet player or be a part of a different jazz band, and that was all over the city and that was all the time."
Though born in Philadelphia, theMind moved to Chicago to attend Columbia College and instantly set down roots in the city, amazed by the musical community he quickly joined. He had three solo songs appear in Episode 7 and guested on a pair of Noname tracks that also made the cut. The nostalgic tone of his music reflects the struggle of younger characters, like Kevin and his friends Jake and Papa, who feel a constant push-pull between savoring their adolescence and the harsher realities of their environment.
"The Chi makes me reminiscent of my childhood, and all three of these songs embody that spirit. 'Come Home,' 'Summer Camp,' and 'Sand Dunes' all speak of innocence lost and trying hold on to beautiful moments while not becoming jaded by the fucked-up ones," he explained. "The story is just that: We can let our past define us and, eventually, kill us, or we can choose to change."
In addition to the artists who participated, Cole has also seen responses online that have highlighted how tightly knit Chicago's artistic community can be.
"I was licensing a song for the final episode, and I got a note that the lead singer from that song was actually an extra in the show," he said. "Before every episode, I thank all the artists that licensed music [on Twitter], and I got a tweet from someone that was like, 'That song by the Mod Singers, that's my grandfather. I want to talk to you!' Those kinds of connections are great. There's so much great music that, because there's so much to listen to, it's hard to filter. The Chi becomes a great filter for new and old music that comes from the region."
There's surely a powerful moment coming in the finale that involves Chance and the Social Experiment's "Sunday Candy," which Cole said the Chicago rap superstar was directly involved in placing, but the show's most iconic musical moment from Season 1 may well remain the opening montage, where we're taken on an impromptu tour of his neighborhood and we see joy, community, and devastation in the span of a few minutes. The message of "All We Got" is one Segal said captures both the beauty and urgency of his city's artistic community and part of what has inspired all the incredible music that ultimately helped bring The Chi to life.
"Kanye's message on the song is simple, but it's powerful: 'Music is all we got.' I remember the conversations we had about how that felt and what that meant in the song and, yes, it's fun and it fills you with a kind of joy and energy about the song, but it's also a really bleak message," said Segal. "I think a lot of people, especially in Chicago, have that type of feeling where it's like, 'My creation or my creativity—my music, the things that I relate to—that's all we got when we're seeing our friends get killed or we're seeing schools getting shut down. That's all we can latch onto.' So I think it's planting a deeper message in kind of an accessible way."
Where The Chi shines is in showcasing the depth and humanity of neighborhoods too often reduced to grim statistics. It's a mission shared by many of the artists whose music adds color and emotional heft to the show, and it's impossible to picture it succeeding without their contributions.
Or, as Waithe told Genius, "We couldn't be The Chi and have a bad soundtrack."