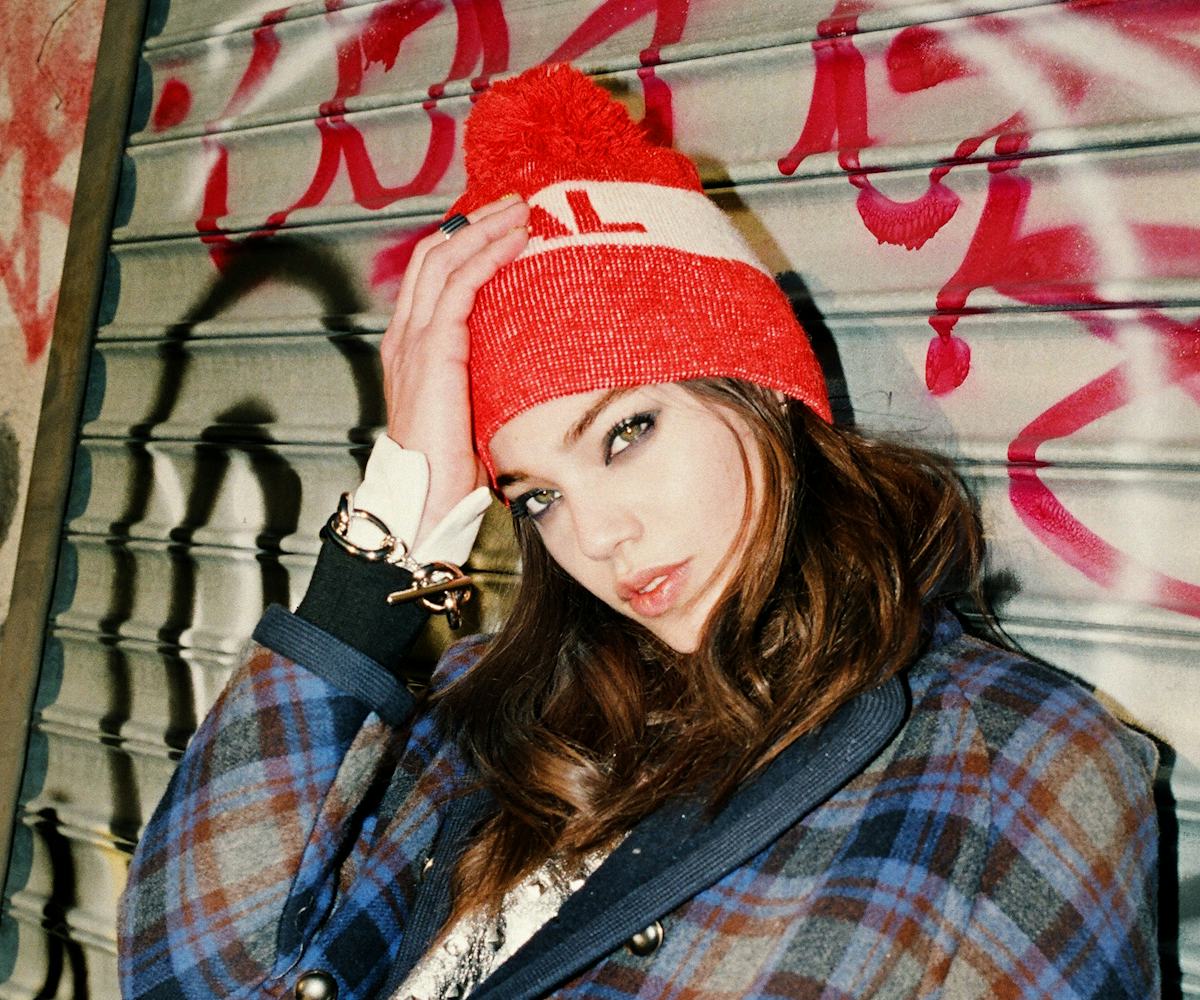 cozy up with the coolest coats
because being warm doesn't mean you can't be cool.
If the snow in New York wasn't a telltale sign, winter is here. While we'll be fighting it emotionally, physically we're going to have to buckle down and buy a coat to keep us warm through the rain, snow, and sleet.
Of course the problem with most winter coats is that they either make you feel like a pre-teen boy or the Michelin man, and in some horrible cases both. But not all coats are bad; we asked our editors their go-to winter coat styles, and what we learned is that the key is to think outside of the box. 
The Editor: Rebecca Willa Davis, Executive Web Editor
The Trend: Colorblocked Coats
The Reason: I'm indecisive with just about everything--what I'm going to eat for lunch, which movie I want to see, when I should go to the gym--so settling on just one color with a winter jacket when I'm shopping turns into a multi-hour affair. That's probably why I've been so into the colorblocked coat trend; why pick just one when you can have two, three, or even for different shades? 
The Editor: Steff Yotka, Associate Web Editor
The Trend: Fuzzy Coats
The Reason: Because the number one rule for me is coziness, and nothing makes you feel as snuggly or makes you as happy as being cloaked in something soft all winter long. 
The Editor: Liza Darwin, Senior Web Editor
The Trend: Boxy Coats
The Reason: That feeling after your alarm goes off but before you get dressed in the morning is the absolute worst. For everyone like me who just wants to curl up under the covers but can't, these boxy, cozy coats are a pretty cute alternative. 
Check out all the options in our gallery and tell us on Facebook which winter coat trend you're relying on to look cool while staying warm.
COLORBLOCKED COATS: Rag & Bone -- $995
COLORBLOCKED COATS: BB Dakota -- $79.06
COLORBLOCKED COATS: Armani Exchange Leatherette Mix Coat -- $149
COLORBLOCKED COATS: J. Crew -- $398
COLORBLOCKED COATS: Marc by Marc Jacobs -- $760
COLORBLOCKED COATS: DKNY Neoprene and Stretch-Cotton Coat -- $995
COLORBLOCKED COATS: Nine West Colorblocked Coat -- $119.99
COLORBLOCKED COATS: Mink Pink Colorblocked Coat -- $119
COLORBLOCKED COATS: Club Monaco -- $398
COLORBLOCKED COATS: Vince Colorblocked Coat -- $750
FUZZY COATS: Zara Leopard Coat -- $159
FUZZY COATS: J Brand Kay Jacket -- $2,495
FUZZY COATS: Nasty Gal Faux Fur Coat -- $130
FUZZY COATS: Asos Long Faux Fur Coat -- $142.38
FUZZY COATS: Topshop Curly Faux Fur Long Coat -- $250
FUZZY COATS: Express Cropped Ombre Bomber -- $168
FUZZY COATS: Nasty Gal Faux Fur Moto Jacket -- $108
FUZZY COATS: Marc by Marc Jacobs Faux fur Long Coat -- $798
FUZZY COATS: Topshop Curly Sheepskin Biker Jacket -- $550
FUZZY COATS: Blank NYC Vegan Lather and Faux Fur Jacket -- $148
BOXY COATS: Urban Outfitters Wool Coat- $244
BOXY COATS: Topshop Longline Coat- $178
BOXY COATS: Religion Contrast Oversized Coat- $213.58
BOXY COATS: Mango Cashmere Blend Coat- $149
BOXY COATS: See by Chloe Oversized Coat- $268
BOXY COATS: Lonely Hearts- $449
BOXY COATS: 10 Crosby Derek Lam Oversized Coat- $695
BOXY COATS: Forever 21 Oversized Southwestern Coat- $39.80
BOXY COATS: Free People Maxi Coat - $512
BOXY COATS: River Island Raspberry Coat- $140