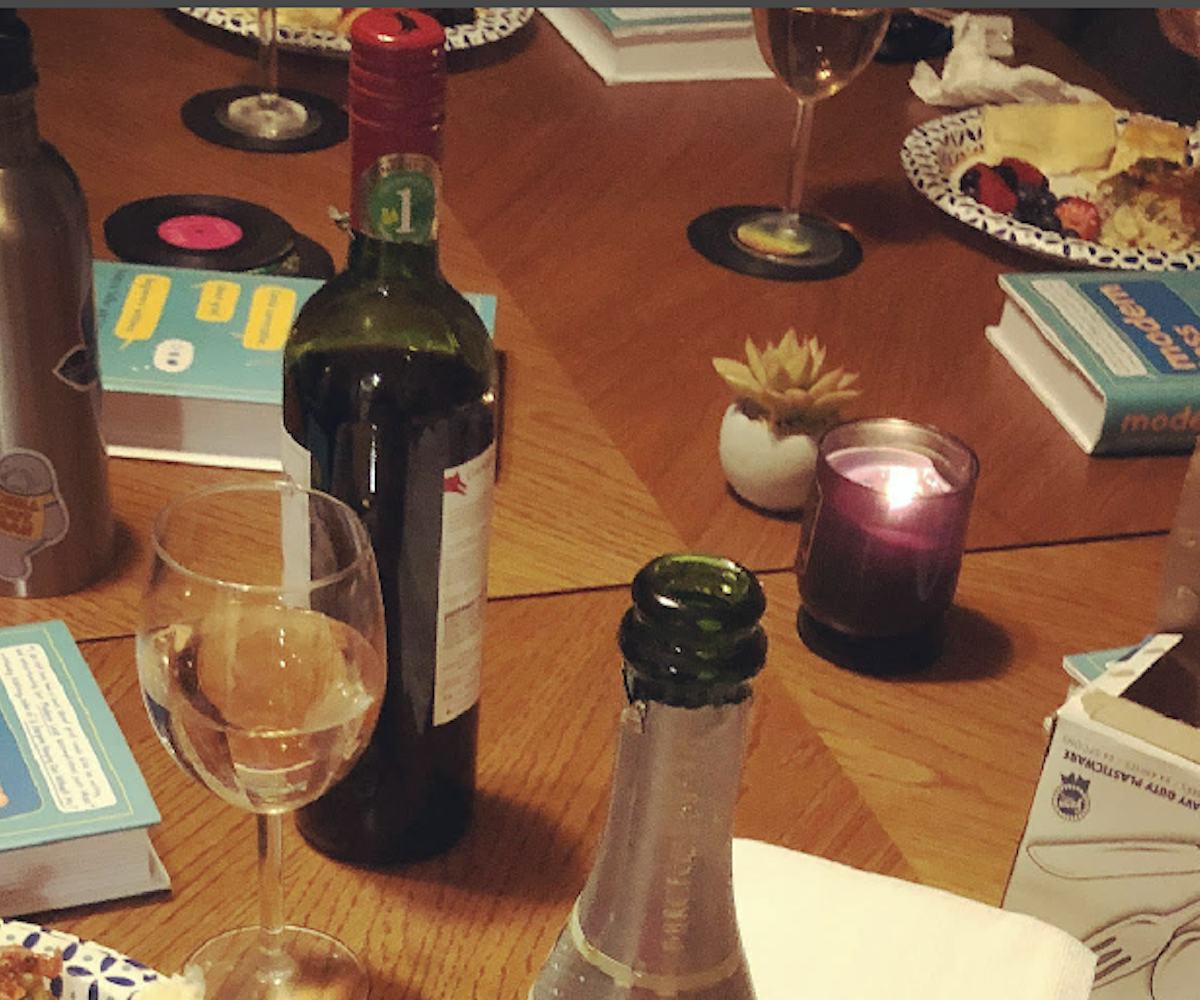 Photo by Mary Kate Morrow
How The Dinner Party Became A Place To Talk About Death
It was a crisp fall evening in 2010 when Carla Fernandez and four of her friends met for dinner. Paella was served and glasses were filled with wine. To an outsider, it seemed like a typical dinner party, except Fernandez and her "friends" had actually never met before, though they all shared a life-altering experience: each had lost a parent, and they were there to talk with one another about it.
Grief and the particular pain of losing a loved one isn't typically casual dinner table conversation, but as the group stayed up all evening exchanging their commonalities and experiences with loss and the ways it's manifested into their lives, it became clear that it should be a typical thing and that it was good for people—particularly young adults, who otherwise felt isolated in their states of grief—to have others with whom to share their experiences. And so, eight years ago, The Dinner Party was born.
A nonprofit whose mission is "to transform life after loss from an isolating experience into one marked by community support, candid conversation, and forward movement," The Dinner Party consists of events set up in cities across the country that aim to connect young adults and provide them with a judgment-free, relatable environment where they can share a defining part of themselves. As co-founder Lennon Flowers, whose mother died during her senior year of college, tells Oprah.com, the gatherings aren't "just about getting together and talking about loss… but finding a community that shares your story." 
I lost my single-parent mother in August 2017, after she endured a six-year battle with breast and ovarian cancer. We were best friends, and I played the role of caretaker throughout her illness. When she passed away, I had an immense amount of support from family and friends, as well as those in my mother's various cancer support groups. I felt extremely lucky in that regard, but there was still something missing. Most of the people who understood my grief were people my mother's age who had experienced loss throughout their lifetime. I struggled to find people my age who understood what I was going through.
I found out about The Dinner Party on my discover page on Instagram, just before my mother passed away. For me, The Dinner Party served as a place to connect with individuals who know what it's like to lose someone close to you when you are young and feel alone. For the first time, I didn't have to shy away from my experience. I could listen and talk with others about how much of a void there is on holidays, anniversaries, and birthdays, times that were once filled with immeasurable amounts of happiness, but now mean something entirely different for each of us. 
The Dinner Party is now being held in more than four dozen cities around the country. To participate or host a Dinner Party, visit the group's website. Sometimes, it's nice to know that you're not alone and that there are people out there who can be your "loss anchors" when it feels like no one else understands.