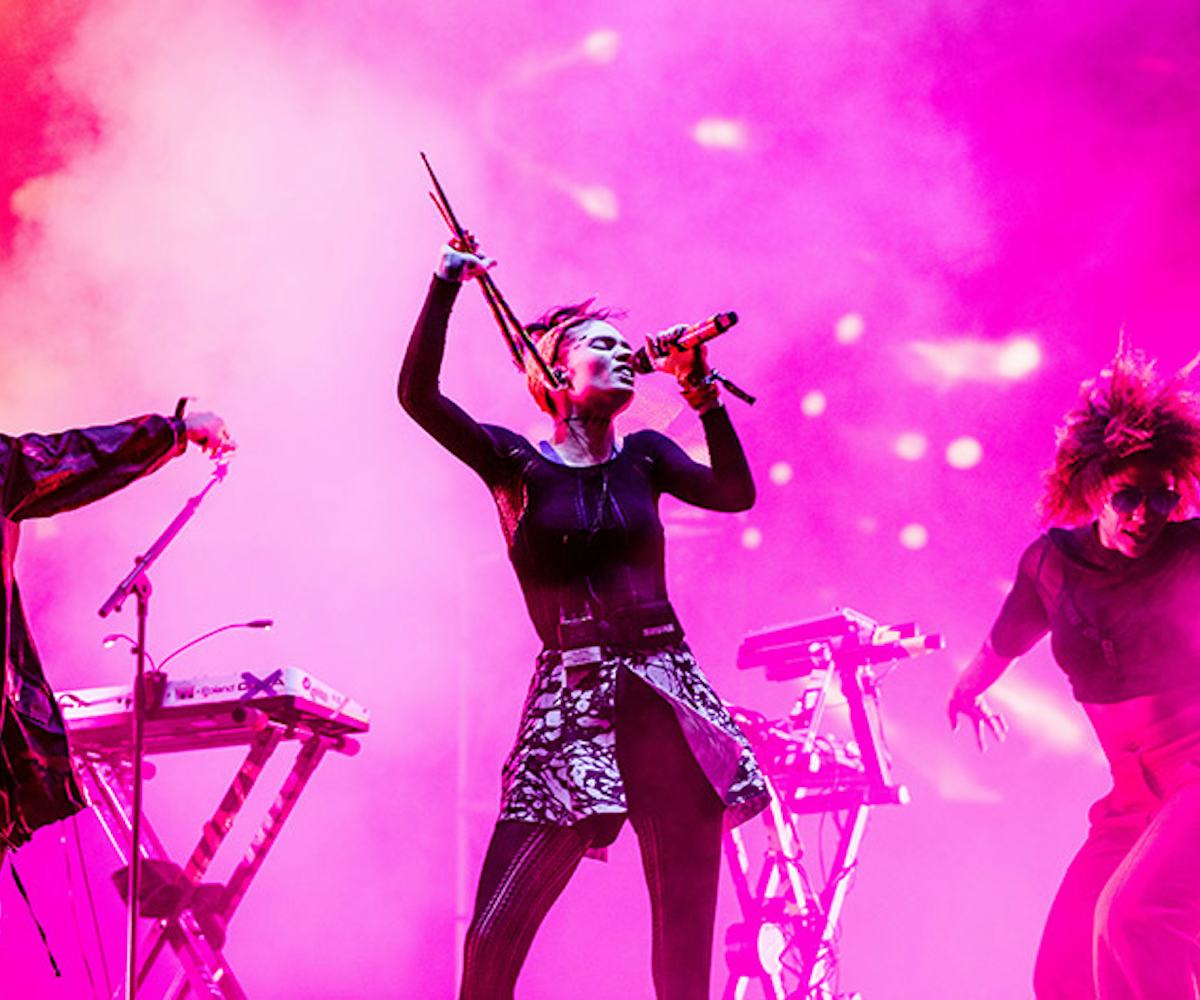 Photo by Nina Westervelt
The Meadows Music Festival Is For The People
I'm not particularly old, but I sure feel old whenever I'm at a music festival. Questions range from Where did all these youths come from? and Where are their parents? to more existential, self-doubting ones, like Did I waste my youth? and Am I too old to be here? This past festival season, I attended seven music festivals. Seven. To regular festival queens, that's not a lot. But it's a lot for me—especially since, prior to this, I had only been to three over the past five years. It's pretty safe to say I've seen it all this year. But no experience was as easy as The Meadows Music and Arts Festival in Queens, New York, this past weekend. 
The people behind NYC's Governors Ball, which I've been to the past two years, decided to drum up one last show before festival season wrapped. (It's a long season, y'all.) For its inaugural lineup, The Meadows casually scored Kanye West as its headliner, which is pretty major considering no one knew how the weekend would play out or whether attendance would be a problem. But put "Yeezy" on something and, like he said in "Facts," the people line up for days. 
And line up they did. The cult success of West's The Life Of Pablo tour merch has spawned a movement that beguiles me to no end. Within minutes of the gates opening on the fest's first day, the line for his New York-specific merch was over an hour long and only got longer as more people arrived. Soon enough, half of the festival was walking around in Pablo gear, making street style scouting a little difficult. (I would be lying if I said I didn't buy into the hype, though. His merch at Gov Ball sold out every day before I had time to wait in line and my thirst for yet another metal-inspired hoodie was strong.) On the topic of street style, though, with The Meadows falling during the first weekend of October, autumnal looks were everywhere. If you want a lesson in leather jackets, get your tickets for next year. The people that stood out, truly shined. New York is pretty cool for that.
Overall, The Meadows was a fine experience. Coachella is a beast and navigating through it is no easy feat, so the relative smallness of The Meadows was very welcome. It allowed me and my team to catch a set and then walk (not run) back to our media area to get some interviews done. You could walk around the entire festival in under 10 minutes, which meant there really was no excuse to not see as many artists as possible. Because isn't that what music festivals are all about? Discovery? The Meadows truly embodied that idea, and even though I had more wake-up calls to my adulthood and the questionable future of our youth than I usually like to have, it worked. Below, a tiny list of noteworthy moments.
Iconic Moments
Grimes' performance was incredible. Someone recently told me she's the most important electronic artist since Brian Eno and, after this, I have to agree.
Chromeo sure knows how to draw a crowd.
Chance the Rapper is the future.
I don't think I've ever thought to pair a corndog with elotes, but thanks to The Meadows, my life is forever changed for the better.
Zella Day is a true rockstar.
BØRNS rules.
Metric's still got it!
Jack Garrett puts on a show!
Sylvan Esso is the best.
The 1975. That's all.
Kanye West, despite cutting his set short for very personal family problems, is truly one of the greatest living artists today. Who starts their set with a gigantic fireworks show? 
Blessed are we to have an easily navigatable music festival for once.
Blessed are we again to have a nice Freeloader's Lounge that was free of pretention.