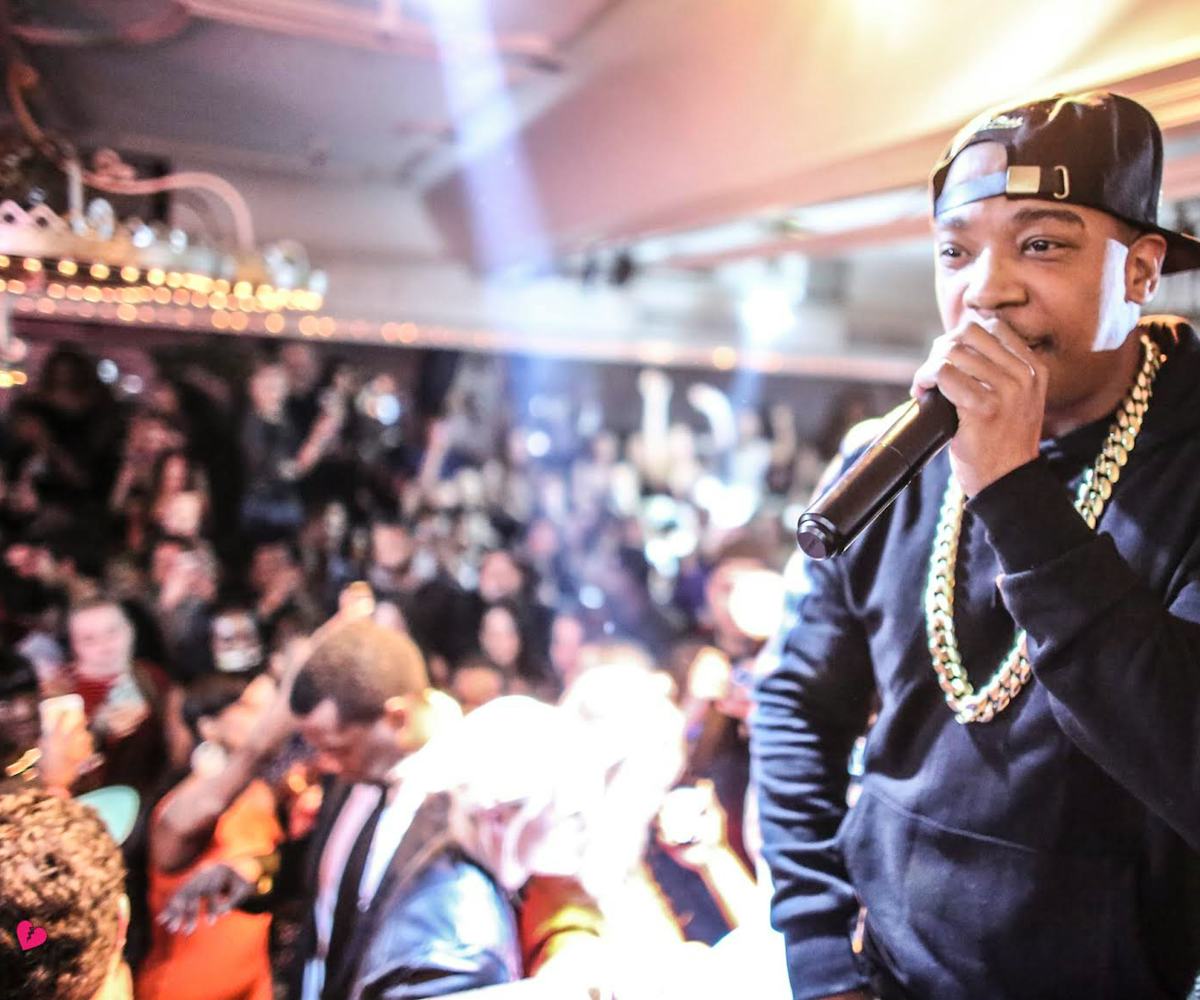 the reawakening of ja rule
spending a night with older, wiser rapper
A crowd of highly sexualized young socialites screams as the rapper Ja Rule steps on stage at Up & Down nightclub in lower Manhattan. Wearing all black with a thick gold chain, the man exudes power and influence, busting out every one of his former hits with enough bravado to rival Kanye. Somehow, Ja Rule still has the magic touch. Most of the people in the audience grew up listening to his music, so now they're chanting back verses whenever Ja extends his mic in the air. I'm standing at an elevated VIP booth sipping Grey Goose with a 23-year-old CEO as well as a dozen or so supermodels, all of us smiling at how this bizarre evening has turned out.
Ja Rule rose to prominence in the wake of hip-hop's most violent era, dominating the late '90s and early 2000s with top Billboard hits that still play in virtually every nightclub throughout America. When Ja was on top, he was king, and collaborated with some of the biggest names in the music industry, including Jay-Z, R. Kelly, and Jennifer Lopez. But after the decline of Irv Gotti's Murder Inc. (Ja's label), a highly publicized feud with 50 Cent, and time spent in prison for gun charges and tax evasion, the rapper fell off. It didn't help that he turned down the opportunity to reprise his role in the second installment of the Fast and Furious franchise. Dave Chappelle and Aziz Ansari's respective standup bits "Where is Ja Rule?" found eager audiences, echoing the public's amusement in Ja's absence and sudden career burnout.
The first word that comes to mind now seeing him on stage is hardened. Despite being tonight's opening act behind ILoveMakonnen, and standing only 5'6 at 39 years old (ancient in rapper years), Ja is in full control of himself and his audience. Every movement is calculated, but also somewhat catatonic. When he busts out "Holla Holla," his voice sounds raspier than usual, worn down with age.
As he commands the crowd, constructing everyone's experience from beginning until end, Ja makes sure to give credit where credit is due, talking up the release of ILoveMakonnen's new mixtape and occasionally reciting the chorus from "Tuesday." When he closes with "Livin it Up," it's obvious to everyone he's a man who just wants to enjoy himself. Even more impressive is his humility. As soon as Ja walks off stage, he blends into the crowd, letting the headliner become the night's shining star. It's almost as if he's passing the torch to a younger generation, smiling as he watches the inevitability of time play out.
Back at our table, Ja remains a powerful presence without ever becoming the center of attention. Blessed to have come so far, there is no ego or bullshit—those days of resentment and beef are long gone. At its core, rapping is a young man's game, and at some point, artists grow up to focus on the bigger picture: love, family, and legacy. In Ja's case, prison was the catalyst for this change, putting into perspective his true faults while allowing him to reflect on his identity and spirituality.
Following his release, Ja saw the world with new eyes. Now sober and a born-again Christian, the rapper is taking on projects that challenge him as both an artist and businessman. He started writing screenplays, producing television, pursuing various business deals, and acting in several feature-length films (including the strange independent Christian drama I'm in Love with a Church Girl).
Later this year, he'll star alongside his family on MTV reality show Follow the Rules. "Follow the Rules is real fun," Ja laughs. "My kids are crazy. It's not 100 percent clean cut. My kids are being kids, and I'm being Dad. It's a good show. It's a family show, you know?" Executive produced by Queen Latifah and Irv Gotti, the series is a playful look at Ja's relationship with his wife and his children, a definite standout amidst all the viral content the network rehashes.
In December, he'll also star alongside Tina Fey, Amy Poehler, and John Cena in the raunchy comedy Sisters. "It's all about rhythm," explains Ja when I ask how he applies the lessons he's learned in music to acting. "In music, you have to have your rhythm when you're listening to a track and laying your vocals over it. And then when you're acting, you have to have that rhythm between the actors. You balance off each other; you feed off each other. You have to have that rhythm where you don't get caught in-between the lines like a deer in headlights."
On May 7, Ja appeared on the television show Fox Business to discuss, among other things, Magnises, a credit card service for which he has become Creative Head and spokesman. Magnises, a company that bills itself as "an exclusive Black Card with special perks & VIP access for millennials," was founded by 23-year-old college-dropout-turned-CEO Billy McFarland.
Ja Rule has written a feature screenplay titled The Council about the illuminati. When asked whether or not he believes in the organization, he laughs and dodges the question without outright dodging it. "I believe in circles of success. I believe people have their own circles of success and they're own little cliques. What Billy has with Magnises is a circle of success."
Last summer, the CEO flew Ja Rule out on a helicopter for a surprise concert in The Hamptons for Magnises members. They're also collaborating on a few future projects, though nothing's been explicitly stated yet. Whatever the case may be, the friendship is indicative of Ja's transition into the world of venture capitalism. "Once you make some money, then you want to know how to make your money work for you, rather than you working for it. That's when you start figuring out that you need to own things. I need to own my masters. I need to own my screenplays. I need to produce and be the guy behind the scenes who has actual ownership of these properties in order to make money in the long run."
To Ja Rule, power means "ownership," but it also requires foresight. "We all have eyes, but not everyone has vision. You have to have that vision to see what's going to be hot tomorrow. I think that's what makes people great: being able to see what the public needs and wants tomorrow, not today," he says. In the '90s, Ja conveyed this vision through music, infusing R&B and hip-hop into a layered production process that churned out some of the decade's biggest club bangers. Where will his vision take him, 20 years later? Hard to say, but with acting, writing, television production, and music under his belt, he's already proven himself to be one of the stronger entrepreneurs to come out of the rap game.
After being dragged through hell and back, Ja Rule is older, wiser, and all the more ready to leave his mark upon the world. "I want to leave something that lasts beyond my life. I want to leave a body of work that will live on beyond me."