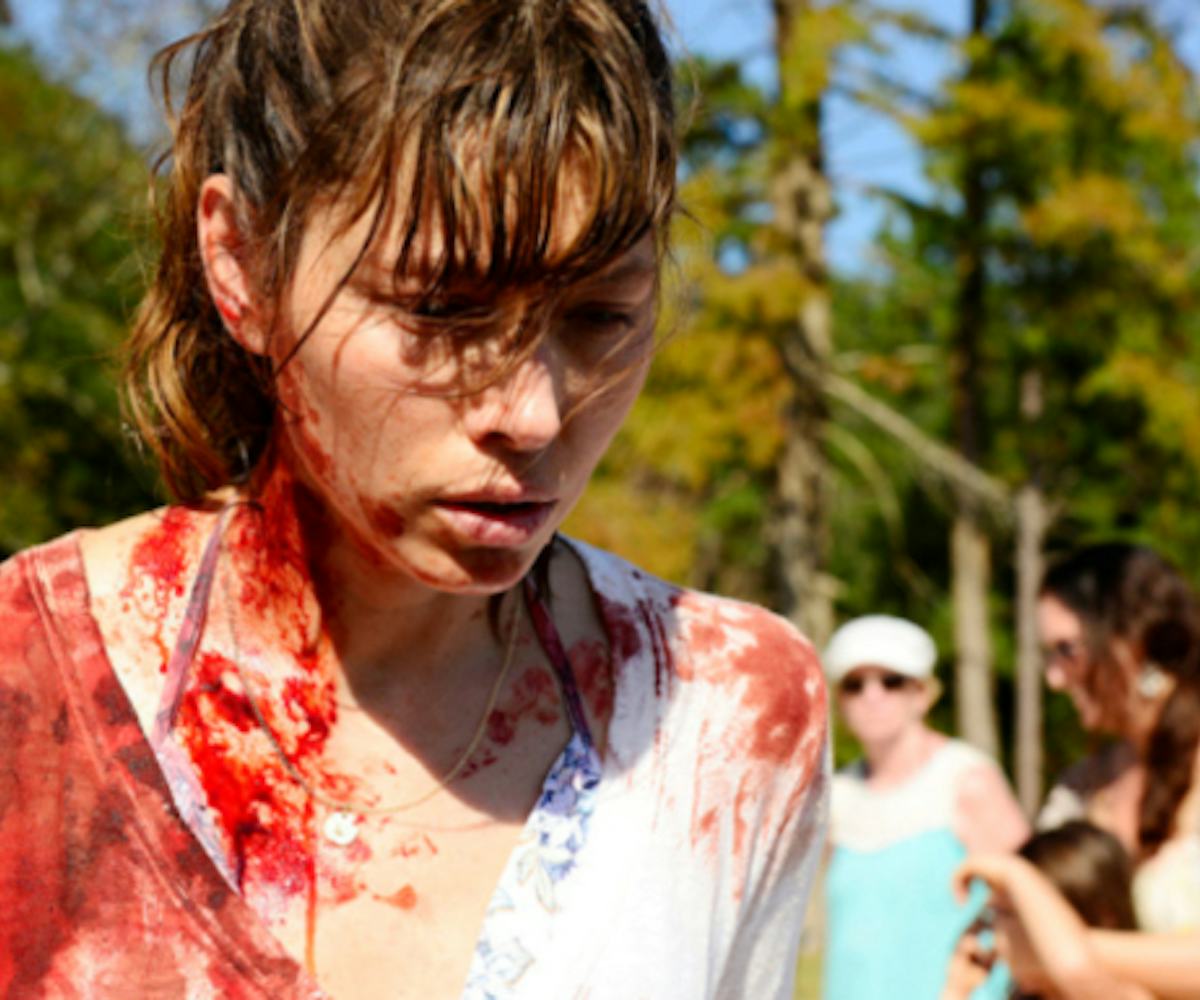 Photo courtesy of USA Network
'The Sinner' Is Your Ideal Summer Show
The Jessica Biel-starring show has become a surprise hit
The subway posters and bus ads started popping up a few months back, blending in among billboards for both new and returning series like Ray Donovan and Friends From College, like panels of sponsored wallpaper. This one stood out: There was water. There was Jessica Biel, soaked and stoic, in the foreground of a foggy outdoors that evoked Friday the 13th's Camp Crystal Lake more than 7th Heaven's scenic Glenoak. "Everyone knows she did it," the promotion teased. "No one knows why."
The crime was left open-ended, but USA's expectations for its eight-episode experiment The Sinner were clear: Dangle the upcoming TV season's most irresistible hook, pique interest in seeing Biel apparently cast against type, and hope millions of viewers would set their DVRs for something that could well tide them over as they wait for that Sunday's Game of Thrones. It's a strategy that served the former "Characters Welcome" network well enough two years prior leading up to its virgin foray into meaty original dramas, Mr. Robot.
Make no mistake: The Sinner is not Mr. Robot. However, unlike that brooding, virtually apocalyptic forebear, it is the ideal contemporary summer show, even if a prevailing moodiness and mystery betray the trappings of a typical fall debut. And though "Part I"-"Part III " director-executive producer Antonio Campos sets a striking and serious tone, there are enough familiar storytelling beats to beguile the widest possible audience. 
Without getting too into particulars—something even admiring critics and well-meaning feature writers haven't heeded, to the disservice of newcomers—The Sinner zeroes in on an upstate New York wife, mother, and businesswoman named Cora Tannetti (Biel), whom we encounter at the precipice of a complete unraveling. The circumstances surrounding her seemingly sudden brush with madness immediately envelop an entire town and direct harsh light on their own private hells.
As that synopsis might suggest, there are stock characters, like her blue-collar husband Mason (Girls' Christopher Abbott), who's been pressed too closely against Cora's flesh for several years to see her psychic patterns. And especially Bill Pullman's crumpled, kinky Detective Harry Ambrose, who detects a kindred spirit in Cora and approaches her case as if it were a referendum on his own tenuous connection to personal norms. But The Sinner belongs to Biel, whose executive producer credit is more than perfunctory. She helped identify German crime writer Peta Hammesfahr's 2007 same-named novel as fit for the small screen and, along with showrunner and When We Rise writer Derek Simonds, oversaw its journey into development at USA (who are hoping it can stake their claim in the increasingly competitive anthology format).
That aforementioned, elliptical teaser poster was, as it turns out, a fairly honest representation of its lead. As Cora, Biel is certainly de-glammed, but what impresses is how—from her first moments on a mundane office call to eventual mind games opposite Detective Ambrose—her horizon-long stares and clipped speech seem almost alien yet sympathetic. It's not hard to understand how Mason and everyone else in their inner circle—including a somewhat smothering Patti D'Arbanville as her mother-in-law/next-door neighbor Lora, and Sopranos alum Robert Funaro as Mason's uncle, Rob—fell for both Cora and her con.
Or is it a con? Not even Cora knows just yet. "Part III" airs tonight, and to this point, we've witnessed what caused her to disassociate from reality (via admittedly contrived but irresistible, Flowers in the Attic­-reminiscent childhood flashbacks) and experienced the effects (kudos to Campos for framing elegant violence while visually cueing Mason and others' choking shock as Cora calmly cops to her actions). Those two ends are slowly meeting, and the truth about what's possessed Cora is bringing more than just her actions to light. The show's real crime is that, like summer itself, its run is fleeting, because in any season, The Sinner would stand out as a singularly pleasing modern genre piece about the way we nurture guilt.