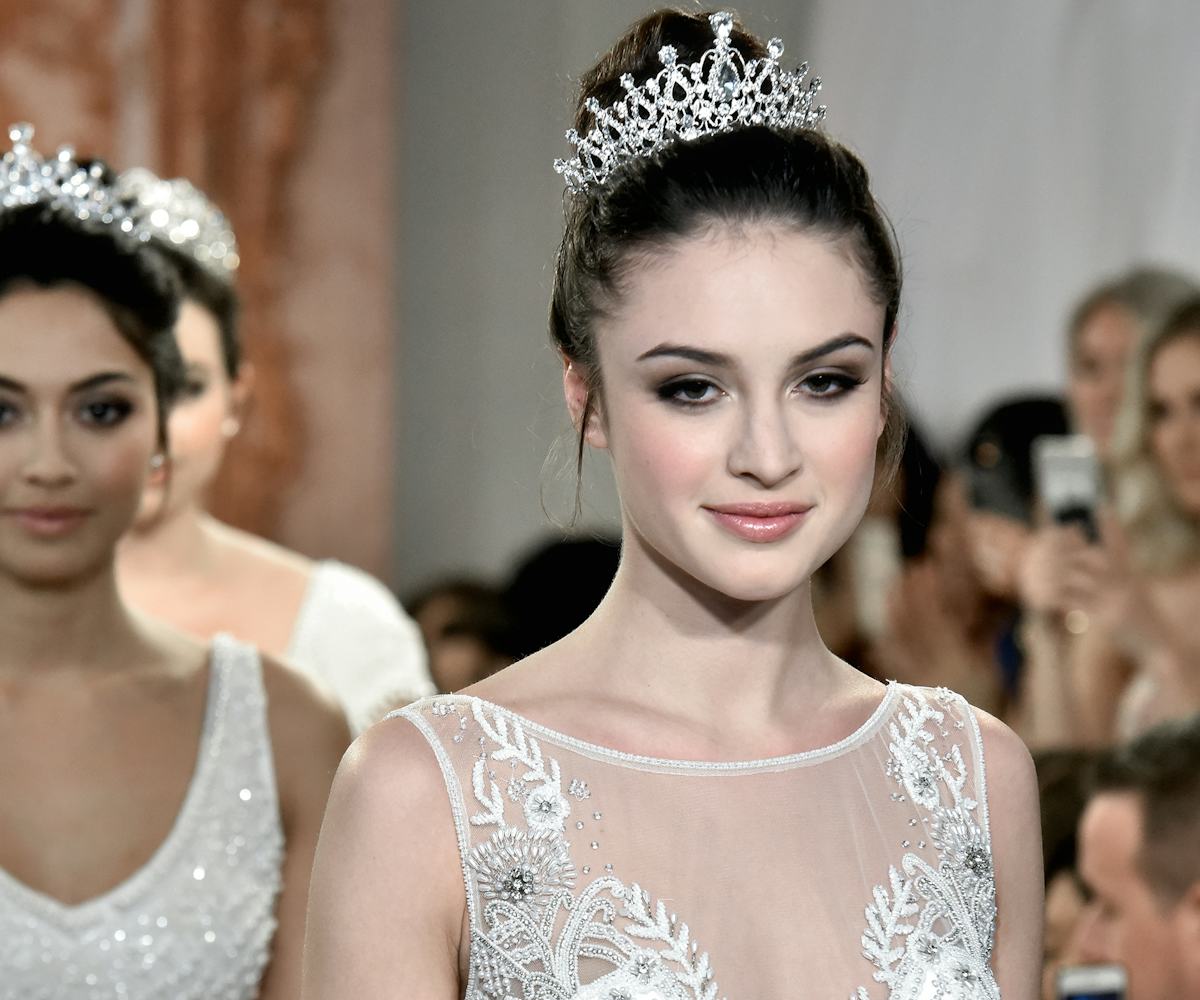 Photograph courtesy of Theia.
Meghan Markle And 'The Crown' Inspired This New Bridal Collection
"I don't think Queen Elizabeth would appreciate my Meghan Markle"
Call it the Meghan Markle effect, but the fascination with the upcoming royal wedding has reached fever pitch in all corners of the fashion industry. One need not look further than yesterday's kick-off of the biannual Bridal Fashion Week for proof, where the regal looks reigned the runways. Nowhere was it more apparent than at Theia's show. "There is a royal obsession in the air, with TV shows chronicling the fascinating lives of Queen Victoria and Queen Elizabeth, all of which is heightened as excitement builds around the upcoming nuptials of Meghan Markle," read the press release left on the chairs of the attendees.
The entire showroom was transformed into a Versailles of sorts with a backdrop giving the illusion that models were walking out from a gilded baroque palace, with the runway made to look like a ballroom-worthy parquet floor. When Don O'Neill, creative director of Theia, opened the show, he confirmed that he was indeed inspired by the Suits actress, specifically what her union with Prince Harry signifies: a new, modern era for the royal family.
"It's a wonderful thing to see a commoner ascending to royalty and becoming the future Royal Highness Princess [Henry] of Wales," said the Irish designer, who added that he was additionally influenced by shows like The Crown, Victoria, and Young Victoria. "There's a lot of focus on royalty right now, and there are amazing things in royalty that I wanted to bring to the Theia bride, which is that sense of opulence, elegance, and a regal touch." The collection is one of royal wedding proportions, surprising coming from a brand better known for its laid-back, boho aesthetic. Ornate embroideries, heavy Swarovski crystal beadwork, and pearl-encrusted bodices adorned the princess-worthy ballgowns, hand-embroidered slip dresses, and exquisite Chantilly lace gowns.
From any other designer, this might have looked like they tried too hard to keep up with the topic du jour, but O'Neill is nothing like other designers. All too familiar with the importance of evolving designs and changing the direction of the brand to adapt to the needs and wants of modern-day consumers (just last year, he launched a designated plus-size collection instead of just designing bigger-sized gowns per request), O'Neill is more interested in exploring how Markle's addition to the family marks a new age for the royals than in guessing what Markle will wear to the ceremony. "We are moving away from the boho bride, which was such a strong signature for us for so long," he said of the new collection. "Last season, we embraced sexy—and we embraced it in a big way. Sexy is still a big part of this collection." Let the record show, what O'Neill means by "sexy" still reads elegant and sophisticated to most, though he's not convinced. "I don't think Queen Elizabeth would appreciate my Meghan Markle walking into the cathedral," he added to a roaring laughter from the audience. 
And, while Queen Elizabeth may have her reservations, we all know Markle doesn't shy away from a good sexy dress when she sees one, wearing this sheer (and according to some, controversial) number for her engagement photos.
See Theia's entire Spring 2019 bridal collection, below.