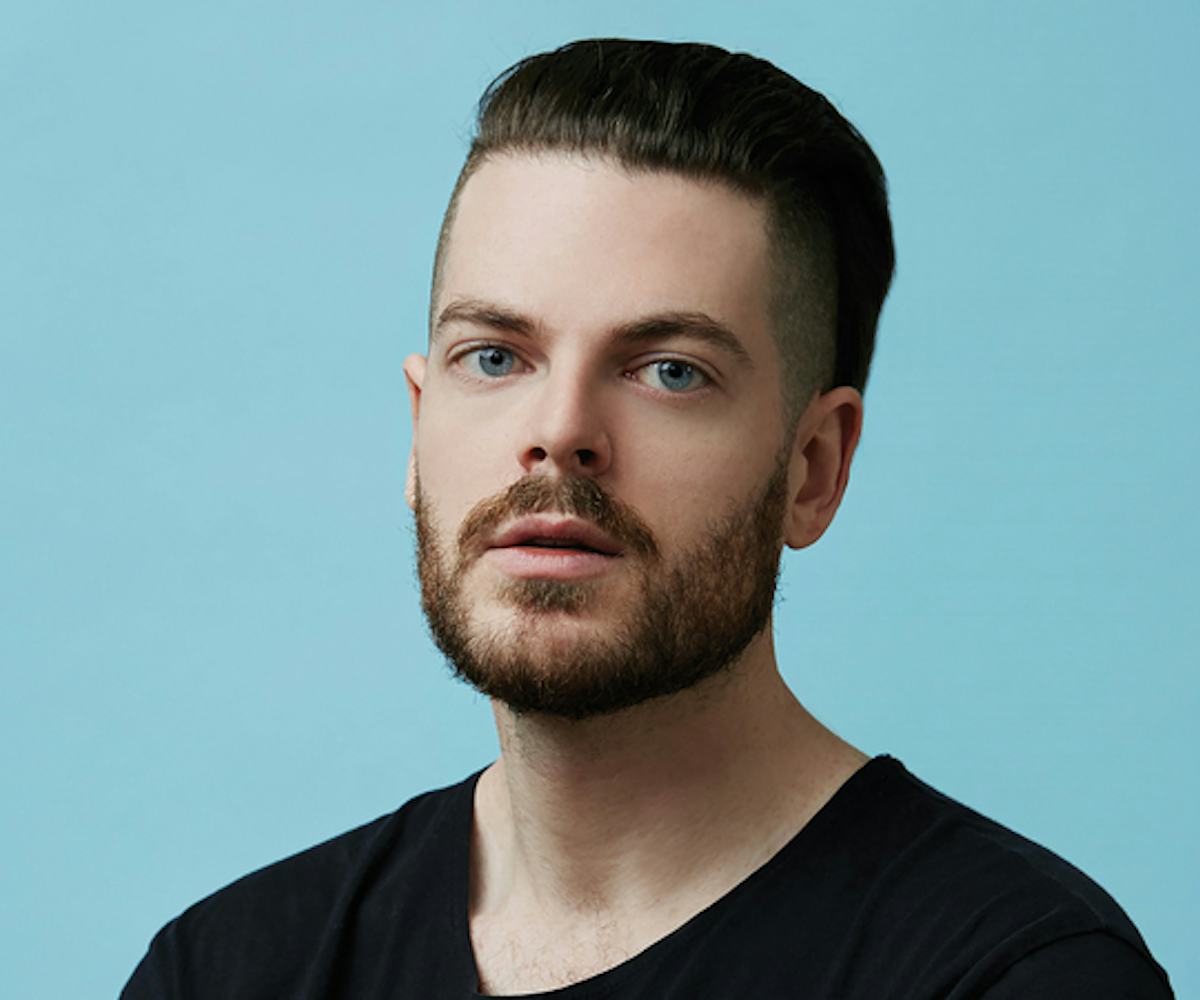 Photo by Daniel Seung Lee
Here's Some Essential Life Advice For The Queer Creative
A brief conversation with Adam J. Kurtz
We're told to never judge a book by its cover, but we all do it anyway. We're visual people who communicate through visual cues! If something looks good to us, we take to it; if something looks a little peculiar, we investigate. If we were to judge Adam J. Kurtz's new book by its cover, well, it looks queer. And that's because it is.
"This new book is a straight-up rainbow," Kurtz tells me late this summer, at a corner spot in Brooklyn, New York, where folks were just beginning to realize only a few Summer Fridays were left. "There are chapters in this book that are completely about embracing your truth and your identity."
For Kurtz, that involves identifying, in part, as a gay man navigating the cis-hetero male-dominated design world. This new book isn't just about creative advice for creatives, it's about Kurtz, for the first time in his life, aligning his queer identity with the work he produces. He wants people to know this queer book is written and designed by a queer person, for queer people, but, of course, not exclusively. (After all, "Everyone wants to just win life or something.")
Photo courtesy of Penguin Random House
Things Are What You Make of Them: Life Advice for Creatives may be Kurtz's third book, but it's definitely his most personal. It's filled with mini-essays written over the course of two years—usually in notebooks the same size as the actual book—and designed in such a way readers can tear out a certain chapter they like to, say, frame or share with someone in their life. Through 13 chapters, with titles ranging from "How to Stay Sane When You Work from Home" to "How to Begin Again" and "Using Your Power for Good," Kurtz fashions himself into the most optimistic BFF-cum-therapist you ever did have. Without meeting you, Kurtz champions you through his words, which he says is pretty much all common sense, but hey, Kurtz is the one who went the extra mile to write that sense down, design it, and then make it Instagram-worthy.
The difference between his previous two books and this one is that Kurtz is walking his talk. "I'm always telling people to live their truth, so here's mine," he says. Kurtz, by no means, writes about or draws anything explicitly queer ("I don't draw dicks," he jokes), but he's focused on identity politics and inspiring his audience to embrace their own. "Most people don't want to see my face," he says, citing how he's lost followers and been on the receiving end of homophobic slurs after he had posted about his sexuality and/or fiancé in the past. "People don't usually want to know where the art comes from, but the positive reactions and personal anecdotes I've gotten from people seeing me lead by example outweigh any negativity." 
Possibility, and showing others that there even is any, is essential. LGBTQIA representation is on the rise in American media, which makes for ample opportunity to define and explore what it means to be queer today because shows like Fire Island and the tokenization of LeFou aren't exactly doing the trick. (For a good but slightly dismal laugh, scroll through the "Gay culture is..." memes.) TAWYMoT, instead, encourages self-love. Chapters like "How to Be Yourself" are, as Kurtz says, "all about acknowledging who you are before you can make anything." (The echoes of RuPaul's "If you can't love yourself, how in the hell are you gonna love somebody else" quote are valid and true.) They're therapeutic in the way a Jenny Holzer piece is therapeutic; only instead of pessimism and cynicism, Kurtz is serving up optimism and hope.
"Since the election, I have leaned into making more pure, enthusiastic, and uplifting work because I know what Twitter does to me," he says. "The day after the election, I made something that said, 'Good things happen. Love is real. We will be okay,' and it was picked up by a lot of people, many of whom didn't read the caption that went along with it, but the intent was clear: to brighten someone's day and encourage progress." Kurtz does that by living his truth, 100 percent. Though he never hid his identity behind some veil, his identity-driven work is now fully formed—rainbow books, pride, and all.
Kurtz says, "I feel like when you're a queer person, all your art is queer art. You make art based on who you are, and that encompasses every facet of your personality and your persona." By being open about that part of his identity, Kurtz's work exists at the intersection of queerness, art, and design. It's queer because he's queer, and that shows other queer people they can pursue their creative pursuits and maybe even publish a book or two, coloring the world brighter with more inclusivity and positivity, one person at a time. 
"If any part of this connects with you because you can relate to who I am or you can relate to the words on the page, however you get into it," he says, "I'm glad you're here." Likewise.
Things Are What You Make of Them: Life Advice for Creatives will be released October 3 via Penguin Random House. Online pre-orders are available now. $1 for every book ordered before October 8 will be donated to the Tegan and Sara Foundation, which fights for economic justice, health, and representation for LGBTQIA girls and women.