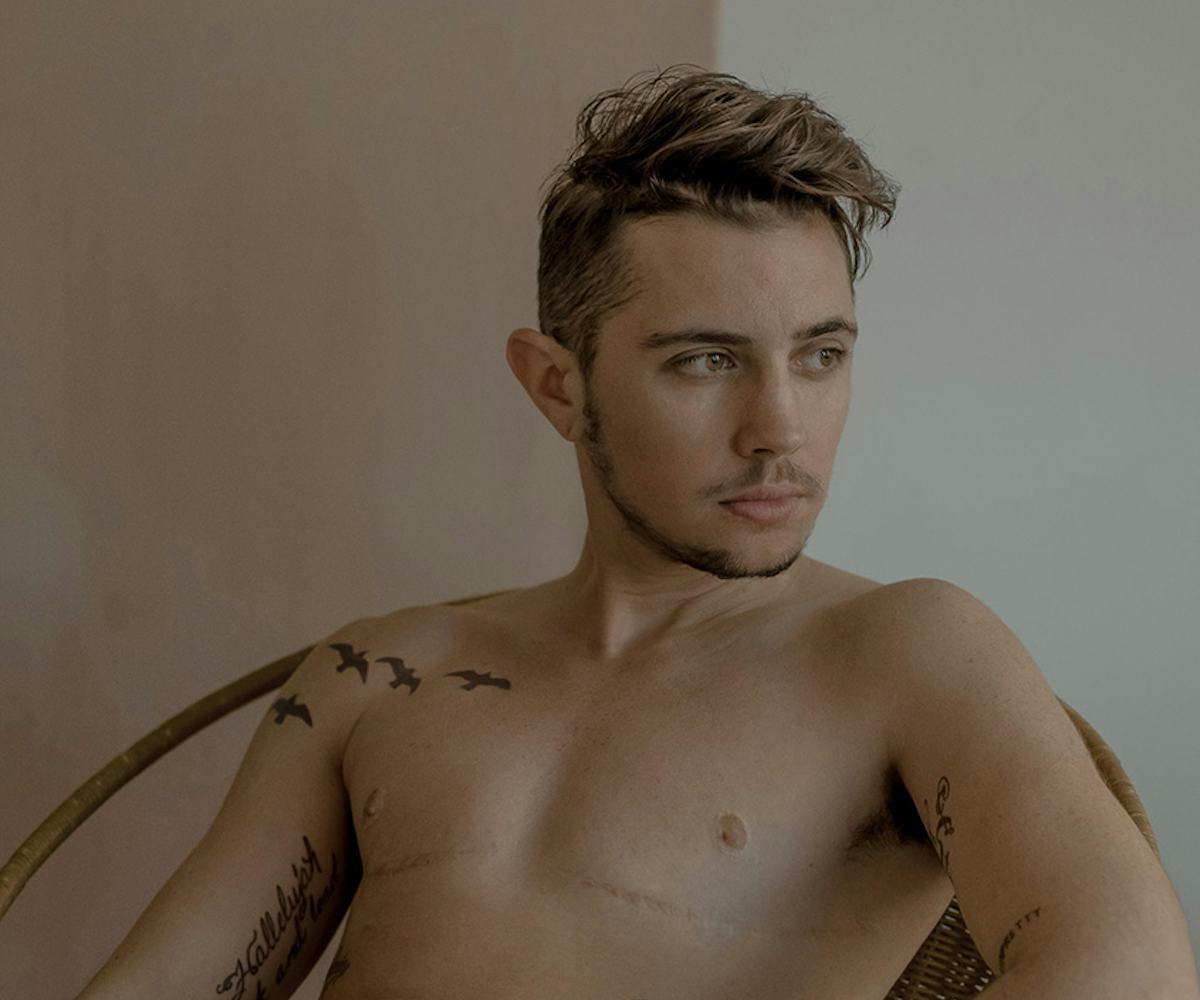 Photo courtesy of THINX
THINX Launched A New Line For Transgender Men
the period-proof product has everyone covered
Most of the time, companies don't listen to their customers when they complain about the way a product is advertised. THINX did more than listen to their audience when people complained about the brand's lack of inclusivity of transgender men with menstrual cycles—the company wrote an open letter, and then proceeded to launch a line of boyshorts specifically for this audience the following year. "We lost a lot of fans, which seems tough for a young startup, but realized quickly that it didn't matter—this was in line with our very intersectional feminist values, and was authentic to us as a company," THINX co-founder and CEO Miki Agrawal told us in an email.
The face of THINX's trans* line is Sawyer DeVuyst, a trans model that the company discovered on Instagram. DeVuyst was recruited from his photo project Mine, which is a "growing collection of daily fine art self portraits, aiming to reclaim transgender storytelling, raise the visibility of the transmale community and show an honest depiction of life as a nonbinary transman."
"I wanted to be involved with this campaign because I want the representation of transgender men and non-binary folks to be authentic," DeVuyst said in an email. "I've always wanted to see someone in the media who looks like me and is not ashamed of it. It's empowering to see yourself reflected in someone else. Also, the chance to tell my story was a strong pull. The opportunity to tell about a lived experience as a transgender person is so important because our lives—most often transwomen's—are often sensationalized, used as victim stories or are negatively in headlines."
For the boyshort campaign, THINX created an editorial landing page and a mini-documentary that captures Devuyst's experience as a trans* man living in Brooklyn. "A big part of our mission with this product was to make space for trans male visibility," said Agrawl. "Our goal is always to educate, and we wanted to do that by letting someone else tell their story instead of yet another cisgender person or big brand trying to do it for them." 
Agrawl went on to explain that THINX underwear acts as a "safety net" and "decreases anxiety" because it prevents accidents like leaks. But for trans guys, the new boyshort protects them from the risk of being outed and the dangers that might follow depending on the reaction. In developing the actual product, THINX went directly to the source—the trans community. "In the emails we received, it was clear that most of them were simply asking for something without lace—something just a little more masculine," said Agrawal. "We figured, a lot of women also really love wearing boxer brief-type undies as is, especially during their periods, so a style like that could really work for our whole audience."
"It took almost a year of development to get to this product. We're so, so excited about it, and are especially excited to launch it during Transgender Awareness Week—the same week we wrote our open letter last year," added Agrawal.
THINX admits that while the trans* line is a huge accomplishment, it's not the final solution for gender-neutral period underwear—there's still more work to be done and improvements to be made to get it 100 percent right so everyone feels comfortable.
"I'm so honored and humbled to have the chance to represent my community and I just hope I do them proud," said DeVuyst. "As I continue to work with THINX, I would love to bring genderqueer people, people of color, people of different sizes and people with different trans experiences into the campaigns. But right now, it's an honor."