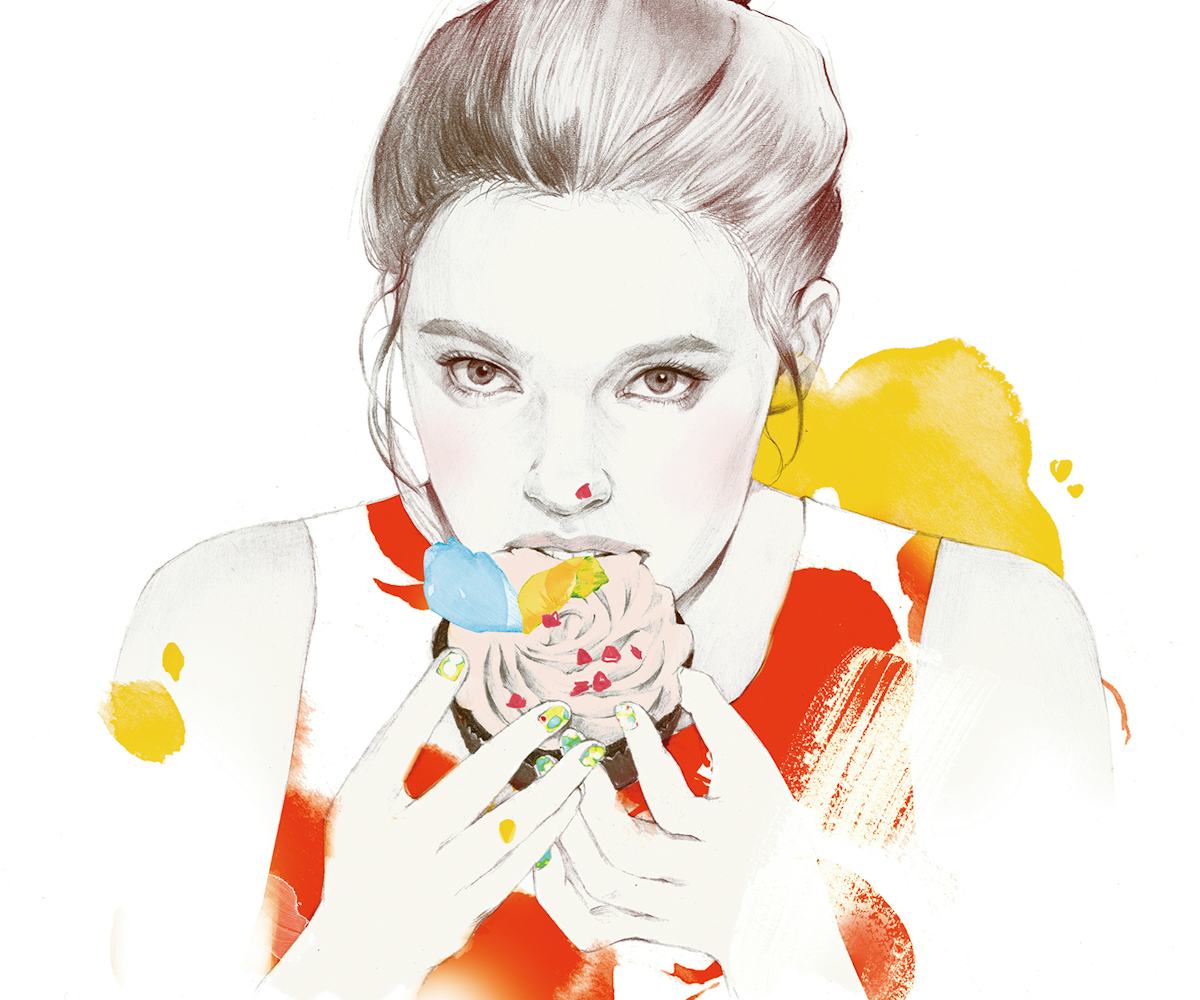 all illustrations by hye khim
the three top beauty products you need this month
lovin' you is easy cause you're beautiful.
It's easy to get stuck in a beauty rut. Luckily, there are three awesome new products to break the cycle. Without further adieu...
Hair - Oscar Blandi Pronto Braid Paste, $25.
Braids can be a movie heroine's most iconic feature. Some standouts include Bo Derek's cornrows in 10, Janet Jackson's long box braids in Poetic Justice, and Jennifer Lawrence's side-winding French plait in The Hunger Games. But my personal favorite is Carrie Fisher's Star Wars Princess Leia 'do, which resembled a pair of giant Cinnabons. Attempting to re-create any of those looks without professional assistance is a feat for most, especially those with straight, smooth strands, which tend to slip. Now Oscar Blandi has made plaiting a tad easier with a cream he's dubbed Braid Paste, which adds texture to tresses, giving them the right amount of grip and hold to ensure that your hard work won't suddenly unravel.
Face - Chanel Quadra Eyeshadow, $61 each.
I'm a huge fan of baked goods (you'll never catch me riding the Paleo bandwagon), and this adoration extends to makeup. That's because oven-cured powders pack more of a pigment punch than their uncooked counterparts. Now, Chanel's eight new additions to its popular eyeshadow quads are feeling the heat. The silky, smudge-proof shadows are the perfect thing for creating a smoky eye as chic as the fashion house's classic 2.55 bag.
Scent - Fendi Fan di Fendi Blossom Eau de Toilette, $71 for 1.7 f. oz.
Fun fact: The prettiest cherry blossom trees don't actually bear the eponymous fruit. That's because the scene- stealing sakura that beckon people to our nation's capital and Japan in April were bred to be ornamental, not a source of pie flling. As such, the blossoms' aroma only vaguely suggests the juicy fruit. For Fendi's sakura fower-based fragrance Blossom, the perfumer simply bottled the ethereal look and feeling of the delicate blooms, which translates to a delightful blend of light forals, like jasmine, magnolia, and, of course, the namesake blossom, enhanced by raspberry and pink peppercorn.