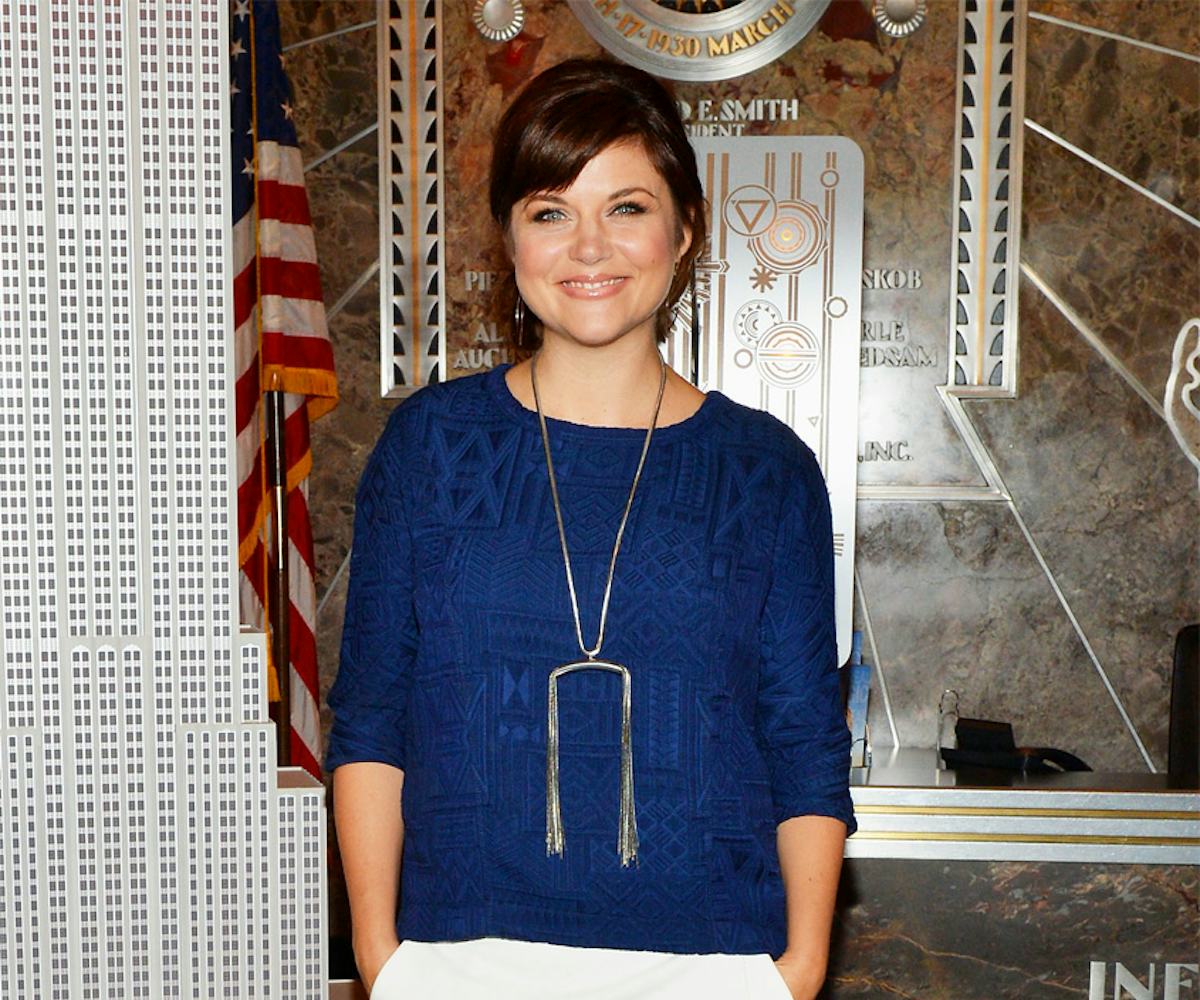 photo via getty images
tiffani thiessen wants to teach you to throw a party
make it $1'saved by the bell'-themed!
by leila brillson + rebecca deczynski
It comes as no surprise that Kelly Kapowski knows how to throw the perfect party. Set to star in her own Cooking Channel show, Dinner at Tiffani's, Tiffani Amber Thiessen is reuniting with her old Saved By the Bell co-stars to show just how to host a dinner party the right way. Premiering February 25 and streaming online, the 40-minute episodes will show the '90s style icon throwing soirées in her home for celebrity friends old and new, including SBTB alums Mario Lopez and Elizabeth Berkley, plus more current costars, like Tim DeKay from White Collar. NYLON spoke to the soon-to-be mom about throwing parties, appearing on Jimmy Fallon, and why pizza is basically the best thing ever.
What are some of your favorite tips and must-haves for a really great party?
For me, it's about of course the people. I say this a lot—that what food does for me is it connects people, and that's really what first of all the show is about. It's about reconnecting people or new people meeting for the first time, and connecting over a great meal. And then of course you want to be serving good food, so one of the things that I always do is to make sure that there's no real big dislikes in the people that are coming over. If they have any specific dislikes that I want to make sure to stay clear of that. Or any allergies and things they don't eat. And then thirdly, have fun! That's the whole thing about sitting down and connecting over food is having a good time and that's what I think a lot of people who love to cook in the kitchen is they're kind of showing me an extension of their love and joy of them being in the kitchen into the food that they make and then of course serving it to the people they love.
Are there any tips you have for hosting a dinner party or evening party for the first time ever?
I timeline everything out from what I'm buying at the grocery store, getting things prepped, what actually goes in the oven at what time, making sure I set the table at a certain time beforehand, things like that and maybe it's my Type A personality but it really does help make it very smooth on the day. So I'm not stressed out because the last thing I want is for me to be stressed out, and then when my guests get there I'm completely just out of it, you know? Because you want everybody to enjoy sitting down and having a great meal together. 
Are there any things that you find people tend to overlook when planning a party?
I think it's so hard because every party is going to be different. I mean something that's also a passion of mine is the tablescape—you know, of making a beautiful table. So it really depends on you know, lighting can be different from a brunch to a dinner party, you know, inside or outside so it's hard for me to give one tip for that would kind of work for everything on that kind of aspect, like I said for me, preparation is such a thing for me because I want everything to go smoothly, so for me, preparation is huge, and that's why a timeline for me works really well. And preparing my menu ahead of time and making sure that everybody who is coming over to the house doesn't have any sort of allergies or aversions to anything that I could be cooking because that could be a total disaster when half the crowd is gluten-free and you're serving gluten pizza. So things like that are tricks that I make sure allows my party to go smoothly.
How do you like to create a beautiful tablescape? 
Because food is so much about connecting with the people across from you or next to you, I tend to always design my tablescapes to be more on the lower side, and if there is anything that has a lot of height, it tends to stay on the edges. Because I want to be able to connect with my guests and see their eyes—does that make sense? So a lot of my floral arrangements or anything else that I have that's decor on the table I focus especially in the middle. Also, a theme is very important to me too. So say a couple of weekends ago I had movie night at my house for my birthday and so we had comfort food so I wanted everyone to feel very comfortable—so big soup bowls and big plates. We were doing grilled cheeses and tomato soup and so I wanted everything to kind of coincide with that kind of feeling and I had big blankets out for everyone in the movie theatre and it was that kind of thing that to me really speaks volumes for making your guest feel a part of what's actually going to be either served to them or what's going to be happening in the evening. 
How about any Valentines Day tips for having some people over?
Yeah! I threw actually a very sweet Valentines party last year. We're skipping it this year just because its a little crazy around our house these days. But its usually a fun holiday that I love having. Especially more these days because I have a four and a half-year-old because its such an innocent time and so we had a beautiful sweet little Valentines Day party last year that was so much fun, we had a photo booth for the kids where they all got to dress up in. We had a cute little innocent kissing booth for the kids where they gave out candy to each other, they didn't really kiss each other, of course. And for kids' parties to me, again, kid-friendly pieces. So the tables are all low, the chairs of course are for kids, and the decor is very kid-friendly where kids can touch it and it's not gonna break. And colorful, very colorful. When it comes to kids parties, the more color the better because that's what speaks to them. But as far as Valentines, it's like a time when people can remind themselves to have a kiss and tell each other that they love each other. It's a fun one for sure, I'm going to be missing having that this year!
If you were spending let's say $20 or $30 on a dinner party, you didn't want to go much higher than that, what would be your must-haves?
One of the cheapest things and funnest parties that I do, and I do them all the time, is pizza parties. It doesn't cost a lot of money to make dough or even buy dough at a pizza or Italian restaurant down the street. And you can have your guests come early and actually make their own pizza, which is a super-fun, completely connecting, gathering-in-kitchen sort of party and then you all sit down and have pizza together. And people come up with some crazy concoctions which is actually kind of fun. So that's one of my most favorite, very budget-friendly, easy sort of dinner party tricks that I do that I love.
And obviously who doesn't love pizza?
Who doesn't love pizza? And you can get gluten-free dough if you had to. Someone can have a vegetarian pizza, someone can be a meat-lover, everybody can make their own which is kind of fun. 
You just did one of the best late night skits of all time—was it fun? You guys seemed like you just walked on stage and were overwhelmed by how excited everyone was. 
It's funny. We've had a dream for a very long time about people wanting this. So it's not like we haven't heard it. Now, did we expect the craziness of it all? No, of course not. I don't think you can really put your finger on how many people are going to watch it, how the YouTube was going to go nutty, how it was just going to be this huge viral thing. You don't ever expect anything like that. I mean I definitely knew it was going to be a hit and also because we had such a good time doing it. A lot of us still speak to each other—we're still very close. I see Mario, I see Elizabeth, you know, I have Elizabeth and Mario on my show, this dinner that came on. So a lot of us are still very close and Jimmy could not have been more sweet, more supportive, more of a cheerleader through all of it, and his head writer Mike, who was a huge fan of the show, he just went above and beyond and wrote a script that all of us just could not get enough of. It was just so brilliantly written, so funny, so to a tee, had everyone doing something that spoke to their character in the past, or for me, very present. So we had a blast, it was a day that I think all of us will totally remember.
You guys all look great. Like you all look better now than you did then.
Oh, you're very sweet...says the pregnant woman who has the big stomach!
But you're glowing, honestly, you're like a light. It's just so much fun to see.
We had a great time, we really did. Like I said, we had a lot of fun with it and we were very thankful to Jimmy, you know, like I said, we'd been in the talks for quite some time and it was the perfect time and it was the perfect script and it all went great.
I see that a couple of them are going to be on your show. It's nice to see that an experience like that creates really wonderful lasting friendships, I would imagine.
Absolutely. And I have Jason Priestly come on to the show and I've stayed extremely close to from 90210 and I'm very fortunate to still be able to say that with my past castmates and same with White Collar, we have a lot of the guys from White Collar coming on to the show that I'm still super super close to. And I think since it's so constantly changing and you're not in the same place at the same time all the time that it's nice that you can keep those friendships and those relationships going over the years.