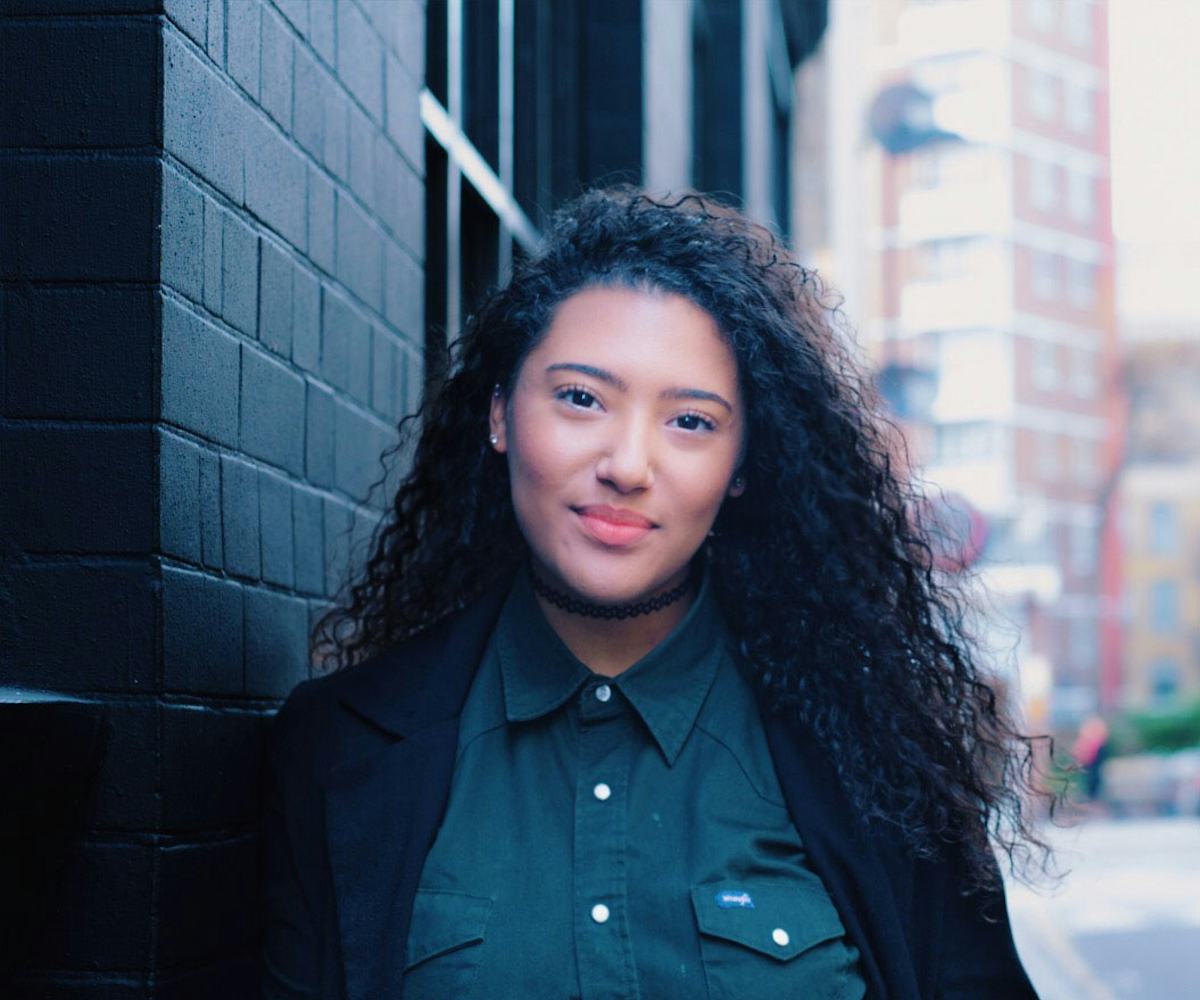 Photographed by Taz Psaras
DJ Tiffany Calver Represents What Her Listeners Can't See
In celebration of Black History Month, NYLON is running a spotlight series called Black Girl Power... The Future Is Bright. Every day, phenomenal black women from different industries will be featured to tell their stories—revealing how they became who they are, showing what they have accomplished, and pinpointing how they navigated their careers. Black women deserve to be celebrated 365 days of the year, and we hope that this series will inspire everyone to believe in the power of #blackgirlmagic. 
Tiffany Calver is a music journalist, broadcaster, and DJ. Based in London, the 21-year-old rolls with some of the coolest people in the industry including but not limited to Ramya Velury, Joe Kay, Raury, GoldLink, and Bryson Tiller. (This reel of her taste testing wines with Father is a real gem.) Three years ago, Calver founded her own music and events brand called Myself & Others (M&O). In addition to this project, she also operates a biweekly show on Radar Radio with special guest appearances thrown in the mix.
"Part of the reason I wanted to pursue a career in broadcasting and journalism was due to the fact that, for the majority of my childhood and adolescence, there was a lack of women of color on television and radio," says Calver. "I liked Alexa Chung's sarcasm and wit, and I listened to Tim Westwood with my mother on weekends, but neither of them looked like me."
Though she often felt like a face like hers didn't belong on screen or on radio, Calver decided she would be the change that she didn't see. "I wanted to be capable of inspiring fellow women and girls to be whatever the fuck they wanted to be despite the many odds and obstacles in the way," she adds.
Tune into Calver's show every other Friday from 6-8pm GMT, and learn more about her lifestyle in the interview, below.
How did you grow into your identity? 
Despite being mixed race, I have always identified as being black. I have only ever been treated as a black person, and I have only ever been raised to acknowledge myself as a black person. As it was once put it to me, 'People don't see anything but your pigmentation,' an unfortunate slap of reality to the face, but it's the world we live in. Ignorant. Do I accept it completely? Absolutely not, but would I identify myself as being equally as white as I am black? Absolutely not. I have never been treated as anything else. 
I grew up back and forth between the UK and the Caribbean. In England the issue would be my blackness, in the Caribbean, the issue would be my whiteness. It was difficult to develop self-identity as a kid because I felt like all I wanted to do was blend in and be like everybody else. I remember transferring to a school near Wales, I must have been around 11 years old, and on my first day a girl came over to me, slowed her words and asked, 'Where do you come from?' This baffled me because I came from about an hour and a half away from the campus, but because I wasn't white (I was one of three nonwhite children at the school) I was automatically deemed a foreigner. 
A lot of moments during the school period are probably what stemmed years of constantly trying to dilute my black identity. I'd straighten my hair every day, ironing out the qualities that at one point I thought flawed me to other people. Being a big fish in a small pond was a problem in my eyes. Although at home I was so secure, and so well educated on who I was and where I came from, but I'd go back to school and lose myself. Growing up feeling like an anomaly can be compared to that feeling you get when slavery would get brought up and the whole classroom would turn and look at your reaction – very uncomfortable, very isolating, yet a very normal experience to have.
How do you manoeuvre your respective industry as a black woman?
I'd be a liar if I said I haven't had to move differently with how I work due to my skin colour. I think that's something a lot of people of colour can relate to feeling the need to do, and the anxiety that comes along with thinking you're being judged and categorised for your appearance as opposed to your ability. I was taught from a very young age that to get where I wanted to go, I would have to be twice as good as anyone else, and I don't think that mentality has ever left me. I have worked very, very hard. What is 10,000 hours for somebody else is 20,000 for myself, and I'm slowly but surely clocking up those hours. 
Where do you look for inspiration?
I am constantly surrounded by successful, determined and incredibly talented people who continue to drive me to become just as great as they are. What inspires me now is being able to showcase their stories, and find a way of spreading their keys to success—DJ Khaled has completely ruined that line—with other women of colour. That's why I'm starting up a podcast that does just that.
Could you describe a moment where you felt like you defied the odds or broke a barrier?
Many personal wins and broken barriers, but nothing of great significance. I'm giving myself time.