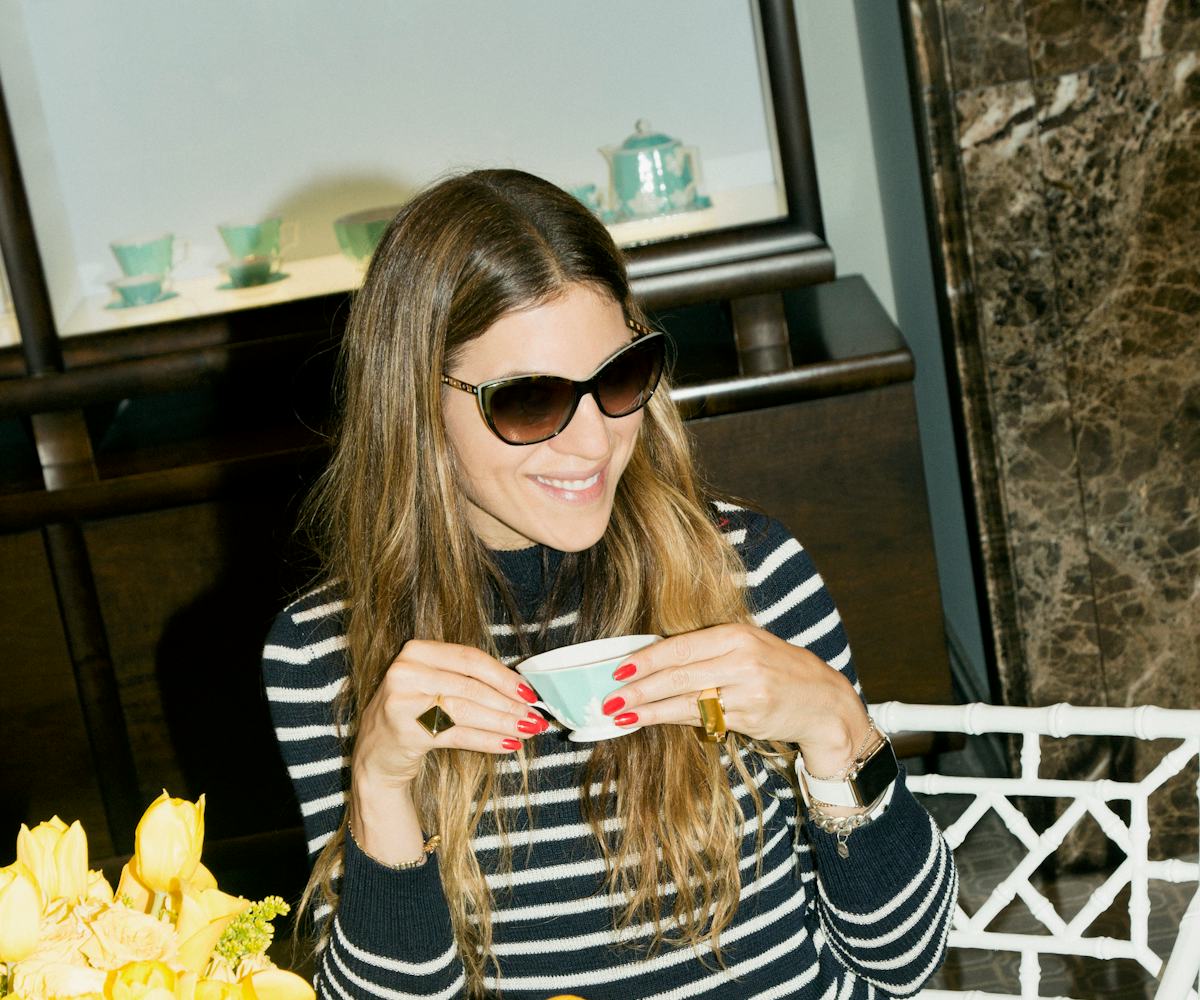 Photographed by Eric Helgas.
NYLON's Dani Stahl Goes Inside Tiffany & Co's New York Flagship Store
The following feature appears in the September 2016 issue of NYLON.
On the corner of 57th Street and Fifth Avenue in Manhattan, I stare up at the iconic Atlas clock. You know the one: the famous nine-foot bronzed statue holding a huge timepiece almost four feet wide, mounted in the limestone, granite, and marble entrance of the Tiffany & Co. flagship store. The clock originally sat atop one of the very first Tiffany locations at 550 Broadway way back in 1853, a reminder that I'm about to enter the home of a brand that's essentially synonymous with New York City's history of old-school glamour. I'm getting the obligatory Breakfast at Tiffany's vibes.
Click through the gallery to read the rest of this feature.
Upon entering the building, I'm immediately greeted by my hostess, a lovely woman named Dale Marcovitz. She's been at the company since 1972 and, although technically retired, now serves as an ambassador of all things Tiffany. Basically, I get the sense that if she doesn't know about it, it didn't happen. In a soft voice with an almost magical cadence, my Tiffany fairy godmother tells me the story of how a company that started in 1837 as a "stationery and fancy goods" shop became one of the most renowned jewelers of all time and the embodiment of American luxury. 
We tour the store's many levels, each with a different tale to tell. There's almost too much history to process. The main floor is a classic Hollywood fave: Obviously it's Holly Golightly's haunt, but it's practically a character in Sleepless in Seattle and Sweet Home Alabama as well. It's also where the renowned Tiffany Diamond can be found, but if that's not enough to wow you, the mezzanine is full of the rarest jewels (all of which my guide lovingly refers to as "she"). The second floor is dedicated to engagement rings and wedding bands. (Fun fact: Tiffany invented the engagement ring as we now know it, with the shining raised center diamond—before them, diamonds were almost always put in concave settings called bezels.)
The third floor features sterling silver jewelry designs, which, as any girl who ever coveted Tiffany's famous heart tag bracelets knows, is a huge part of the brand's heritage. Indeed, silver is what originally put it on the map: In 1867, when the company was awarded the grand prize for silver craftsmanship at the Paris World's Fair, it was the first time that an American design house had ever been honored in that way. The next three floors of the building are dedicated to special collections for the home, events and exhibitions, and customer care respectively. And then comes the Tiffany workshop, where master artisans craft the brand's high jewelry beauties. Of course, this Factory Girl has to check that out. As always, I get down to the nitty-gritty. The work is delicate and requires a professional, but I do get to tweak a setting, investigate a prong, and shine and heat the precious metal. Let me tell you, it's intricate business. I then shadow a man who's deep in the process of creating an amazing pavé-style necklace, carefully placing each diamond. I ask him how long it will take to make that one piece. The answer: a whole month.
But perhaps the biggest takeaway from this experience (aside from my newfound obsession with a chunky yellow gold pinky ring that just came out of "retirement") is that Tiffany & Co. has always been and will always be a beacon of society and culture in New York and America at large. It was a favorite of the Vanderbilts, Astors, Whitneys, and Havemeyers. Its china set the table at White House dinners. Its jewels adorned elegant women like Jacqueline Kennedy Onassis, Elizabeth Taylor, and Diana Vreeland. Designs from legendary creatives like Jean Schlumberger, Paloma Picasso, and Elsa Peretti are exclusively found at its stores. (Peretti's Open Heart, Marcovitz informs me, is one of the most recognized symbols of love in the world.) Even the Vince Lombardi Trophy for the NFL Super Bowl championship game has been created by Tiffany since the first one was held in 1967. So remember, the next time you see that signature baby blue, it represents so much more than just luxury goods. It's the symbol of a full-on way of life.