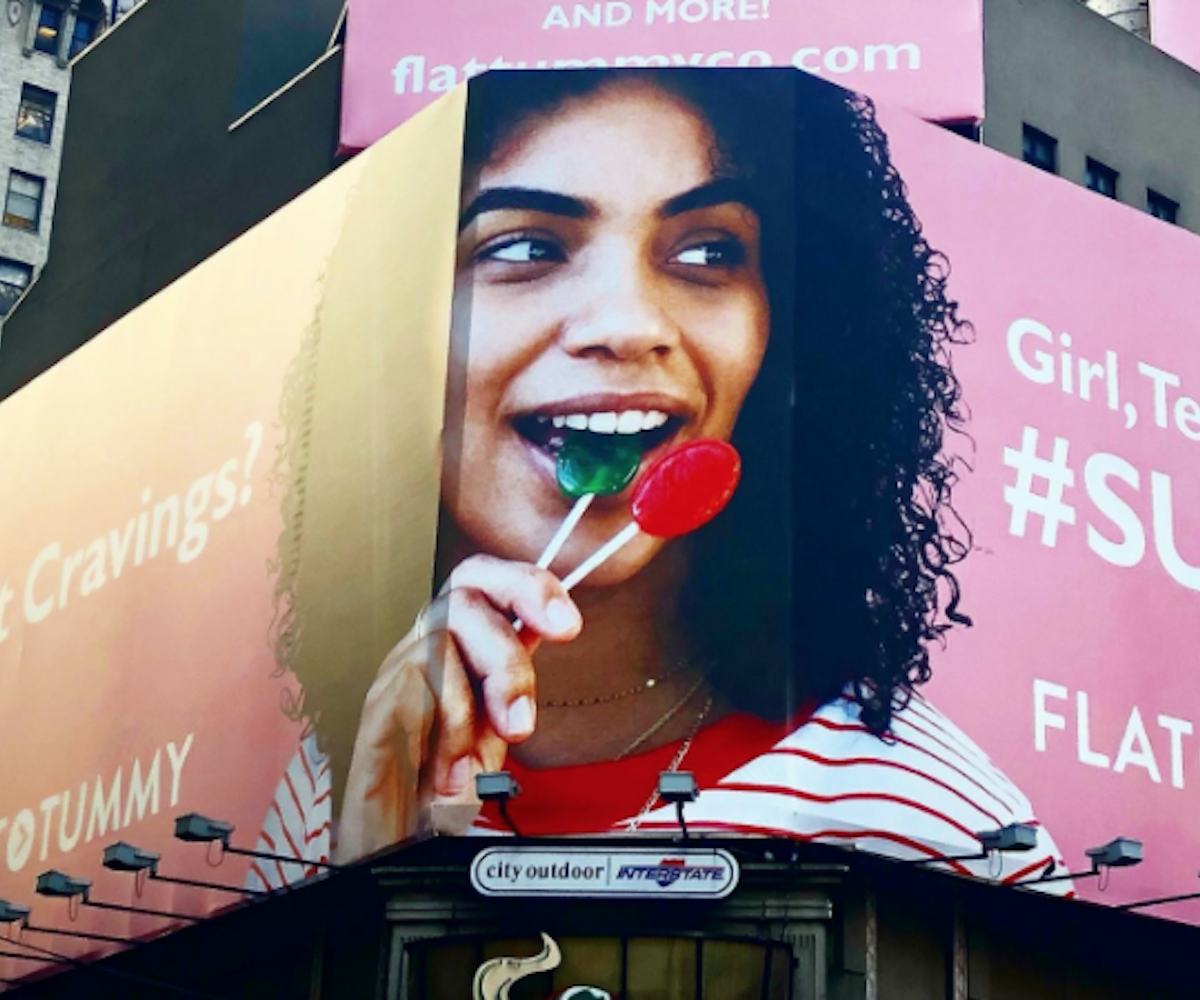 Photo By @Svershbow Twitter.
Take Down That Dangerous Diet Ad In Times Square
A new billboard in Times Square advertising Flat Tummy Co. has (rightfully) incurred the ire of the internet, with many calling for it to be removed.
Earlier this week, Random House social media manager Sophie Vershbow posted a photo of the ad, which is prominently placed in the middle of the popular tourist destination and transportation hub. Featuring Flat Tummy Co.'s appetite-suppressing lollipop, alongside the claim that 1.5 million women use its products, the pastel pink ad promotes the company's line of diet aids, which range from teas to meal-replacement shakes. Per Flat Tummy Co., its products detox and cleanse the system and suppress cravings. However, as the goods are not reviewed or regulated by the FDA, there's really no way to know if they are safe. 
The backlash picked up more steam yesterday after Good Place star Jameela Jamil reposted Vershbow's picture on her Twitter and lambasted the ad, as well as its placement in one of the most highly trafficked areas in New York City.
"EVEN TIMES SQUARE IS TELLING WOMEN TO EAT LESS NOW?" Jamil, who previously slammed Kim Kardashian for promoting the same company earlier this year, wrote. "Have we actually gone mad? Why aren't there any boys in the ad? Why is it fucking PINK? Because you feel men can look however they want? Their goals are to be successful. But ours are to just be smaller? Fuck off." 
And Jamil's right. Aside from the baseline issue of encouraging people to put mysterious substances in their body, the promotion of a company that profits off of the perpetuation of women's insecurities is messed up. As she put it, allowing ads like this to exist in such a prominent place is "daylight robbery and abuse of women's self worth." It's disappointing that we still continue to be inundated by ads specifically designed to play into our insecurities
Not only that but to place these ads in a place like Times Square is highly irresponsible. As Vershbow pointed out, the ads are quite triggering to those who've struggled (or still struggle) with eating disorders and body dysmorphia. 
However, as one commenter responded to Vershbow, there is something you can do. File a complaint with the FTC, because there's definitely no disclaimers on prominent display.