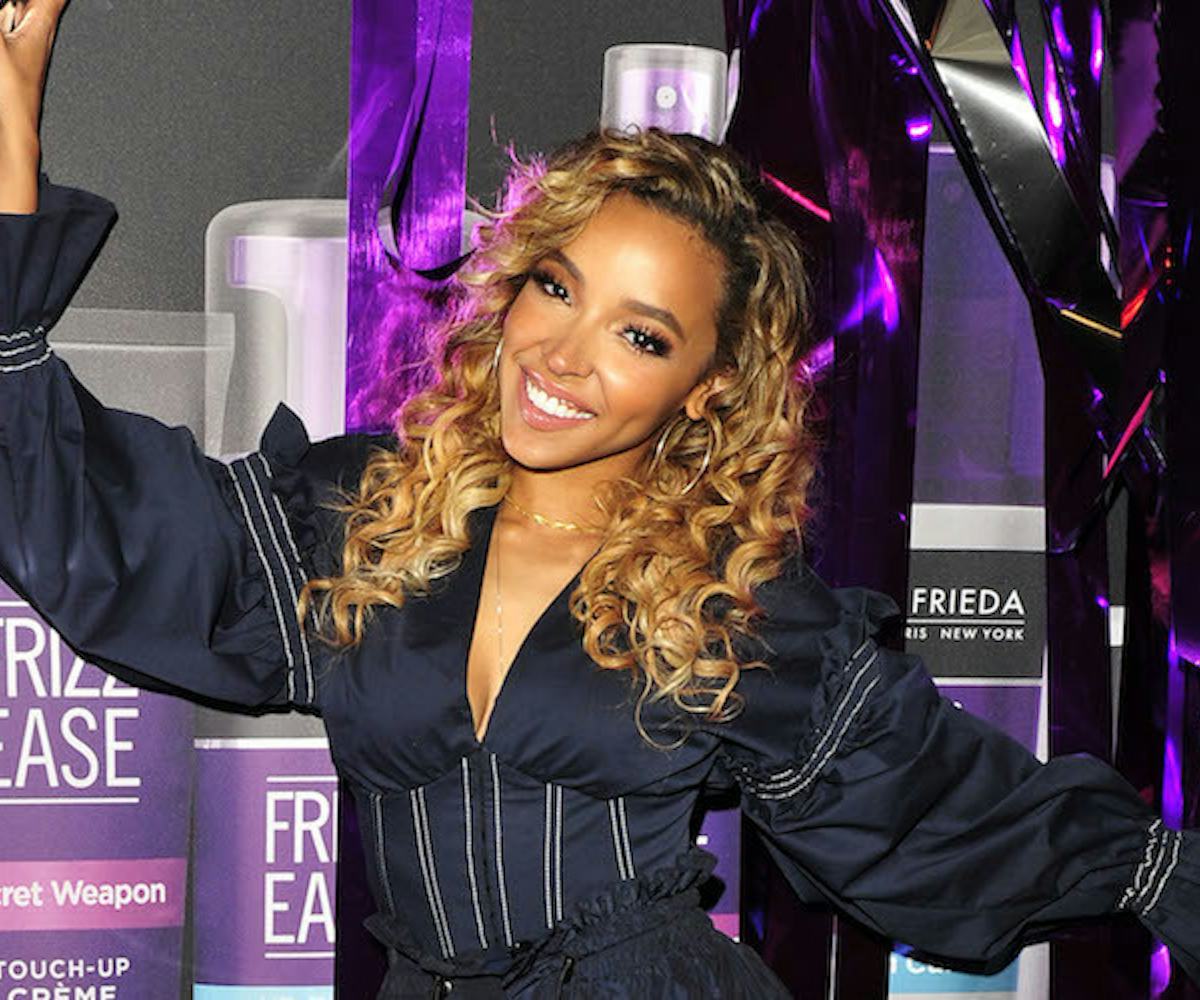 Photo courtesy of John Frieda
Tinashe Talks To Us About Her Hair And Its Secrets
Hint: Conditioning is key
If there's one thing we know about Tinashe—you know, aside from the fact that she's a powerful force in today's music world—it's that she has some of the most covetable hair we've seen. I mean, just look at those curls.
It's no wonder that John Frieda tapped her as the very first face of its new campaign for its Frizz Ease line. Called Your Hair Talks, Make A Statement, it allows Tinashe to go in-depth about the ways in which her hair reflects her bold, go-getting personality. The campaign just celebrated its first year, and we caught up with the singer and former NYLON cover star before the party to talk all things hair—both good and bad.
Watch just one of Tinashe's performances, and it's clear that she exudes confidence, so it might be surprising to learn that this wasn't always the case. Growing up, she was self-conscious about her natural curls after a comment made by a classmate, and it took some time before she learned to feel proud of them. "I think it has been a lifelong learning process, to learn to love [my hair] and to learn to style it, to learn what works best with it," she says. "I think I've matured."
When it comes to having naturally frizzy hair, as Tinashe admits she does, figuring out which products work and which ones don't can be a godsend. "When I was younger, I definitely didn't have as much knowledge as to how to style my hair or what products work best with it, so it's taken a lot of trial and error as well as practice. I think with that comes a lot more confidence and acceptance."
With the holidays coming up and a new year nearing, now is the perfect time to indulge in a bit of self-care to really refresh your hair and boost your confidence. Tinashe's favorite way to show her locks some love? A simple deep conditioning treatment (which is the secret behind her flawless off-duty look): "Put in a good conditioner, and then just let it sit." Simple enough!
Another no-fail form of self-care? Just letting you hair simply ­be every once in a while. "I think when you have downtime, try to do as little to your hair as possible. Try not to style it as much as you can, because curling irons and flat irons and blow-dryers—all that good stuff that we use to make our hair look awesome—is really damaging." For her, that means plenty of topknots and braids when she's kicking it back with her family over the holidays.
Overall, Tinashe stresses that, as women, our hair is one of the most important and versatile things about us. It gives us the ability to express ourselves in ways we couldn't otherwise, and that's why it's important to take care of it. "I think that being able to switch up your hairstyle is one of the benefits of being a woman—it's one of the coolest parts about it," she says. "You get the luxury of being able to change up your styles, your mood, and I think it's a great way to express yourself and really make a statement depending on however you feel that day. Whether it's fun, flirty, sexy, subdued, laid-back, or conservative, you can switch it up depending on how you feel."