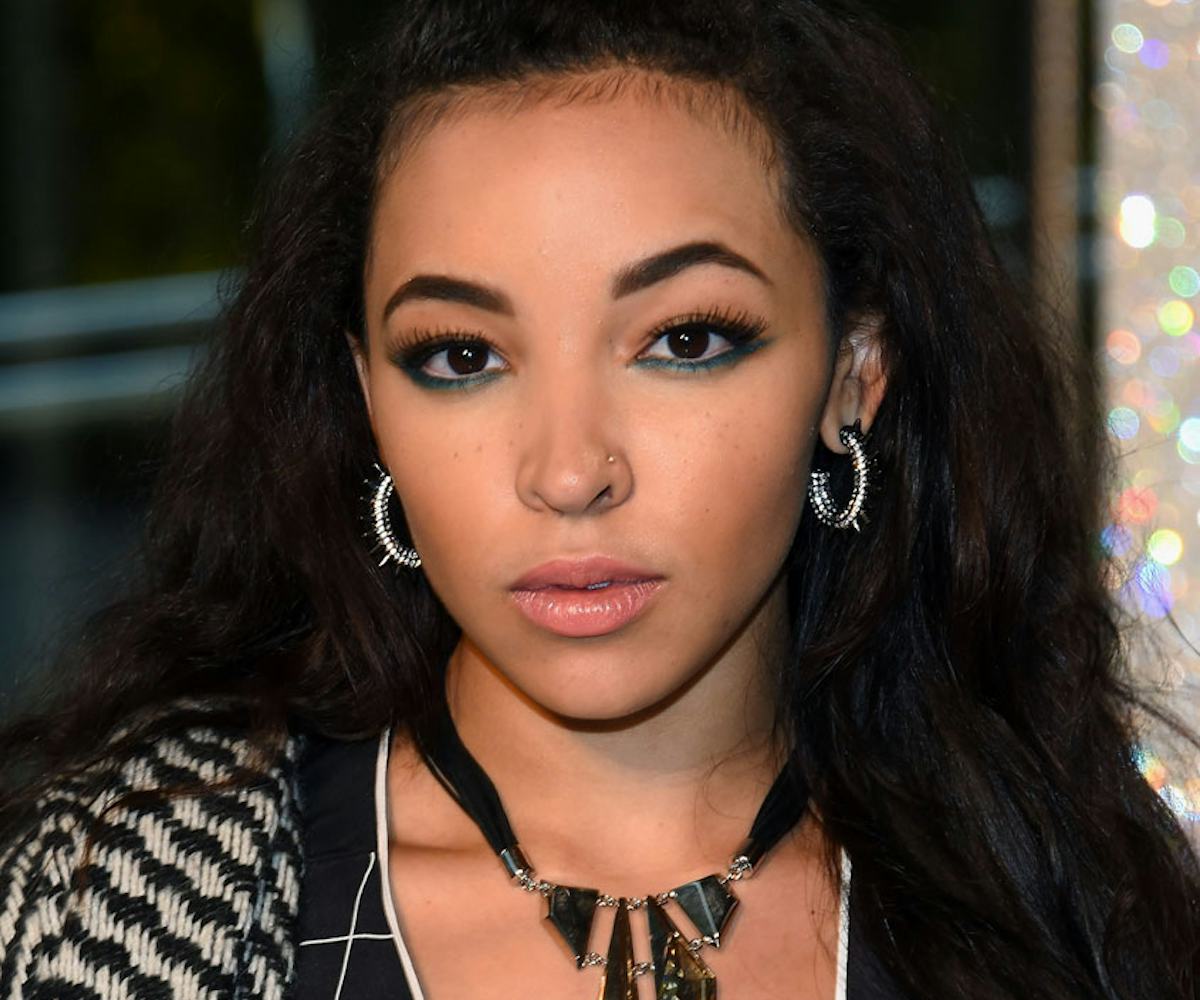 Photo by Larry Busacca/Getty Images
An Open Letter To Tinashe
On dealing with disappointment, disrespect, and dignity
Editor's Note: Tinashe has tweeted at us about our piece, and we have reached out to her reps for a larger comment. Check out her Twitter for more.
Ever since Tinashe dropped her claim to fame "2 On" back in 2014, I have been rooting for her all the way. Her lusty R&B bangers have gotten me through the best and worst of times. In addition to covering her career trajectory from the beginning, NYLON has also supported Tinashe by fronting her as a headlining act for multiple brand events. So, when she started working with men like R. Kelly and Chris Brown, it caused me to take a step back. I'm conflicted about the responsibility an artist has, to make tasteful art while also being a responsible individual. Going into 2016, this line has become tremendously blurred. Personally speaking, I don't think I'll be able to get over any of this by the time Tinashe's Joyride album comes out because these are men, R. Kelly specifically, with a history of violence against black women.
I first listened to the demo version of "Player" before it was released this summer, and I remember immediately seeing its potential to be a Top 40 chart-climbing hit. At that moment, Tinashe was making a big transition and crossing over to pop music territory. So, when the official track was released a few months later, I was surprised that it featured Chris Brown. Having another artist on the track didn't phase me, it was more about why she had to have this specific artist be a part of it. Chris Brown has been a problematic celebrity for a lot of reasons, but they all point back to the highly publicized incident in 2009 when he assaulted Rihanna. For a short period, no one seemed to have any interest in covering him, but that all changed when he started gearing up for his musical comeback. People moved on because he "did his time and paid for his crimes." Suddenly, the path to redemption became a cheat code—a celebrity could commit an appalling act and the media would continue to support them because of their "talent." Meanwhile, this path is littered with repeat offenses, but no one wants to clean up the garbage. Instead, we're all typing material that looks more like toxic waste.
If artists want to work with someone like Chris Brown, that is completely on them. However, similarly, it is completely on me, as a woman, to feel uncomfortable with those choices. I will never understand how or why anyone—especially a woman—would willingly choose to do so. Unfortunately, Rihanna has collaborated with her abusive ex on more than one occasion, but I don't want to get into that today.
Yesterday, R. Kelly released "Let's Be Real Now," a track featured on his forthcoming album. I was originally going to ignore it—as I often do with anything that has to do with R. Kelly—but there's a familiar voice on the single and it belongs to... Tinashe. The last thing I have ever wanted to do is call her out, put her down, or criticize her, but it would be a disservice for me to remain silent on why this is such a controversial issue. I want to be clear that if another artist that I liked had their name on those tracks and released them back-to-back, I would have written this about them too. Jhene Aiko, for instance, has also recorded songs with both men in the past year, but she's not really on my radar in the same way as Tinashe. Last month, New York Magazine published an in-depth profile on R. Kelly that revolved around the rhetorical question "Is it okay to listen to R. Kelly?" Throughout my adulthood, I have always tried to maintain the mentality of separating the art from the artist, but I can't tolerate a person that has done unforgivable things, even if they are considered as accusations. Believing women, much less women who speak out in droves, is important to me.
In R. Kelly's case, the public records speak for themselves. He's an insidious creature of habit that preys on young girls, and we all ignore that fact while we listen to his songs about sexual healing. Two years ago, Jessica Hopper took it upon herself to publish everything that the media slept on over the years in the Village Voice, and none of that evidence seemed to matter to anyone. The worst part is knowing that even if he had been convicted of his alleged crimes, it probably wouldn't have made much of a difference in the court of public opinion. R. Kelly recently performed at the BET Soul Train Awards, and oddly enough, no one seemed to be bothered by his televised appearance. 
In an interview for our December/January 2016 issue, Tinashe talked about how she's an underestimated artist that prefers to be alone in all aspects of her life. When I read that section, I interpreted it as Tinashe not needing anyone to prop up her own talent. Tinashe is a multi-talented star on the rise, so why did she have to record music with two of the worst men, reputation-wise, in the industry? It doesn't make sense to me when she carries herself as a strong, independent woman. To an extent, I understand that a lot of the decisions regarding Tinashe's music are probably made between her management and her label, but she has to have some control over her image. I mean, this is someone who has been career-oriented since she was eight years old. I get that these features were opportunities for her to gain more exposure, but at what cost?
There's a part of me that wants to believe that if Tinashe had opposed working with Chris Brown or R. Kelly, she wouldn't have been forced against her will to do so, which is why I expect more from her. When Lady Gaga recorded "Do What U Want" with R. Kelly and images from the music video leaked, the public reaction against it was so strong that she had to pull it completely. The offensive video happened to be directed by Terry Richardson—another questionable man in the entertainment industry—and triggered rape survivors.
For me, the most disappointing aspect of Tinashe working with R. Kelly and Chris Brown is not just that these men have both abused women—it's that their victims have all been women of color. (And as far as R. Kelly is concerned, he allegedly sexually abused girls as young as 14 years old.) As a biracial woman, this should hit close to home for Tinashe. How I feel about Tinashe is the same way that I feel when Miley Cyrus allows Terry Richardson to photograph her magazine cover, or when Emma Stone stars in a Woody Allen film, or when Natalie Portman signs a petition in support of Roman Polanski. In my opinion, these women are stars and they don't need trash men to shine.
At the end of the day, this isn't about race or bringing the black community down—it's about holding the media accountable and the public to a higher standard. Before these tracks were released back to back, Flavorwire wrote an article about whether or not we (the media) should keep covering R. Kelly and Chris Brown. While I agreed with most of what Tom Hawking had to say, it's hard not to notice how much more scrutiny minorities receive, especially outside the world of entertainment. But how do we respond to artists that are making an effort to redeem themselves and relaunch their careers in the aftermath of problematic scandals? And, while Chris Brown fans often argue that he has moved on and reformed, R. Kelly didn't have an "incident." He had many, with young children. I am aware that these two men are not the same, and while I constantly find myself conflicted by my desire to fully support up-and-coming talent, the ethics and morals that I live by will always carry more weight.
As a black woman, I cannot and will not defend Chris Brown or R. Kelly, ever. And as journalists, we obviously have no say in who artists work with, but we have the power to decide what the public should know about them. We need to stop praising the work of men who have a reputation for doing bad things and start reporting on their actions. That's our job. NYLON focuses on women's interests, so we would like to believe that our readers are not interested in abusive men and will support our decision to refrain from covering their work. But if we're causing FOMO in the lives of Millennial women worldwide, know that those sugar-coated stories can be found elsewhere on other outlets.
We love you, Tinashe, but we know you're better than this.