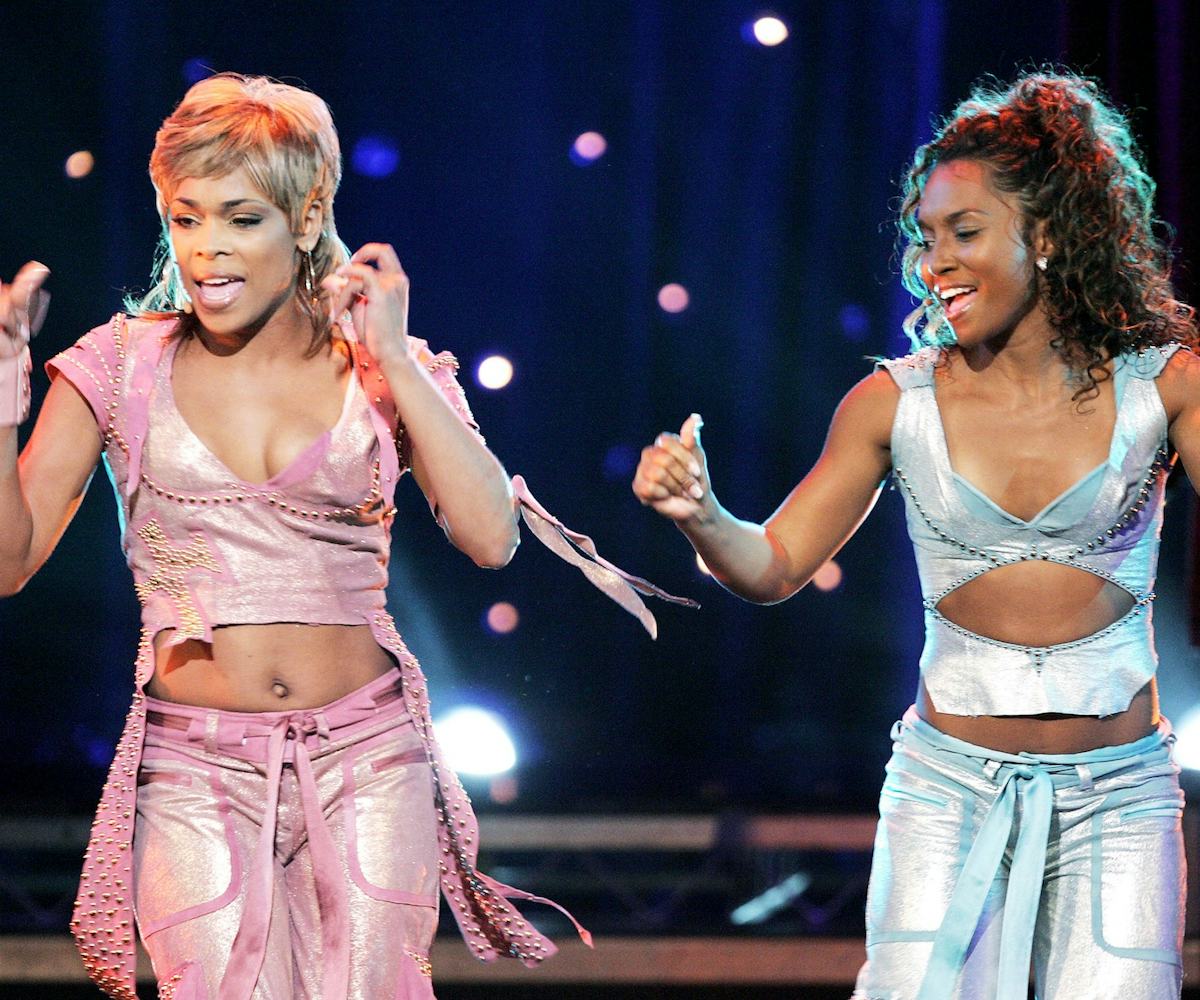 thursdays with tlc
what we learned from our morning with t-boz and chilli.
This morning, all of my '90s dreams came true. No really, though, they did!
It went down at about 11 am at Soho's Crosby Street Hotel, where TLC held a press conference of about 15 or so reporters. Chilli and T-Boz were there to promote their upcoming VH1 Original Movie 'Crazy/Sexy/Cool': The TLC Story, as well as discuss the group's performance this weekend at Mixtape Festival in Pennsylvania.
Between talking about fashion (I mean, T-Boz showed up in a leather jumpsuit, so clearly they've still got it…), their decision to cast Keke Palmer, Drew Sidora, and Lil Mama as the onscreen band members, AND drop hints about new material, there's way too much awesomeness here to cram into one single blog post.
But still, I'm going to try my best. Click below for all the stuff you need to know from this morning's hangtime with TLC. –LIZA DARWIN
1. The band almost ended–several times.
After Lisa "Left Eye" Lopes' death in 2002, Chilli and T-Boz almost ended TLC once and for all. According to their manager Bill Diggins, they've spent the decade since then grieving. And although they're quick to say that Left Eye can never (ever ever) be replaced, they finally feel truly ready to share their story. Not to mention, hit the stage again for the first time since 2011.
2. The resemblance of the actresses in 'Crazy/Sexy/Cool': The TLC Story is actually uncanny.
Both T-Boz and Chilli agree that Keke Palmer (as Chilli), Drew Sidora (as T-Boz), and Lil Mama (as Left Eye) nail their parts in the movie. And after watching a sneak peek of the made-for-TV flick this morning, we totally agree. Forget everything you know about the former Disney stars and "Lip Gloss" singer…from their eye makeup to their dance moves, these girls have TLC down. T-Boz and Chilli admit that they had to do a double take.
3. T-Boz and Chilli helped the girls get into character.
Chilli said that as executive producers, she and T-Boz worked super closely with all of the actresses, coaching them over late-night phone calls (she said Keke Palmer would call her regularly) and sleepovers. And as for Lil Mama's performance, Chilli said that they were all "reminded of Lisa's spirit on set," and for the first time "everything came together in a really organic way."
4. The movie is about Chilli, T-Boz, and Left Eye…and it's 100% from their perspective.
"Some people are probably going to get mad about how they were portrayed, but that's not our concern," T-Boz said this morning (specifically referring to Perri 'Pebbles' Reid and the drama that ensued after Left Eye's death). It's not about their moms, it's not about their business partners, it's about them, and they wanted to make that clear.
5. If they had to choose, the ballads were their least-favorite songs from the '90s.
Both T-Boz and Chlli said that they liked performing upbeat tracks more so than ballads. Also, a couple of fun facts: T-Boz's favorite video was for "Waterfalls," and she thought her hair looked the best in "Creep."
6. TLC's new album features contributions from Lady Gaga, J-Cole, and more.
The group's still-untitled album drops on October 15, and here's what to expect: one song co-written by Lady Gaga, plus other contributors like J-Cole, Ne-Yo and (rumor has it) Drake. Also, not a single artist said no to collaborating with them. In fact, many of the performers actually approached Chilli and T-Boz themselves.
7. They both look great.
At least from our second row seat, these ladies seriously don't age. They may have traded parachute pants for something a little more 2013, but no doubt–they've still got it (and we can't wait for more).
Check out the trailer for 'Crazy/Sexy/Cool': The TLC Story below and watch the film when it airs on Vh1 in October.