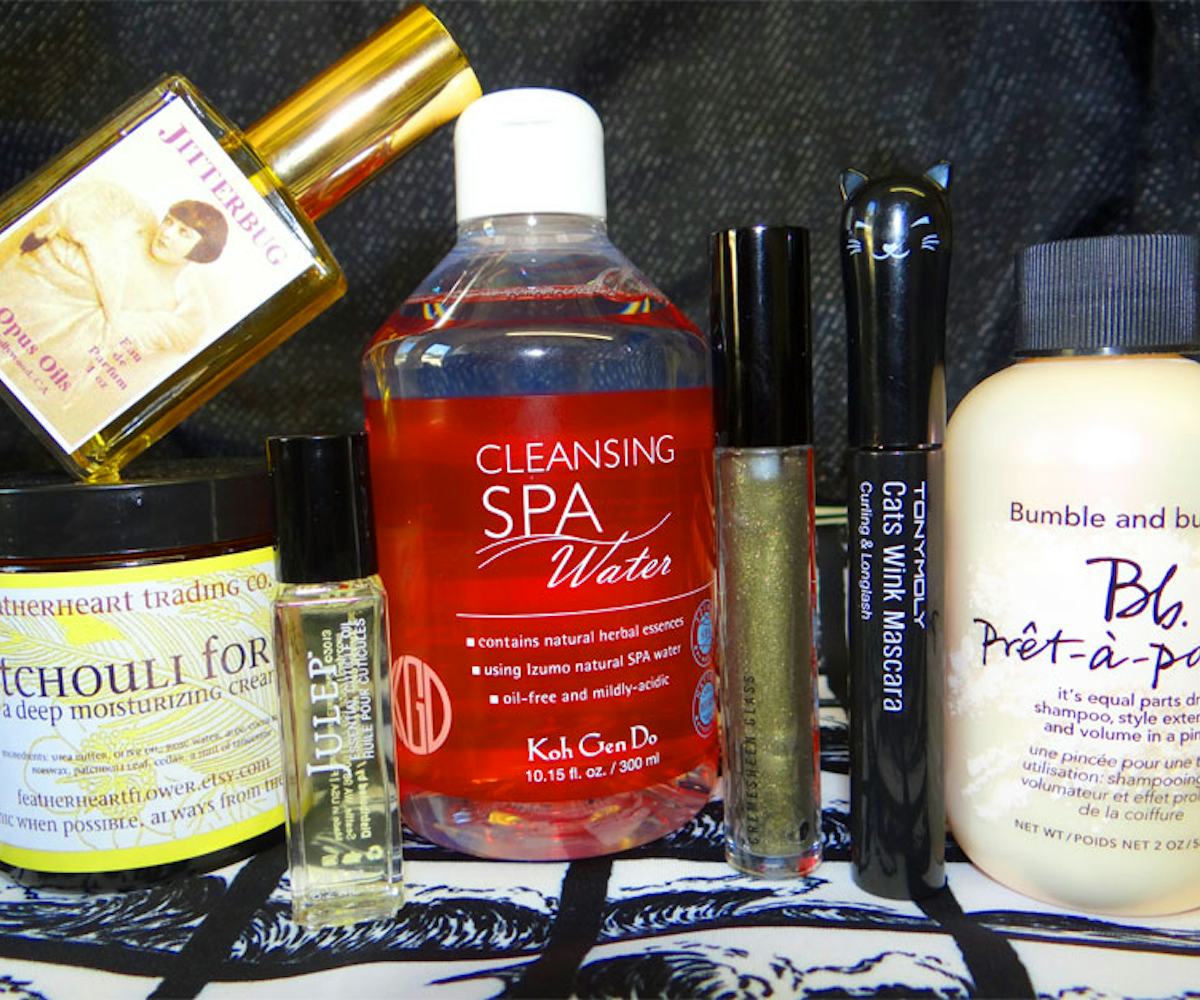 photo by jade taylor
vanity case
our new favorite beauty products are total purrrfection.
OLFACTORY GIRL
WHAT IS IT:
Opus Oils Jitterbug Eau de Parfum 1 oz.
WHY I LOVE IT
: Chances are--unless you're a scent connoisseur like myself--you've never heard of Opus Oils. The brand creates high quality and unique fragrances made from traditional methods of artisan perfumers in the past (so much so, they have their "Jitterbug Perfume Parlor" located in Hollywood, CA that serves as their atelier). In other words, the company is basically the next big thing in perfumery. With custom batches like "Les Bohemes," "The Absinthe," and "Burlesque" collections, each of which have corresponding vintage-y photos printed on the bottles, Opus Oils embodies the old-school idea that fragrances should be as pretty as the scent itself. My fave? Jitterbug. Admittedly, the name was what caught my attention first, but once I started reading the ingredient list--Jasmine, Orange Blossom, Blond Tobacco, Sandalwood--I knew I found my scent-soulmate. But with over 50+ other scents to choose from, which will be your favorite?
FOR THOSE
: Who want to try something new.
FLAMING LIPS
WHAT IS IT:
M.A.C Cosmetics Cremesheen Gloss in Jet Boy
WHY I LOVE IT:
Any lipgloss shade that describes itself as "sheer black with gold pearl" is, basically, begging for me to wear it. Enter Jet Boy Cremesheen Glass by M.A.C Cosmetics. Part of their Punk Couture collection that debuted products like edgy matte lipsticks and punchy pigments, Jet Boy has quickly become one of my favorites from the assemblage, mostly thanks to its unique color. When first applied, the hue almost mutes your lips into an olive/grey shade with micro gold specs, but once layered, amplifies the--weirdness?--of the color. *Waits patiently for Lorde to been seen wearing it.*
FOR THOSE:
Who want to unleash their inner weirdo.
EYES WIDE SHUT
WHAT IS IT:
WHY I LOVE IT:
If you know me at all, you will know that I love cats. I am a self-proclaimed crazy cat lady, owner of two precious angels, and avid hoarder of anything feline-esque (knick knacks, bags, makeup, etc.). So it should come as no surprise that when I saw the TonyMoly Cats Wink Mascara on Urban Outfitters website I like, had to have it. But despite the adorableness of the tube (the top is a cat's head and ears), the wand and color payoff is just as purrrrfect for top and bottom lash application.
FOR THOSE
: Who want to be a cat.
CLAWS OUT
WHAT IS IT:
WHY I LOVE IT
: In case you're unaware, for the past few days New York City has been overly described as a "polar vortex"--and with good reason: It is f***ing cold out there. My skin, hair, eyes, lips, and hands have fallen victim to the brittleness of this weather, along with my precious cuticles I've been taking care of (i.e. no biting) as of late. Thank god that Julep's Essential Cuticle Oil happened to be hanging out near my desk, because I haven't been able to stop applying it since re-discovering it in my beauty stash nearby. The rollerball--packed with a blend of essential oils and Vitamin E--makes application easy and mess-free, while strengthening nails and cuticles and also extending the life of your manicure. 
FOR THOSE
: Who wish they were somewhere warm.
BODY ELECTRIC
WHAT IS IT:
Featherheart Trading Co. Patchouli Forest A Deep Moisturizing Cream
WHY I LOVE IT:
Another hidden beauty treasure I discovered via Etsy, Featherheart Trading Co.'s lotions have certainly come in handy during this winter season (see rant above). Lately I've been slathering their Patchouli Forest Lotion all over my body post-shower to lock in moisture and prevent any dryness that comes from walking in one-degree weather every day. Made from a healthy blend of cocoa butter, sheer butter, olive oil, and aloe vera, while scented with patchouli wrapped in tangerine for a pungent kick, it really is heaven in a jar.
FOR THOSE:
Who need some moisture.
FACE TIME
WHAT IS IT:
Koh Gen Do Cleansing Spa Water 300 ml
WHY I LOVE IT:
After using the last remaining drops of my beloved bottle of Bioderma, I decided to switch up my cleansing routine with something different: Koh Gen Do's Cleansing Spa Water. Infused with mineral-rich hot spring water, six essential herbs (rosemary leaf, sage leaf, lavender, artemsia princeps leaf, peril ocymoides, and ginger root), and white birch sap (harvested only three weeks each spring), the blend is so rich in nutrients that it can safely remove makeup, oil, and residue while rejuvenating, protecting, and hydrating skin. If my skin could talk, it would say: thank you!
FOR THOSE:
Who want to bring the spa home with them.
HAIR METAL
WHAT IS IT:
Bumble and Bumble Pret-a-Powder
WHY I LOVE IT:
Full disclosure: The real reason I finally decided to test out this product was because I couldn't stop hearing about how wonderful it was from fellow beauty editors, friends, and hairstylists. It's not like I'm a non-believer in "miracle products," I just wanted to test it out for myself before I believed all the hype. And yeah, since I'm featuring it on this week's Vanity Case, you should already be able to guess that I ended up loving it just as much as everyone else. Typical. Here's the rundown: Pret-a-Powder, one part dry shampoo, one part style extender, and one part volumizer, truly does everything that I look for in a hair product. So if you're in need of a good cover-up (i.e. you haven't washed your hair in a few days), a dry-hair styler to extend the life of your beloved blow-out, or something to instantly life your blah hair up and seem fresh, look no further.
FOR THOSE
: Who need a miracle.