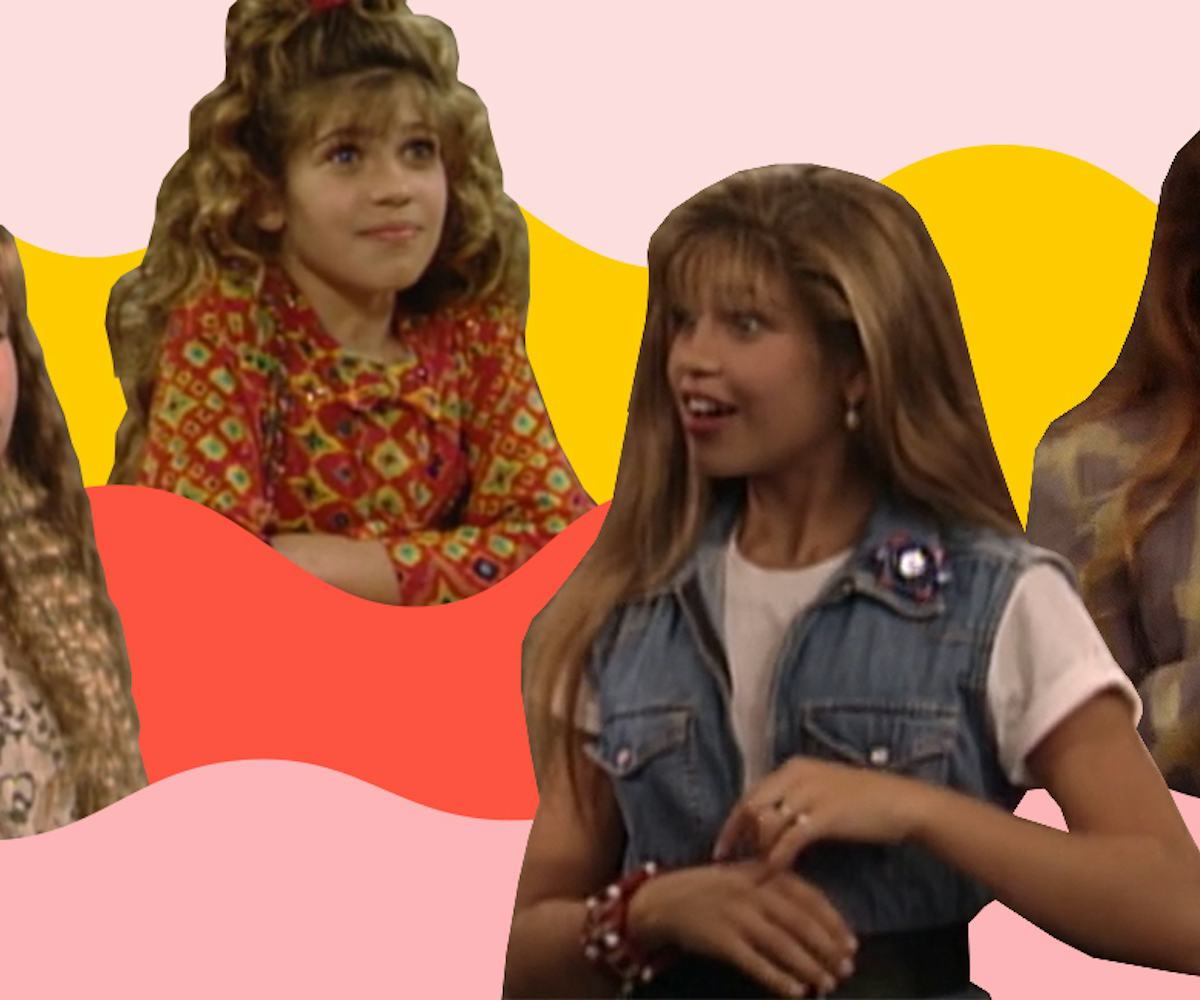 Screenshots via Hulu
Topanga Lawrence Is A Forever Style Icon
In praise of the evergreen '90s look
Twenty-five years after we were introduced to Topanga Lawrence in the first season of Boy Meets World, she remains an evergreen resource for style inspiration—a true '90s icon.
From the show's fourth episode, as Topanga begins an interpretive dance in Cory's kitchen, popping the cap off a tube of lipstick and drawing all over her entire face, it's pretty clear she's more than just the typical sitcom girl-next-door. She's no manic pixie dream girl, either, and would laugh at the idea that any girl is ever just a plot device. 
From the get-go, Topanga's strong personality was shown inside and out. At first she gave off strong Stevie Nicks vibes, thanks to that hair, a ridiculous cascade of curls and wavs that I'd never be able to match with my Conair crimper. And for a supposed suburban middle schooler, she had the most enviable collection of lace tunics and crochet cardigans. 
As I grew up, I had a permanent timer set on my television to record each and every rerun of Boy Meets World. By the time I moved out of my childhood home, I'd seen all the episodes several times. My obsession—born out of a lack of channels available for viewing—had turned into a subconscious personality trait; I saw myself in Topanga's energy and was drawn to pieces of clothing that matched. 
Topanga's knack for accessorizing informed my tried-and-true wardrobe staples throughout high school (and, let's face it, still today) as I participated in the blood sacrifice necessary to break in my first pair of Dr. Martens, and brought my mom spools of black velvet ribbon so we could make chokers. The appeal was less about the '90s grunge references that will forever remain popular, and more about Topanga's ability to mix boxy, masculine shapes in with a cozy feminine wardrobe. Though a wardrobe throwback is always fun, Topanga's fearless, compassionate energy translated into her clothing, and is what makes her wardrobe feel so timeless. 
As the series went on, and the witchy tops seemed to fall out of her rotation of outfits, Topanga made an effortless transition into straight up menswear and loose frocks. She's the effortlessly cool party-goer, the kind who perfected the beret and leather jacket look long before I found the courage to try it out myself. She's the reason I started tying my shirts up rather than tucking them in, first for the aesthetic, then because I realized it's a hell of a lot more comfortable when there's no doubled fabric around your waist. 
In the fourth season, Topanga's hair—which until then, was of true horse-girl length, when worn straight it fell past her waist—becomes a symbol of vanity and power. She chops it off, much to Cory's dismay (we stan an independent queen) and quite literally rocks his world, dedicating an entire episode to his faltering self-confidence over her killer new cut. With each new viewing, it's easy to embrace an unintentional commentary on fragile masculinity rather one regarding relationship dynamics and change. 
Topanga becomes the master of basic layers, with velvet jewel tone sweaters at the holidays and the perfect shacket for any occasion—her adolescent experimental spark is found in the tiny details, a starry earring, a bright red hue for her blazer. Her new friend Angela comes along, and style-wise, they seem to be fashion soulmates. Angela's berets and oversized, colorful sweaters are the things that young Topanga's dreams were made of. 
By the end of the show, Topanga has grown older, and so does her wardrobe. She eases into a more conservative look, but her established sense of wonder is never lost. At the conclusion of the sixth season, she's in a hospital waiting room with Cory, and in an attempt to bring comfort to him during the birth of his little brother, breaks out another tube of lipstick and recalls the young girl that had performed interpretive dance in his kitchen all those years before. 
While, even a quarter-century later, the Boy Meets Worlddiscourse may still rely heavily on a general hope to find your own Cory or Topanga, your fateful sitcom soulmate in the world, I'll always find comfort and inspiration in Topanga's spirit, both in her wardrobe aesthetic and otherwise. I may not be 12 and looking for the perfect scripted character to make me feel emboldened enough to slip my feet into a stiff new pair of Docs (I have enough angst to do that for myself now), but I'm grateful for the TV magic that got me—and her—there in the first place.