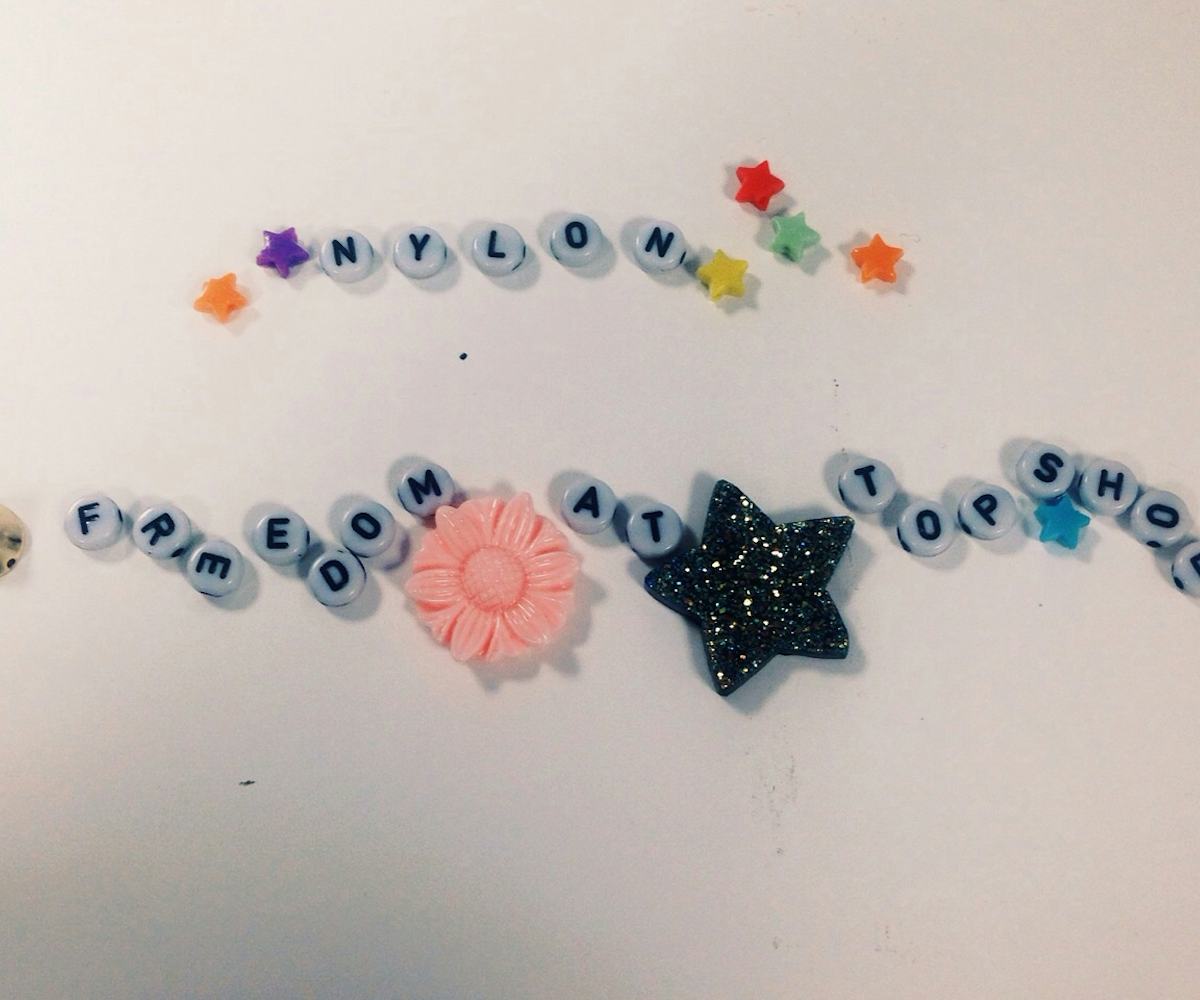 photo by tamar levine
topshop's hidden gems
step inside the brand's treasure-filled jewelry mill.
There are only three things I love as much as jewelry, and two of them I can't mention in this is article. The third is London. I mean, the accents, the Royals, the way locals call underwear "knickers"...the list gets longer every day. So when I was invited to get a behind-the-scenes look at the jewelry collections for one of the city's biggest brands, I nearly lost my shit. Or is it shite? Freedom at Topshop produces the kinds of edgy, of-the-moment accessories that every cool girl on both sides of the Atlantic is sporting. Any given month, Freedom has up to 400 different styles of jewels coming in and out of their stores—an almost ludicrous number, and one that trumps any other High Street brand.  
I hopped across the puddle and spent a day inside Freedom at Topshop's London headquarters—the mothership—with the symbiotic duo who are the collection's engine: Ashkin Yolsal, the head of buying, and Natalie Holt, the head of design. Yolsal is a sprightly little thing who dominates the conversation with industry talk. She's the one who knows exactly what a piece of jewelry needs to have in order to fly off the racks. Holt, on the other hand, is a calming presence whose unique aesthetic allows her to create new designs inspired by what she sees in far-off lands, or even on the streets of glittery London.
Unlike other big brands, Freedom creates elaborate, fully-realized production samples—these girls aren't afraid to get their hands dirty. Holt's team spend hours creating samples, "and every day we are making things, because that way [the item] becomes tangible. You can see it and feel it; you know the specific bead that will be used, how the clasp works, how thick the chain is, etc. We collect components, we draw, and we hand craft."
On a tour of the grounds, I spot rolls of chains in gold, silver, and gunmetal, and a junior designer uses pliers to fasten a glass stone sourced from a foreign bazaar onto an earring. "One of our challenges is to make sure what we buy, develop, and design is commercial, to appeal to a greater audience," Yolsal says. "But we also need to design those things that the Freedom shopper will never see anywhere else. The ring that if she doesn't get, she will see as a missed opportunity."  
We walk past floor-to-ceiling bins filled with every bead imaginable: silver studs, pearls, plastic 3D flowers, turquoise, crystals, vintage ceramic beads. Holt points out, "The elements that make one product could be from a brooch found in Arizona, right down to the fabric on a chair found in someone's living room, and they all come together to make the jewelry that is in stores across the world."
Each season, Yolsal and Holt look closely at the prevailing runway trends together. Holt and her team decide which trends make the best sense for the brand to focus its attention on (take the recent ear cuff infatuation, am I right?!) and how to stagger their offerings throughout the seasons. Together with Yolsal, the two create their own versions of the accessories by changing the material or scale so each piece stays relevant, while remaining uniquely Topshop. To hear them describe it, the development is now down to a science, but in truth the process is insanely complex and totally appreciated.
It is obvious why Brits are so obsessed with this brand. It perfectly marries what is feasible for a high-volume brand and what is fantasy for a girl shopping on High Street. Considering I still have earrings I bought when Topshop first opened in SoHo over six years ago (ones I debated buying, pined over, and finally went back for because I dreamed about them and exactly how I'd wear them), it's looking like Freedom at Topshop's future is shining as bright as its jewelry.
Follow Tamar on Instagram @tammylevine.
All that glitters.
The crafting center of our dreams.
Time to break out the tools.
All the jewelry-making supplies a girl could ever want.
Semi precious cuff, $22, topshop.com
Cord drop stone collar, $56, topshop.com
Semi precious stone pendant, $15, topshop.com
Semi-precious stone cuff, $28, topshop.com
Mini rectangle studs, $8, topshop.com
Semi precious rectangle ring, $14, topshop.com