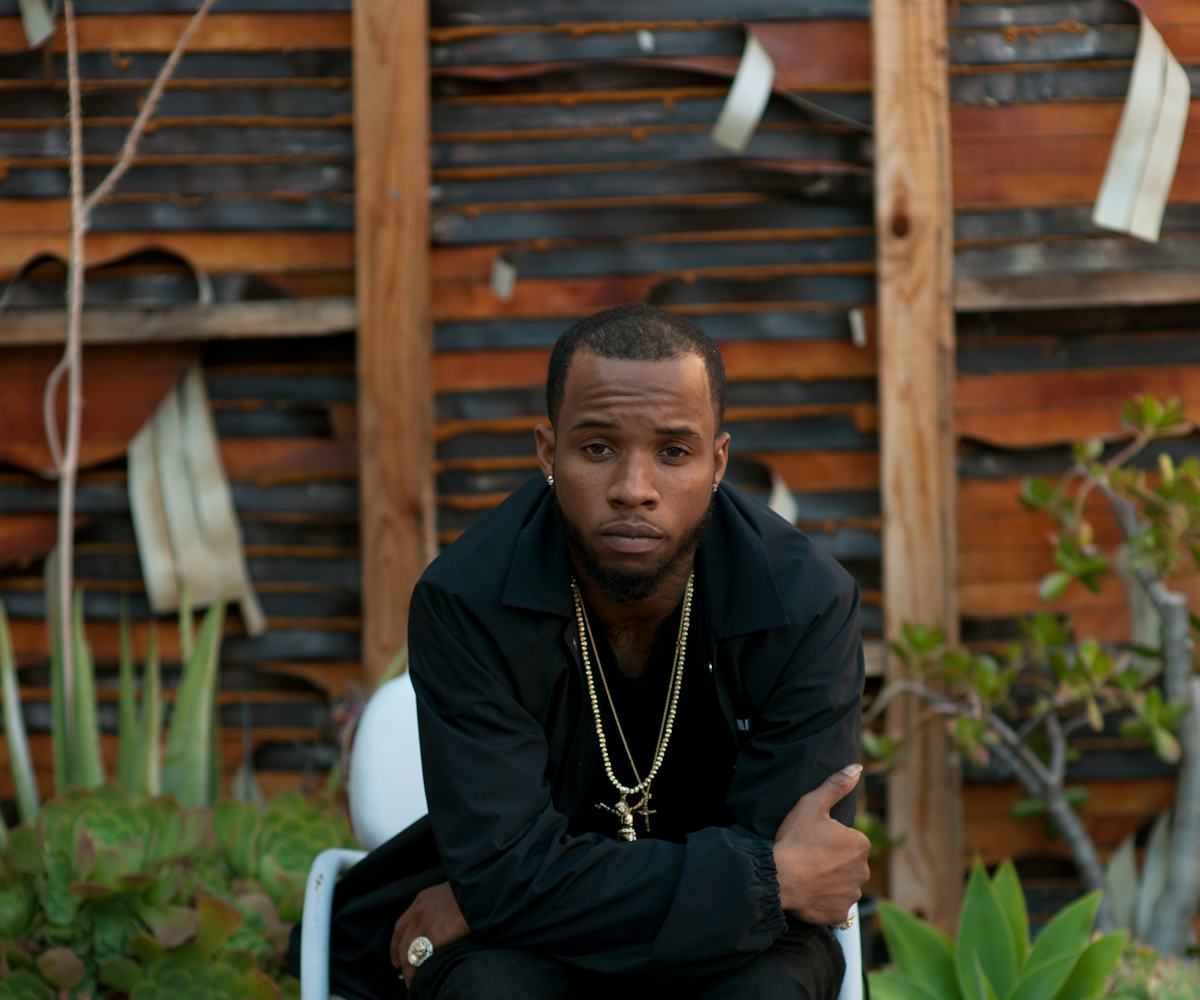 Photo by B+
Tory Lanez Teaches Us A Lesson In Shutting Down Haters
"Look, I'm here. I told you."
Tory Lanez has a message for the haters, and it comes in album form: I Told You. With his long-awaited debut LP, the Toronto artist is shutting down "the naysayers, the doubters, the people that I tried to convince," track by track. 
It's been a long time coming for the 24-year-old, who was born Daystar Peterson. He's released more than a dozen projects, that include recent radio hits "Say It" and "Luv," and racked up collabs with the likes of G-Eazy, A$AP Ferg, and Ryan Hemsworth. Over that time, he's built a reputation for having an honest, upfront personality that shines through in his emotive lyricism and willingness to experiment with everything from dancehall pop to reggae and R&B. 
In telling his own story, Lanez's not one to leave anything out. His latest album, a whopping 28 tracks (half of which are skits), recounts the raw, unfiltered journey of Lanez's rise—from getting kicked out of the house at age 16 to a girlfriend's multiple abortions. 
But with an artist this multitalented, there's always more to be known. So we caught up with Lanez on the day of his album's August 19 release to talk about his religious upbringing, favorite collaborations, and who he's really saying I Told You to.
Stream the album below, and read on for Lanez's thoughts on the project.
What is your earliest memory of music, and what did you listen to growing up?
I'm a church baby, so, of course, growing up in the church, that's where I heard most of the music that I grew up on. Honestly, my dad [a preacher] kind of kept me away from a lot of the secular music when I was growing up. It wasn't until I turned like 12, 13, where I really started listening to hip-hop. At those times, I was listening to 50 Cent, Eminem, Jay Z, Nas. I was deep into heavy hip-hop.
When did you know that you wanted a career in music?
My mom died when I was, like, 11 years old. When my mom died, I didn't really know how to express myself. I was kind of a really bad kid; I was in trouble; I got kicked out of every single school that I've ever been in since sixth grade on. I think music ended up being an outlet for me to express myself when I didn't have an outlet, and didn't have a way, and thought fighting and stuff was the way.
Do you feel a connection to Toronto and other artists coming out of the city?
Yeah. I've been in a lot of different parts of Toronto, came up in a lot of different parts of the city. I've had my fair share of ups and downs in each of those parts. At this point in my life, I identify with every part of Toronto because of the mishaps that I've gone through and the places that I've seen and had to live through. So I definitely identify with that city more than a lot of other cities.
What's been the response so far to your album?
I feel marvelous. I feel big, like not in a colossal sense, but big. Like how Lil' Wayne said, on his intro. I feel like that. [Laughs]
What about the album title? Who are you saying I Told You to?
All the naysayers, the doubters, the people that I tried to convince that it would happen and they told me they couldn't see it. This is the moment of me saying, "Look, I'm here. I told you."
In the first skit on I Told You, "Another One," one of the first lines is "I'm going to be the biggest artist in the whole world." What does that look like to you?
When I get to a place of standing in front of crowds of people that can't speak English and being in places where people look at me and they're like, "How is this kid standing here? He's so big that I don't understand how he's in front of us." But I never want to be the artist that's so big in the world and I get caged by my fame. I'm going to be the biggest artist because the way I'm going to touch people is going to be literally touching the people. I'm going to walk out there in those places where they say, "Don't walk," because the people are going to love me. I'm going to perform in places like Syria and Brazil and Rome, and there's going to be crowds that are so far back that I can't even see the back.
You also say in the lyrics of that track that your story begins in 2008 when you're 16 years old. Why that age?
That's when everything got kind of real in my life. That's when I got kicked out of the house. That's why the skit that follows, that narration at the start of the album, is the skit of me getting kicked out of the crib that I was living in.
You've racked up so many collaborations over the years. Who has been the most fun to work with?
Just sheer fun and not necessarily the music, Blac Youngsta. That kid is hilarious. I could work in a session with that kid like, 20 times. He's just a kid with a lot of charisma. He believes in himself, and he brings a lot of enthusiasm to the studio. He's one of those people that just bring energy to the studio, but not the wrong kind of energy. Positive vibes.
You seem super comfortable with fame. But is there anything about fame that freaks you out?
No. I'm not freaked out about my fame at all. I don't get caged by my fame. I always was on some "keep it natural, keep it organic." Always go outside, never let people make you be like, "I can't go out there, there's too many people out there right now." It doesn't really affect me like that. The fame is just the plus of what I'm here to do. I'm here to make great music and be the biggest artist in the world, I'm not here for anything else.
How do you think your sound has changed over time?
I think it's matured, it's gotten better. There are things that I'm being more honest about. I don't ever want it to be a false story.
What's your motto?
Quality over quantity. I thrive off progression, but consistency and innovation are my biggest things.
Is there anything else you want people to know about I Told You?
I want people to know that this is all orchestrated in my head and that the album is a direct reflection of all the goods and the bads and the ups and the downs up to this point. Of course, there's a couple missing details, but you have to wait for the next album for that. [Laughs]