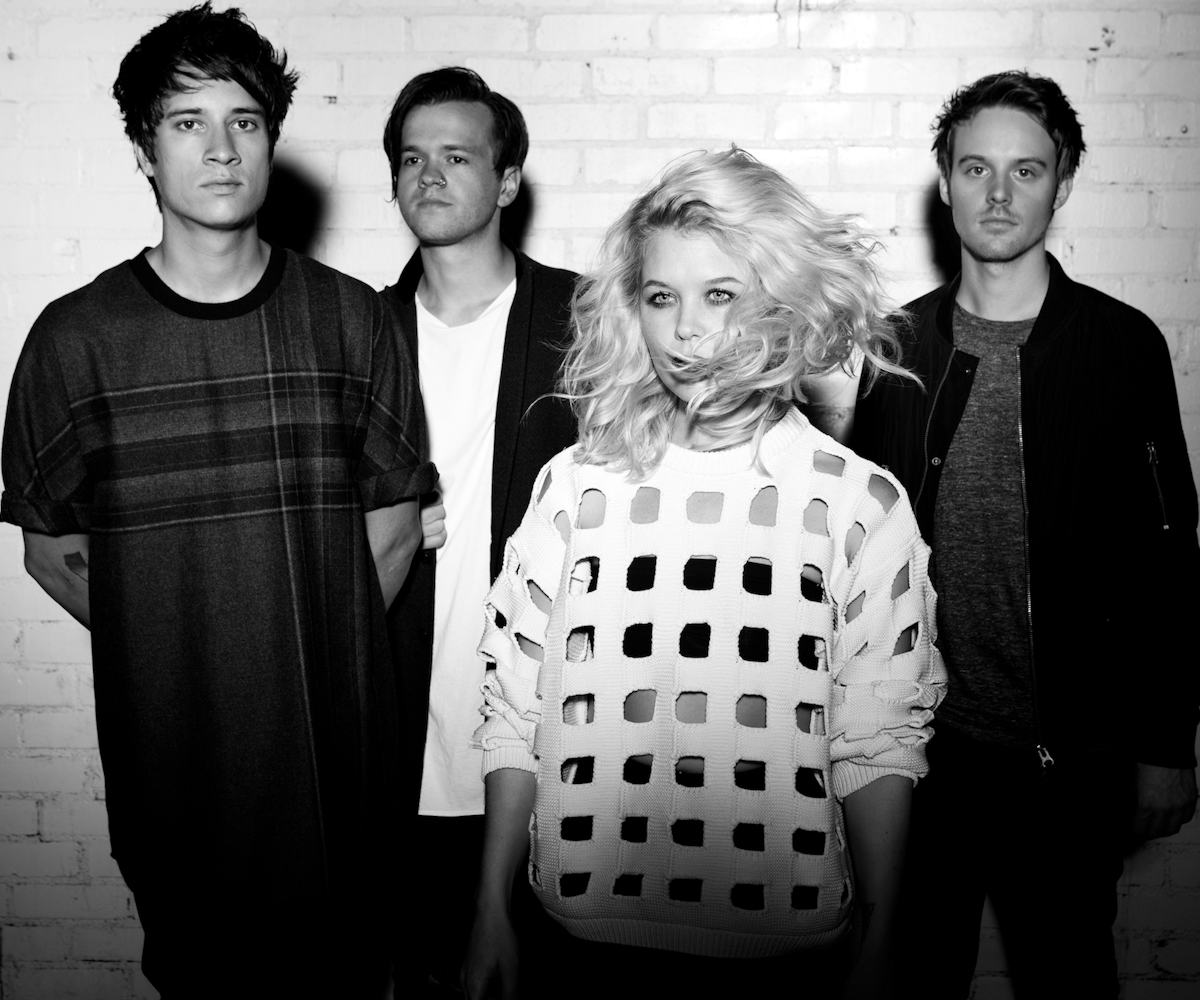 Photographed by Alex R. Kirzhner
Transviolet Is The Quintessential Band For The New Generation
"Don't trust anyone who doesn't sing along to 'Bohemian Rhapsody'"
The following feature appears in the June/July 2016 issue of NYLON.
Every year, we scour the music scene—on the internet and IRL—to round up the best rising acts for our annual Music Issue. Check in every day to meet the new artists that we can't stop streaming.
Say My Name: Sarah McTaggart, 27, sings lead, backed by Judah McCarthy, Michael Panek, and Jon Garcia (all three of whom are 26 years old). 
WTF (Where They From): Los Angeles via New York City
Earned It: This isn't your run-of-the-mill pop band. For every sway-inducing love song in their catalog, they've got a thought-provoking track that touches on self-identification, establishing themselves as an honest, authentic reflection of what it means to be a millennial. (Also, Twin Shadow remixed one of their tracks, so there's that.)
Pon De Replay: "New Bohemia"
U Remind Me: Transviolet are what would result if Lorde and Halsey wrote songs together while sitting on a moonlit beach in Southern California.
Personal Jesus: John Lennon. "I love how he could take such complex ideas and transform them into something anyone can understand," says McTaggart.
Cheerleader: Katy Perry, who tweeted that "Girls Your Age" was her "Song of the Day" last July, only to be followed up by a Harry Styles co-sign
Walk on the Wild Side: "At SXSW, we played nine shows and did 12 interviews and five photo shoots in four days," says McTaggart. "We went from cursing the day we were born while dragging our gear—on foot—to the next gig in 90-degree Texas heat, to feeling [like we were] on top of the world after sharing the stage with these insanely talented people. We got to play with Jack Garratt, Declan McKenna, Peaches, Misterwives, AudioDamn!, Gallant, and so many more. By the end, we were sweaty, sleep-deprived zombies, but so inspired by all the amazing artists we played with and the die-hard fans who were so passionate about discovering new music."
Thriller: Spiders were McTaggart's biggest fear, "until Trump supporters became a thing," she says. "Absolutely terrifying."
Heartbeat Song: "Don't trust anyone who doesn't sing along to 'Bohemian Rhapsody' by Queen," says McTaggart.
We've Only Just Begun: This summer is set to be a major one for Transviolet—they've got a ton of performances planned at various festivals, along with the release of their debut album.