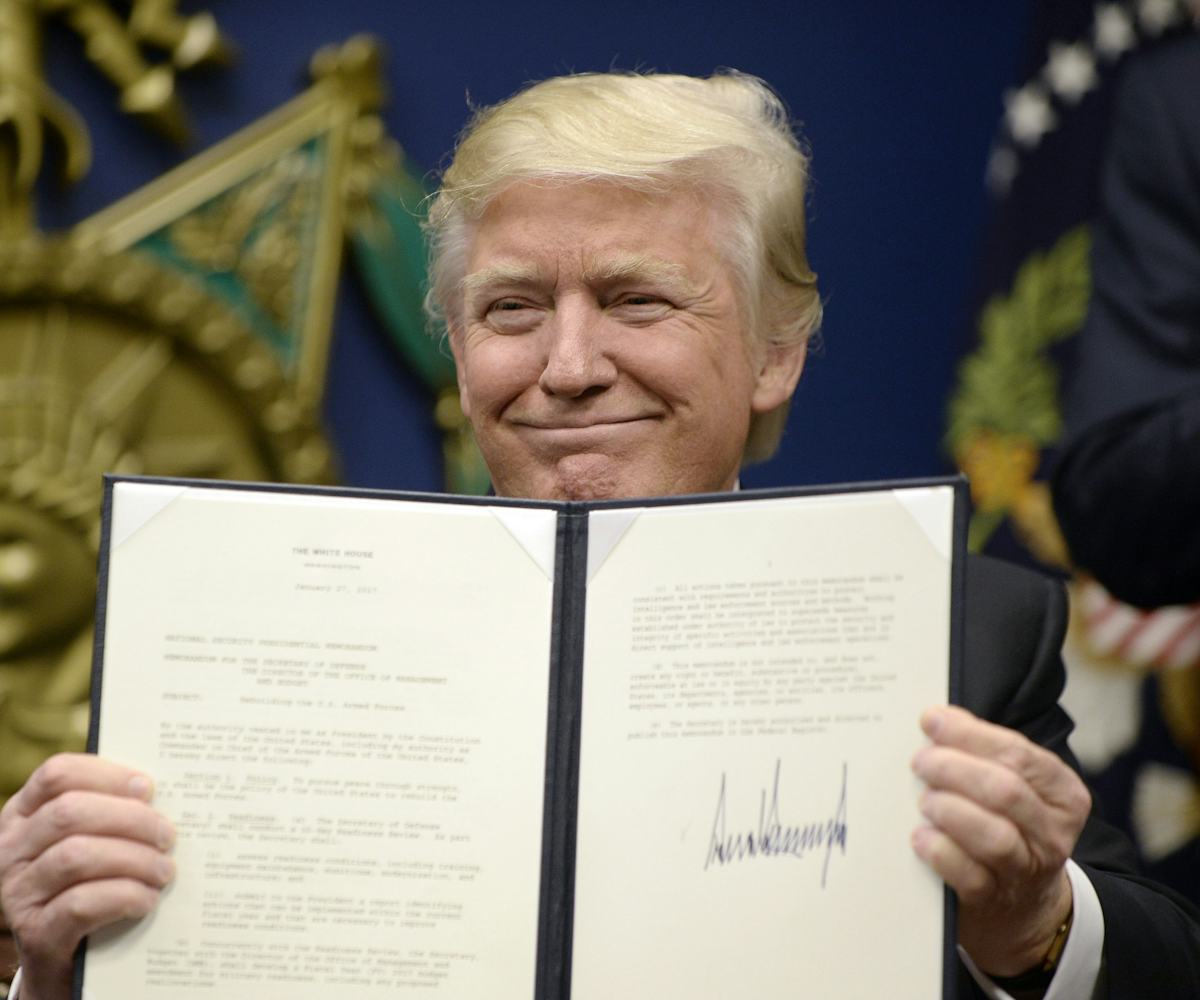 Photo by Pool/Getty Images
Trump's Muslim Ban Has Already Started To Affect Immigrants
What once seemed like a racist fantasy is now becoming reality
In his first week as president, Donald Trump has introduced a flurry of executive orders ranging from attacks on reproductive rights to plans on building that fucking wall. One of the many unsettling measures introduced by the new president is the crackdown on immigrants, particularly those who practice Islam.
Trump's administration has set out to create an actual Muslim ban, and what used to seem like a far-fetched racist fantasy is becoming a reality. According to The New York Times: Trump's executive order on immigration has closed America's borders to refugees and has us turning away immigrants from seven different majority-Muslim countries including Syria and Iraq. One of the many cruel ironies of the policy was that it was instated on Holocaust Rememberence Day. 
The New York Times has unequivocally characterized this move as illegal. "More than 50 years ago, Congress outlawed such discrimination against immigrants based on national origin," wrote David J. Bier on Friday. "While presidents have used their power dozens of times to keep out certain groups of foreigners... no president has ever barred an entire nationality of immigrants without exception."
The aftermath of the new rules, which went into effect immediately, are already being felt by people all over the globe. Many are reporting that immigrants already en route to the United States have been indefinitely detained at airports, with legal challenges on behalf of those held already in progress.
Some of those effected are live-tweeting their terrifyingly dystopian experiences:
"We've never had an issue once one of our clients was at a port of entry in the United States," said Mark Doss, a supervising attorney at the International Refugee Assistance Project. "To see people being detained indefinitely in the country that's supposed to welcome them is a total shock... These are people with valid visas and legitimate refugee claims who have already been determined by the State Department and the Department of Homeland Security to be admissible and to be allowed to enter the U.S. and now are being unlawfully detained."
As noted in the above tweet, Oscar-nominated director Ashgar Farhadi is one of the many being kept out of America due to the new policies. According to The Independent, the Iranian filmmaker (whose movie The Salesman is currently nominated in the Foreign Language category) will no longer be able to attend the ceremonies in support of his work. The co-lead of the film, Taraneh Alidoosti, will be boycotting the Academy Awards in protest.
The future of these people and the fate of these new rules are currently (and horrifyingly) unclear.