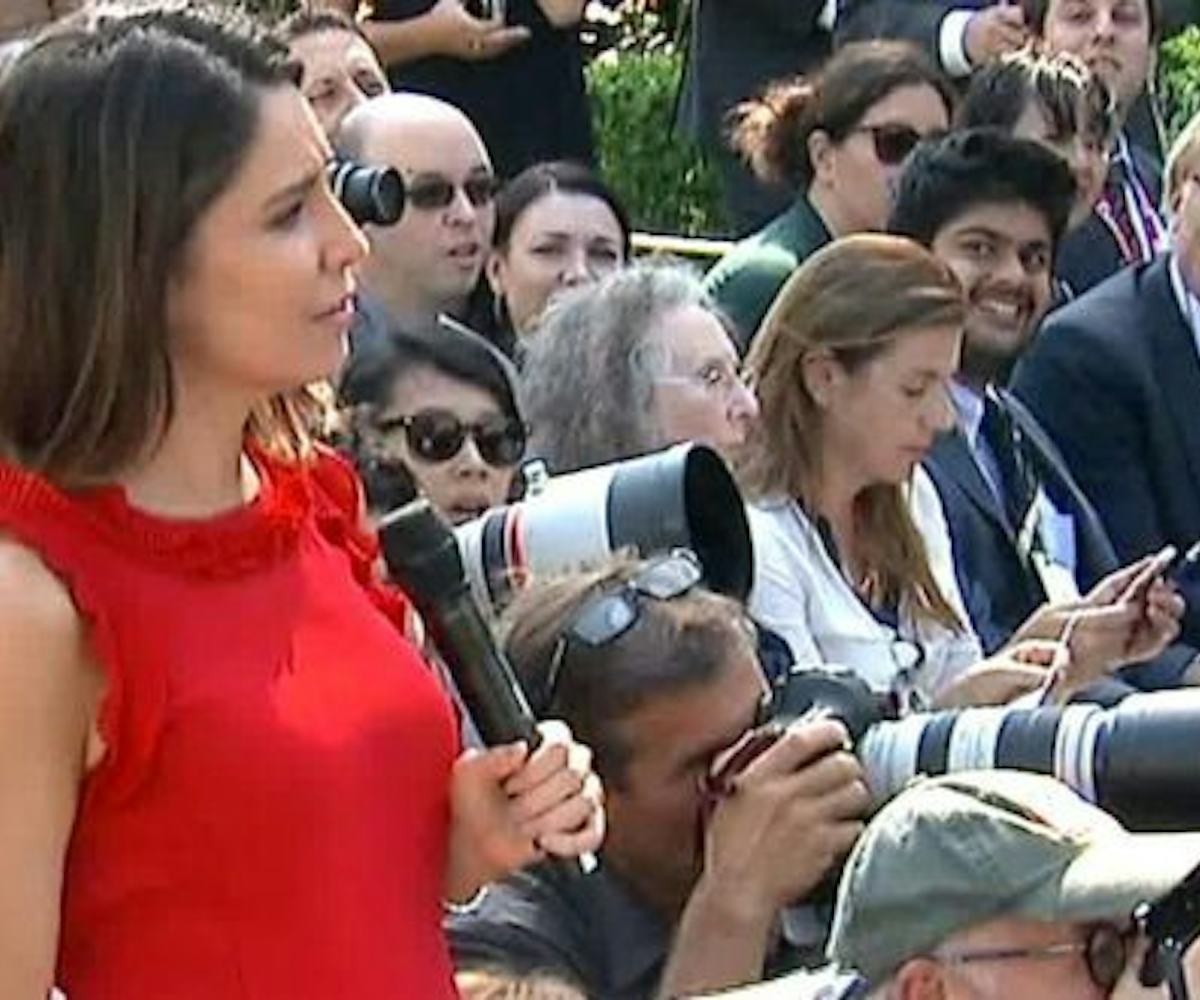 Photo courtesy of CNN
If You're A Female Journalist, Trump Doesn't Want To Hear From You
His recent press conference was full of demeaning comments
Donald Trump, already pretty well-known for not caring about women, held a press conference on Monday where it seems he belittled just about every female reporter who asked him a question.
First, he called on Cecilia Vega, a White House reporter for ABC News, so that she could ask a question, but not before making some mocking comments about her. "She's shocked that I picked her," he chided, while the (mostly male) White House staffers behind him had a chuckle at her expense. "She's, like, in a state of shock." Vega rose from her seat, responding to Trump's mockery by saying, "I'm not. Thank you, Mr. President."
Trump replied, "I know you're not thinking, you never do." In an effort to cover up this misogynistic comment, a White House transcript of the event originally claimed that Trump said "not thanking," but after a ton of criticism, the transcript has been changed to reflect the truth and include the jab.
He then deemed her question, which was on the FBI investigation into Supreme Court nominee Brett Kavanaugh, as irrelevant to the new trade deal that the press conference was held for. "What does that have to do with trade?" Trump said. "I don't mind answering the question. But, you know, I'd like to do the trade questions, too." As Vega noted on Twitter after the exchange, "A news conference means you get to ask whatever question you want to ask."
Another reporter, CNN's Kaitlan Collins, also asked about Kavanaugh, which prompted Trump to wag his finger at her and shout, "Don't do that!" He then told her, "You know what, you've really had enough. Hey, you've had enough." He later cut off yet another female reporter when she asked about mass shootings. We're noticing a pattern here. 
Trump did make a comment about Kavanaugh, referencing his college drunkenness to talk about how much of a "mess " he would be if he had developed a drinking habit. "Can you imagine if I had, what a mess I'd be?" Trump said. "I'd be the world's worst." We really can't imagine him being any worse than he currently is, actually.
Register to vote, here.