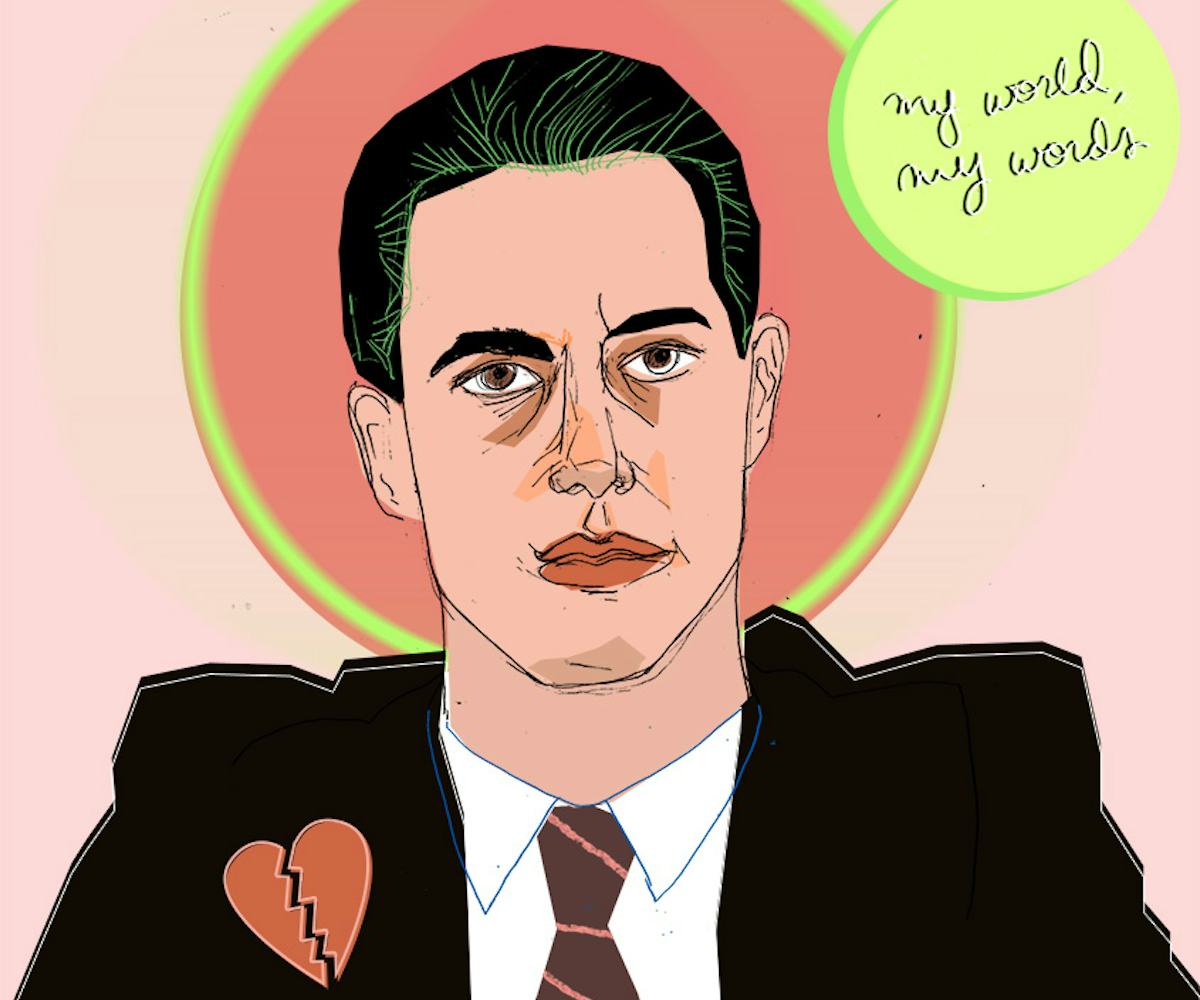 illustration by liz riccardi
twin peaks healed my broken heart
My World, My Words is a series of first-person essays featuring totally unique, inspiring personal experiences unlike anything you've heard before. The most interesting stories are also often the most overlooked, so we're on a mission to find them and share them with you. Written by people from all walks of life, these essays will move you in ways you might not expect—and that's the point.
I could have sworn we were happy. But then—as I sat cross-legged on my bed, he draped on the other end, lying on his side and propped up on his arm, the words "I wanna break up" feebly escaping his lips—it appeared that we were not.
The sudden demise of my blissful three-year relationship was like that scene in the beginning of The Wizard of Oz when the house is lifted up inside the tornado, spinning and spinning, and then suddenly hits the ground. Stillness. Silence. The settling of what was once swirling all around weightlessly. I cried. I took long baths. I ate too much fried food and drank too many margaritas. And then, in the middle of my grieving process, I watched the entirety of David Lynch's early '90s TV series Twin Peaks.
I don't remember exactly how it started, this nightly ritual. Perhaps my roommate suggested it. She'd been a welcome and reliable rock during what felt like an earth-shattering experience: She bought me takeout, sat with me as I cried, and assured me that I was going to be OK. (For the record: I was, and I am.) She even bought me a necklace with a shimmering brown stone hanging off of it. "Tiger's eye for strength," she said. 
The Twin Peaks phenomenon had been having a bit of a resurgence, likely thanks to Tumblr and the Millennial generation's recent love of '90s nostalgia. It was late winter and I suddenly had a wealth of free time, so we decided to see what all the fuss was about. 
The series wasn't available for streaming at the time, so we had to kick it old-school and get each DVD (with a two-at-a-time max) in the mail from Netflix. In the first hour-long episode, a tiny town is torn apart by the gruesome death of Laura Palmer, a popular high school girl. We see her body being discovered, blue and wrapped in plastic by a lake. We see her family get the news and wail in despair; her best friend (played  by an impeccably coiffed Lara Flynn Boyle) sobbing when the news comes over the school's intercom. It's an emotional pilot for a bizarre, off-kilter primetime network drama series. We were hooked. 
Once we'd finished a disc, we'd send it off to ensure the next one would get there as quickly as possible. Post-workday, we'd pour giant glasses of red wine, nestle ourselves in blankets on the couch, turn off the lights (for maximum creepiness) and immerse ourselves into the world of Twin Peaks, Washington—population 51,201. I would go to work, come home, then immediately focus my attention on Who killed Laura Palmer? What was going to happen with Audrey and Agent Cooper? Why is Bob the most terrifying television character of all time? I didn't want room in my brain for sadness to seep in. I had already cried. I was tired of grieving.
At work, I was more focused than ever, desperate to keep my mind occupied, even when his face flashed into my brain. At home, I immersed myself deeper and deeper into the story, clawing at each scene to fill the hole slowly healing in my heart while the storyline grew more bizarre by each episode. We spent many a weeknight that winter staying up too late, trapped in a haze of plot twists, sweater sets and hidden clues. A crumpled note here, half of a locket there. It turned out that the dead girl who once seemed so happy on the outside was a tortured soul with more than her fair share of dark secrets. It's easy for things to appear beautiful when the ugly parts are hidden.
Dozens of discs later, and we'd finished the whole series. (I won't spoil the ending, but it's a good one). I wanted more. We rented the 1992 movie Twin Peaks: Fire Walk with Me, a prologue-slash-epilogue to the series that was rightfully panned at the Cannes Film Festival where it premiered. We took turns reading theories out loud from fan blogs. We bought Laura Palmer shirts off eBay. We watched a documentary about Twin Peaks Fest, a yearly festival in Washington for super-fans which still takes place to this day.
People deal with loss in all sorts of ways, and there are plenty of avenues for self-medicating. In Twin Peaks, I found something I could care about that was simultaneously engrossing and completely inconsequential. It gave me something to do that wasn't obsessively pouring over old photos of the two of us while mascara streaked my face. When I reemerged from my cave of binge-watching, I found the pain that once felt like it would swallow me whole was now just a dull ache that eventually disappeared completely. 
They say time heals all things. But sometimes, the paranormal murder mystery of a young girl living a double life does too. 
For more My World, My Words, check out:
What It's Like To Be Genderqueer At An All-Women's Naked Spa
We Lost Our First Apartment In The Hurricane
I Left NYC To Travel The World Alone
Life Lessons From A Six-Year-Old Girl
I Live On A Queer Commune In Rural Oregon
What Happens To Racial Identity When You Have Pastel Hair?
Having An 89-Year-Old Best Friend