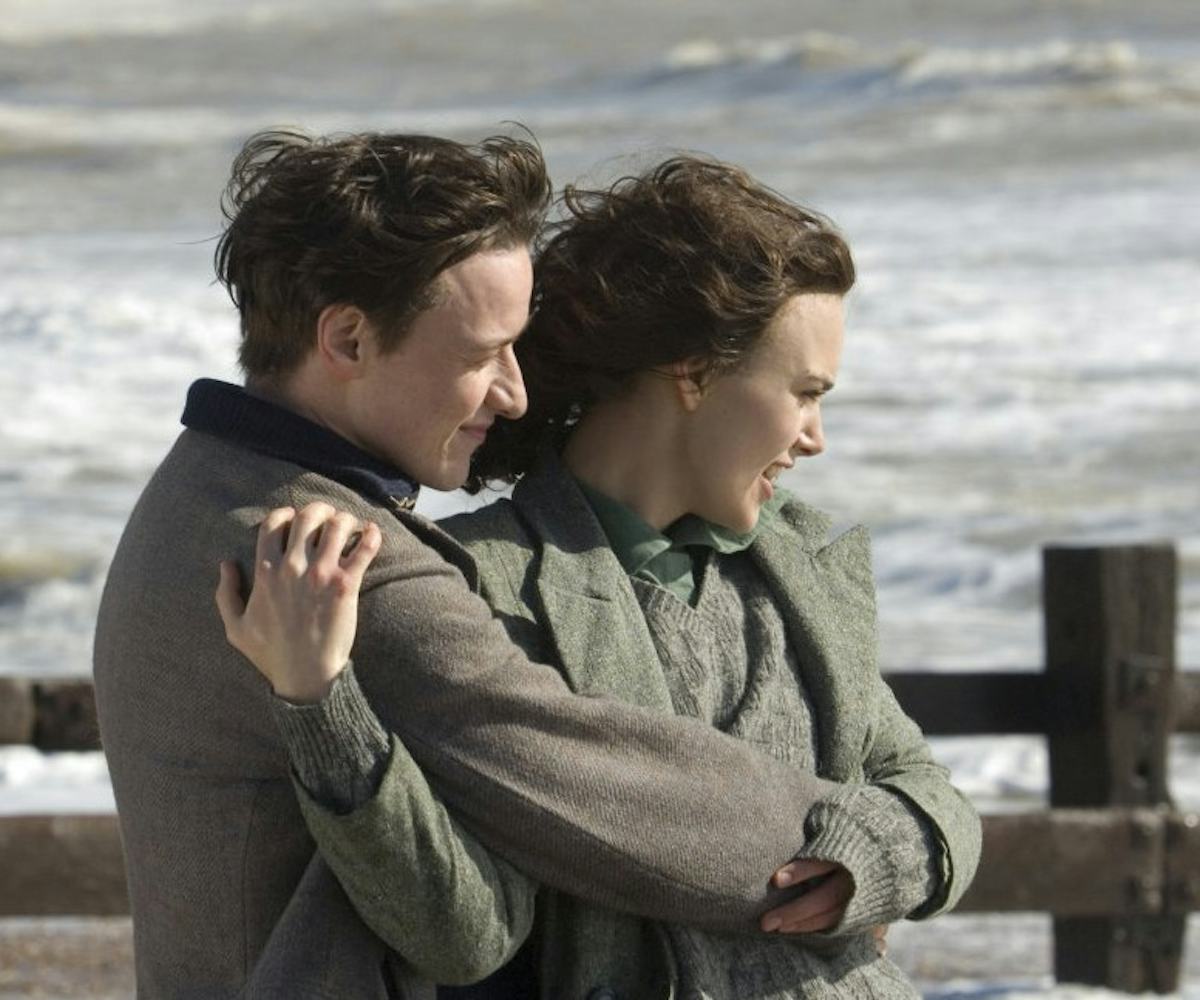 Courtesy of IMDB
The Most Twisted Romance Movies To Watch On Netflix
Because happily ever after is overrated
Shakespeare said it best: "The course of true love never did run smooth." Far too many romance films choose to deny this fact, though, letting their characters off easy with picture perfect endings. While watching couples skate through movies relatively unscathed may be satisfying for some, others (read: us) may enjoy some good old-fashioned conflict.
That's exactly what is found in these 10 films, which are rich with drug deals gone wrong, duplicitous partners, and disastrous mistakes that can never be taken back. While some relationships survive these hurdles, others go up in flames— often literally. Consider yourself warned. 
Atonement
Before Saoirse Ronan was dazzling critics with her turn as a free-spirited teen in Lady Bird or braving the choppy waters of the Atlantic in search of a better life in Brooklyn, she scored her first Oscar nomination in Atonement. Here she plays Briony, a 13-year-old in 1930s England who witnesses a crime and falsely accuses Robbie Turner (James McAvoy), the son of her family's housekeeper, of committing it. Robbie and Briony's sister Cecilia (Keira Knightley) are in love, and Briony's lie derails any hope of their relationship ending happily. Over the course of her lifetime, the choice Briony made as a child alters the lives of those involved forever, and as she feels pulled to right her wrongs, it's her silence that leaves irreparable damage in a final act twist that will bring even the strongest viewers to their knees.
Victoria
Shot in a single take, this fast-paced German drama tells the story of Victoria (Laia Costa), a young Spanish woman working at a cafe in Berlin who meets four men in the early morning hours after partying in a club. She joins them for a night of alcohol and drugs and becomes embroiled in a string of crimes, all while managing to engage in a beautiful but ill-fated romance. The single-take format adds an immediacy to the film, raising the stakes just that much higher.
Never Let Me Go
This 2010 British film follows Kathy H (Carey Mulligan), Ruth C (Knightley), and Tommy D (Andrew Garfield), three students at a British boarding school in 1978. Here, the students are raised to be organ donors in their early adulthood, a fact unbeknownst to them until a rogue teacher (played by Oscar nominee Sally Hawkins) reveals the truth. The three become embroiled in a triangle of love and jealousy, with Tommy D hoping the expression of true love to his superiors will defer him from his fate. With a screenplay by Alex Garland (who also wrote and directed Ex Machina which, while not on Netflix, is a tantalizing film that just might qualify as a twisted romance), this sci-fi romance, laced with excellent performances by all three leads, is both delicate and haunting as it questions the relationship between the value of a life and the amount of time it's lived.
Chloe
Amanda Seyfried stars in the titular role as a call girl in this erotic thriller, a remake of the 2003 French film Nathalie. When Catherine (Julianne Moore) suspects her husband David (Liam Neeson) of cheating on her, she hires Chloe to seduce him and report back to her. The arrangement turns dangerous when Chloe becomes entangled in a web of salacious deceit and obsession in order to tear the couple apart. As gripping as the film may be, it goes for shocks rather than tears, but it will affect you profoundly.
The Reader
Kate Winslet won an Academy Award for her role in this 2008 drama as Hanna Schmitz, a 36-year-old tram conductor in 1958 Berlin who begins an affair with 15-year-old Michael, who reads to her after their sexual trysts. Years later and now a law student, Michael discovers Hanna is on trial for the crimes she committed as an SS guard during the evacuation of a concentration camp. Michael uncovers secrets that Hanna is keeping, and his continued devotion to her initially helps but ultimately destroys her.
White Girl
In this 2016 drama, college student Leah moves in with her friend and begins a romance with a coke dealer she meets on her street corner. She helps him increase his profits by selling to her white colleagues, though when he gets sent to jail, she must take on the drug dealing to pay for his lawyer (an incredibly creepy Chris Noth, in a character that's quite a bit darker than Mr. Big). It's a frantic, painful love story which, as an added bonus, is female-written and directed!
The Panic in Needle Park
This 1971 drama stars Al Pacino and Kitty Winn as a young couple in Manhattan who are deeply in love but plagued by crippling addiction. When Helen (Winn) falls for charismatic Bobby (Pacino), a heroin addict who frequents the Upper West Side's Needle Park, she begins using as well. The couple quickly falls into a dark spiral of drugs, deceit, and dog endangerment. With a tagline like "God Help Bobby and Helen. They're in love in Needle Park," you know the couple is doomed from the start. Fun fact: Pacino's performance in the film (only the second in his career) caught the eye of director Francis Ford Coppola, which led him to cast the then-little-known actor in The Godfather.
Serena
In an attempt to capitalize on the chemistry between Jennifer Lawrence and Bradley Cooper, so brilliantly captured by David O. Russell in Silver Linings Playbook, the duo was brought together again for 2014's Serena. This time around they play newlyweds in 1930s North Carolina, where George (Cooper) runs a timber business. His wife Serena (Lawrence), enraged by her infertility and driven by intense jealousy, sets out to murder the mother of her husband's illegitimate son. The film certainly fits the bill as a twisted romance, but (surprisingly enough, considering its leads) was horribly received. Ironically enough, the film was originally slated to be directed by Darren Aronofsky, who went on to work with (and date) Lawrence in 2017's also hotly debated mother!.
Heathers
This 1988 cult classic film stars Winona Ryder as Veronica, a popular girl who falls for outsider J.D. (Christian Slater) and joins him on a killing spree of all the bullies at Westerburg High School. From drain cleaner to a strategically placed bottle of mineral water, the young lovers wreak havoc on the student body before inevitably turning their sights on each other. Nothing quite says romance like faking your own suicide in order to avoid being killed by your boyfriend.
45 Years
45 Years begins with Geoff (Tom Courtenay) receiving a letter stating that his lover from the 1960s, who fell in a crevasse during a hike in Switzerland, is now visible through a melting glacier. Following this news, he becomes distant from his wife Kate (Charlotte Rampling, who received an Academy Award nomination for her role) just days before their 45th wedding anniversary. Told over the course of six days, the film exquisitely illustrates how the couple's once-sturdy relationship crumbles under revelations regarding Geoff's relationship with his former lover, making Kate question every interaction with her husband during their decades-long marriage. 45 Years is an understated but heart-wrenching story of a marriage's dissolution, with impeccable performances by Rampling and Courtenay.