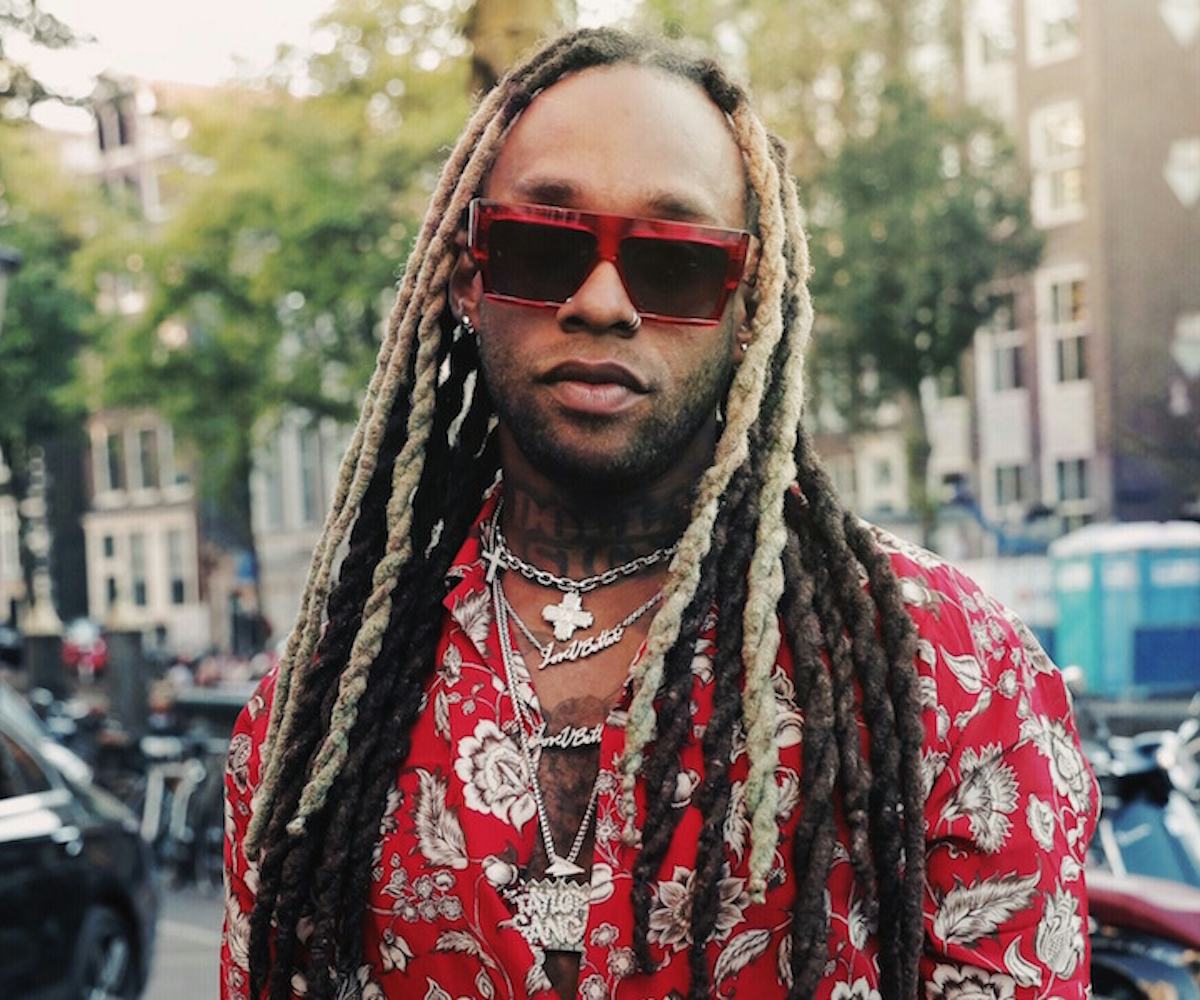 Ty Dolla $ign On The Beauty Of Collabs, His Legacy, And His Love For John Mayer
We chat with the musician following the release of 'MihTy'
When Ty Dolla $ign walks down the staircase at the W Hotel in Amsterdam, all rays of sunlight rush over to greet him. Despite a recent meal that's left his stomach churning, Ty is in good spirits, and he has plenty of reasons to celebrate.
Since his 2011 breakout mixtape House on the Hill, the L.A. native has crafted his own distinctive brand of R&B—on the surface a charming seducer, but as his voice lulls it's clear there's something gentle and vulnerable inside. His ability to weave together old-school harmonies with contemporary beats has brought him admiration from both traditionalists and modernists alike. In the past decade, he has collaborated with everyone from YG to Post Malone, left his imprint in the pop scene with Nick Jonas and Christina Aguilera, and passed the torch to new guys like 6LACK and Khalid. Last year alone, Ty released music with the likes of Kanye West, Drake, Beyoncé, Jay-Z, Gucci Mane, and Travi$ Scott, among many others.
As his career continues to flourish, Ty Dolla $ign has been doing some soul-searching. His voice is soft but filled with conviction, displaying no air of arrogance. Sitting in a chair without arms, he reflects on his legacy, non-conformist nature, and commitment to being present in the moment.
2018 was, without a doubt, your year. Did you step into it with the intention of dominating the scene, or did things sort of just happen naturally?
I feel like every year gets better and better for me, I've been taking baby steps, it's always been that way from the beginning. I'm just grateful to finally be able to reap what I've sown.
The landscape has changed quite a bit in regard to speed and output—it feels like every Friday there's a ton of new music being released, compared to when you first started out. How did you adapt to that?
Honestly, it didn't change much for me. I don't feel any pressure; I'm just making music and having fun. Luckily this has been the season where every time I make a song, it comes out, instead of making hella songs, playing them for the homies, and just sitting on them as they accumulate dust in my laptop. That shit feels good, for sure, to actually have that type of flame and watch it spread.
What changed?
The word got around, you know? If you want a guaranteed [hit], holla at your boy. [laughs]
Your cell must be blowing up; did you eventually have to temper the amount of collaboration?
I've definitely been turning down collabs, but I always keep it G with the ones that I love and the ones that I had already committed to doing something with. Be loyal and keep your word, that's my motto.
Speaking of collabs, your joint album with Jeremih, MihTy, dropped at the end of last year. What do you think you bring out in each another?
We've been recording for years, and we had so many records together that we figured we might as well put out a joint project. Every time Jeremih came out the booth, I felt like I had to go back in and change my verse to make it even better. I think he felt the same way; it's this back-and-forth exchange where we just challenge each other to give it our best, each and every time. Also, our voices have different pitches, I have this low register but his is more high-pitched, so when we put those two together we manage to cover all the bases.
You've also put out a track with one of my personal favorites: 6LACK. Who are some other up-and-coming artists that you're paying attention to?
I love 6LACK, he's dumb talented. I'd also say Tierra Whack, Khalid, this dude Tone Stith, he's super-hard. R&B is definitely making a strong comeback right now.
Do you ever feel like a mentor to these newer artists? Do you think about what type of legacy you're leaving behind?
For sure, you must. Not just for my daughter, but for the next generation, for the people. I think I've done well so far. Shit was lost as far as R&B, but when I was 18 and doing music, I was always with the melody, with the same flow I got right now, and no one knew where to put that. I would go up to Interscope and Capitol Records, and people would be like, "This is dope as fuck but I don't know what to do with it." I remember when I went up to Def Jam for a meeting with Chris Anokute. He heard my project, House on the Hill, and thought it was incredible, but it was a mix of genres so he was like, "Yo, can you come back with something more cohesive?" It fucked me up when they said that because they were trying to confine me into a box, they were trying to limit me. But shit, that inspired me to go even crazier with it.
Years later, Chris called me back and was like, "I got this group, and I think you'd be crazy on the track." He was referring to "Work From Home." When I heard the song, I was about to pass because it sounded like the Rugrats intro, [and] I wasn't about to hop on that shit, but then I played it for my daughter, and she was like, "I love [Fifth Harmony], you have to get on the song." So I decided to take it more seriously and, after listening to it more carefully, I actually came up with mad ideas. It's just crazy how life works and how everything comes full circle if you just keep on doing your shit.
I also feel like for the past few years R&B has become mostly digital, but Beach House 3 really displayed your instrumental capabilities, I think it's one of the main things people underestimate about you.
I appreciate you recognizing that. The thing is, my father was involved with funk legends Lakeside, which meant I was spending time listening to all kinds of stuff from Earth, Wind & Fire to Prince. When you listen to a computer sound, it becomes associated to a particular era. But you can always rely on an acoustic guitar, a piano, or drums to last forever. I even use voices as instruments rather than for clout or trying to make a hit, voices that are going to last forever.
What do you think is one of the most underrated aspects of your artistry?
I think it would have to be my versatility, the different range of genres and styles that I tap into. When people think of Ty Dolla $ign, they think of radio hits, but I actually have a song on my album with John Mayer that went over people's heads. His album Continuum is actually one of my favorite albums, ever. I've been a sponge to all different types of music. When I pull up to a show and I'm listening to Fleet Foxes, everyone looks so confused. I study music, so it doesn't matter what situation you throw me in, I'll put my sauce on whatever it is. That's one of the reasons why I feel like my career will go for a while, because, just when you think that was all the swag I had, I can tap right into a whole other wave again.
One thing I particularly love about your full-length projects is that you always get a really solid balance between celebratory good times and melancholy moods; you'll throw in songs about sex and then dive into the U.S. criminal system on the next track. How do you get that balance right?
You just make a whole bunch of songs at different stages of your life, and you keep it real about what's really going through your head. You speak your mind instead of letting the industry shape what you write about. We just have fun with it and luckily we manage to find ways to make it all come together nicely in the end.
I'm taking a different approach for my upcoming solo project, though. I actually wrote down all the song titles first, which I think makes the process more guided and mapped out this time around. This project is gonna be fun, probably the biggest thing I've ever dropped and will ever drop in my life, honestly. I'm going crazy and I'm in my bag, I'm excited as fuck about the future and everything that's going on! But at the same time, enjoying the right now.
So what's changed about your inner life?
I'm just getting more mature, better, realizing that my daughter is now 13 and paying attention and she sees and hears everything I'm doing. When you're on tour, you don't live a normal life, and it's hard to turn that off. I was always grinding and trying to establish this shit. Now life is just great, and I'm fucking accepting it.
What's the next terrain for you to conquer, musically? How do you continue to push yourself and stay excited?
Sell out a stadium. Get to that level of things. I've worked with everybody I wanted to work with, but there's always a new person coming up. For instance, Jorja Smith: she dropped that crazy project that I love, and I'd love to work with her. Tierra Whack is another example, watching her drop a project with just one-minute songs, with all the videos already done, everything mapped out... That was mad inspiring for me. There's always gonna be a new person that comes out and kills it, and it keeps me excited to keep going harder.
What else do you draw inspiration from?
I recently got back into reading. I just finished this book, The Power of Now, and that was hella inspiring, it guided me in the right direction as far as my mindset. A person like me, I'm always thinking about the next steps. Life is so busy, and everything moves so fast, that I never really got to sit and enjoy myself. I think my girl noticed that, so she told me to check out this book, and it's straight-up about just enjoying the now and being present in the moment.
And, of course, I draw a lot of inspiration from whole lot of 4/20-friendly shit, rolling up. That's like meditation for me.
You're definitely one of the industry's lovable stoners. Does that role ever get tiresome?
Nah, I embrace it.
And you've also been getting involved with some cannabis business ventures?
I'm slowing getting into them and recently started my own company. I have my own Dolla $ign brand OG Kush, you'll see that real soon. It's good for me because I've been able to show people the upsides of it; taking it from the hippie thing to be more of a business thing.
That tattoo, "THMVMNT," is the name of your new label?
Yeah, it is. I'm just proud of me and my boys for sticking together. That's real loyalty, none of this fake-ass industry shit, because there are so many weirdos out here. If you've known me from the beginning you know that me and Joe Moses have been side-by-side, from "Go Bitch" to "Paranoid" (although Atlantic never dropped the version with Joe on it). But now Joe Moses is coming back, finally, through my label. Atlantic is my partner on this, as well as my brother Future. It's dope to see Joe's career go far and that's what the tattoo means, that's my brother right there. Same with Wiz, I have Taylor Gang written on my forehead and shit. I'm super-proud of and thankful for him. For seeing my talent and believing in it when nobody knew what to do with it. Look at us now.