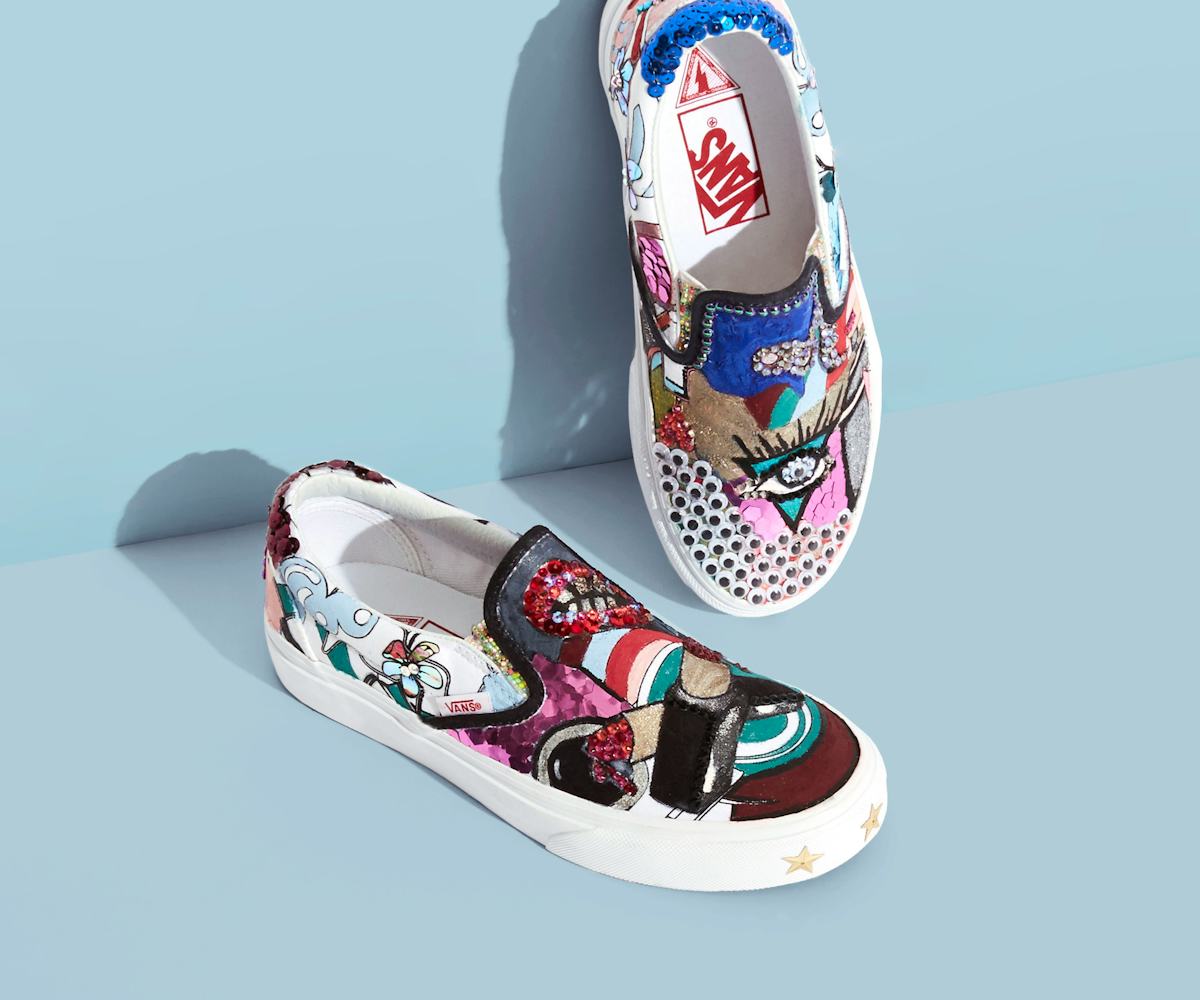 This Might Be The Dopest Vans Collection Yet
The brand teamed up with Marc Jacobs again
Never have we ever been more excited for a Vans collaboration. The notorious skateboard brand is teaming up with Marc Jacobs yet again for a limited-edition collection of sneakers, and the offerings are loud, proud, and definitely not for the stylistically shy.
For the collab, the teams asked their creative friends to design their own versions of Van's iconic slip-on shoe. Those pros include but aren't limited to nail artist Jin Soon Choi, drag performer Milk, illustrator Julie Verhoeven, model Jazzelle Zanaughtti, makeup artist Sarah Tanno, a handful of Japanese artists, and more. And, of course, Jacobs himself designed a pair.
Jacobs' pair will actually be the only one available for purchase. You can pick them up in Marc Jacobs stores in New York and Japan on June 16 for $125. According to the brand, though, there are less than 200 pairs readily available. So, we'd recommend lining up soon. Each pair of sneakers will also include fabric markers which buyers can use to both personalize their shoes or the pop-up installation. Those not located in NYC or Japan can enter for a chance to win a pair designed by Verhoeven online now.
The other creations we've been told are, sadly, only "sources of inspiration." And, before you ask, no, the pair of shoes riddled with eyeballs is not a sly promo for Katy Perry's new album. Check out all of the styles in the slideshow below. 
Designed by Marc Jacobs
Designed by Anotani Masaho.
Designed by Ava Nirui
Designed by Chihara Tetsuya
Designed by Jazzelle Zanaughtti
Designed by Jin Soon Choi
Designed by Julie Verhoeven
Designed by Kamei Toru
Designed by Milk.
Designed by Mizuhara Yuka
Designed by Nishikata Saian
Designed by Roehreke Niky
Designed by Sakai Ibuki
Designed by Sarah Tanno
Designed by Takagi Koichiro
Designed by Young Juvenile Youth