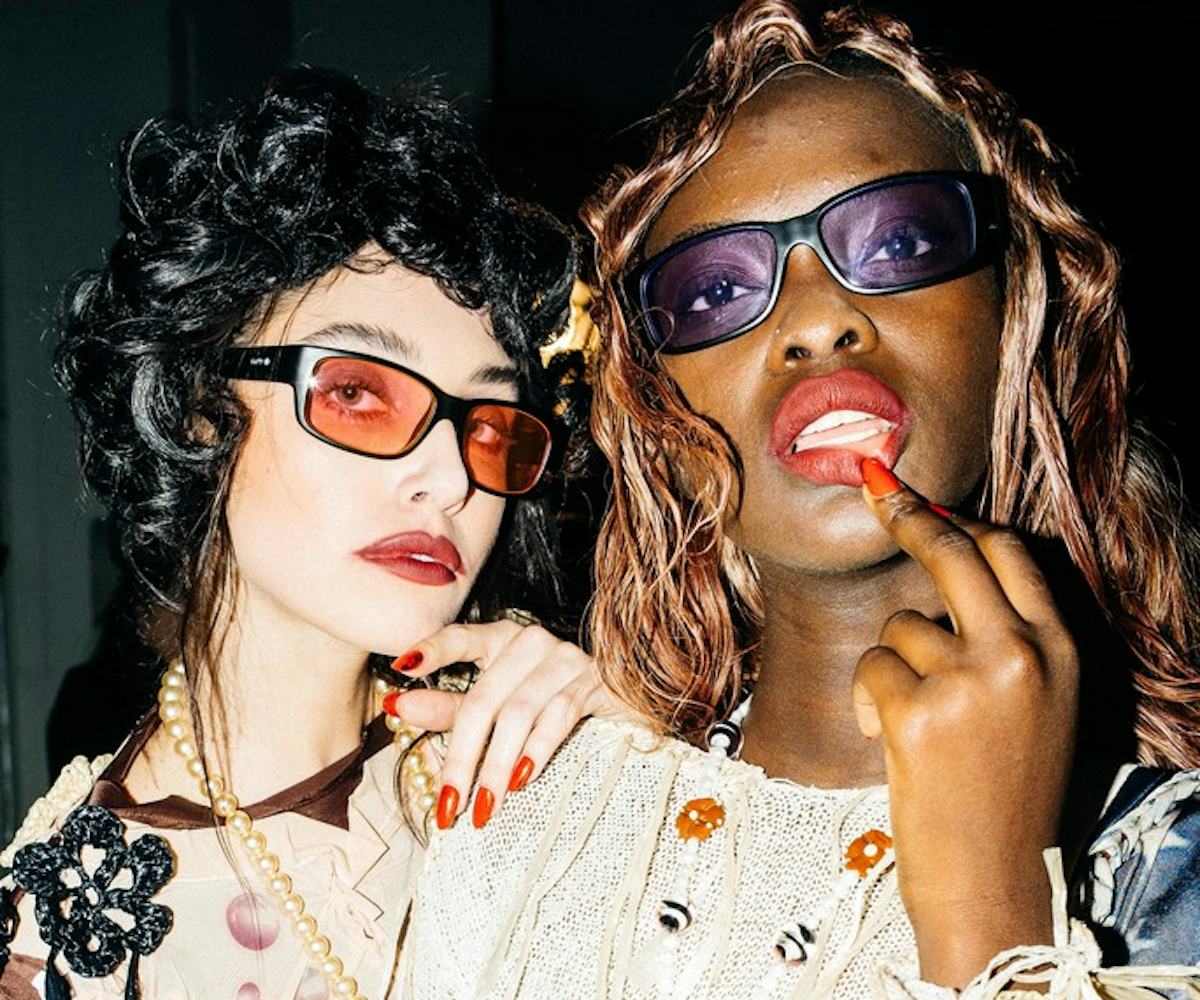 Photo by Andrew Blumenthal
The Beauty At VFiles Was Out Of This World
From foiled fingers to overdrawn lips
Last night's VFiles show was the place to be to kick off New York Fashion Week. Aside from performances by Jessie J, various celebrities, and—casually—a Lamborghini parked at the center of the runway (which happened to be stationed in a loading dock in Brooklyn's Barclays Center), the actual spectacle was the designers' work—as it should be—and the beauty looks created to go with them.
This season, VFiles showcased four different designers, with four totally different looks: Belgium-based designer JunJie, London-based Louis Pileggi, Chinese streetwear platform INXX, and London-based designer Christian Stone. Heading up beauty was VFiles makeup artist winner Risako Matsushita, working with Mastered, and VFiles hairstylist winner Sean Michael Bennet, working with Bumble and bumble.
Overall, each designer's look had something a bit disheveled and off-kilter about it—in the best way possible.
At JunJie, the beauty looks were kept very fresh and clean, so that they didn't distract from the busier clothing. However, that minimalism was over-compensated with strong brows, with black and colored mascara intensifying the looks. Hair was also kept simple, with some styles topped off with hats.
Matsushita took an unexpected 1920s glam flapper approach for Louis Pileggi. The lips were painted a deeper berry rose, but upper lips were overdrawn and pressed on for an overall matte finish. Bennet opted for toupette hair pieces, which were placed somewhat off-center, finger-waved, and curled in an aggressive manner, leaving the actual extensions showing and allowing natural hair to peek out.
At Inxx, there was a heavy focus on the eyes, with a heavy black under eye and silver inner corners; however, the hair was the main focus here. Tresses were colored everything from pink and red to white and gray, whether full-length or in sections.
Christian Stone's artisanal mutants were meant to look as if they were emerging from the ground, Matsushita citing her inspiration as "dug up, antique dolls." Thus, models were splattered with a mixture of metallic and literal dirt powders, randomly placed over the face and set with setting spray to create a grungy, yet golden, glimmer. Complementing the metallic faces were foiled fingers, created by essie with a combination of sparkling hair gel and gold and silver foil.
The hair? If it wasn't completely encased by the spider web fabric found inside a ripped-apart boiler suit, other various fabrics and textures were gelled into the hair to create otherworldly masterpieces.
While we don't know if these styles will make it to the streets in full (I mean, unless you want to splatter dirt and glitter all over your face or encase your face in boiler suit innards, do you?), we certainly can see aspects of them doing so. A dirt-and-gold splattered lid, or perhaps a gold-foiled lip? And, of course, we already know that rainbow hair is still, and will continue to, have a moment.
Check out more behind-the-scenes beauty from VFiles in the gallery, below.