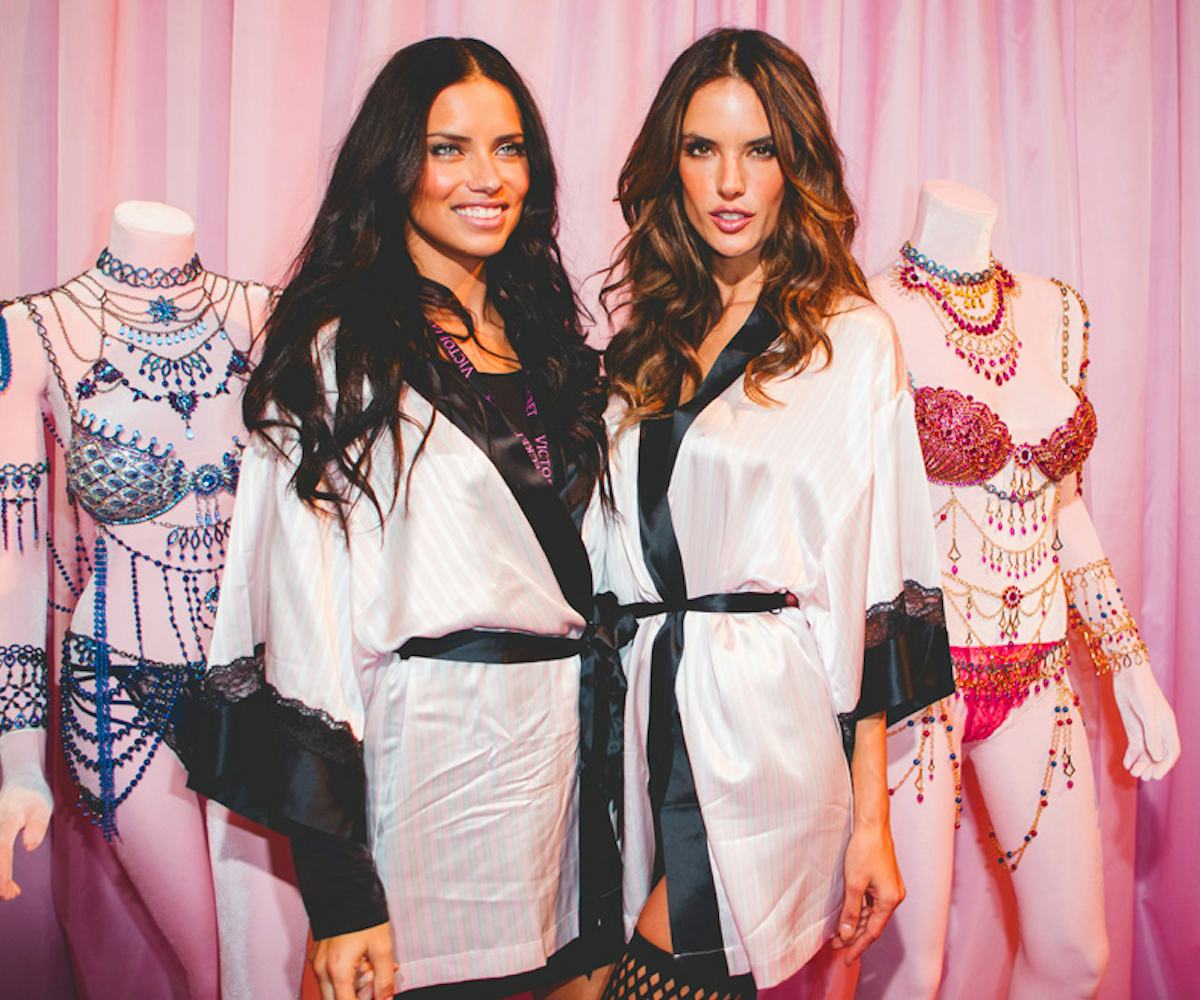 photo by vicki adamson
victoria's secret angels talk first bras
a girl's rite of passage.
Not every girl gets to slip on a $2 million bra and a pair of wings and glide down the runway while Taylor Swift sings her latest single. But, just about every girl goes through the rite of passage known as "the first bra." Yes, even Victoria's Secret Angels.
"My mom bought it and I was so embarrassed," Lily Aldridge said of her first grown-up underwear purchase. "She took me and I was like, 'MOOOM!' But now I'm obviously very comfortable in bras. It was just white and plain and very simple."
Though she'll be rocking a foxy demi bra paired with a leather corset and Swarovski crystal-embellished lace and tulle wings in tonight's Victoria's Secret Fashion Show, British supermodel Jourdan Dunn revealed that her first bra was a "sports bra, because I had no tits." The same goes for Behati Prinsloo and Lily Donaldson, the latter of whom noted the irony. "From sports bra to glam bra," she proclaimed backstage.
Constance Jablonski had a more traditional shopping experience, though—oops!—Victoria's Secret wasn't involved. "My mom took me to the store," she shared. "It's a big deal for a girl. I think I was 12, maybe? I'm not sure. It was in France, and we didn't have Victoria's Secret there so it was from Etam. It's cheap, and it's what a lot of girls would wear."
All eyes will be on Adriana Lima as she joins Alessandra Ambrosio on the runway in hers-and-hers sapphire- and ruby-laden Fantasy Bras, but that wasn't always the case. Turns out her first bra wasn't even hers. "I used to steal my mother's bra from her drawer and wear it," the Brazilian Angel confessed.
Did she stuff it?
"Oh, yes. With lemons." 
Related Articles
22 Exclusive Behind-The-Scenes Photos From The Victoria's Secret Fashion Show