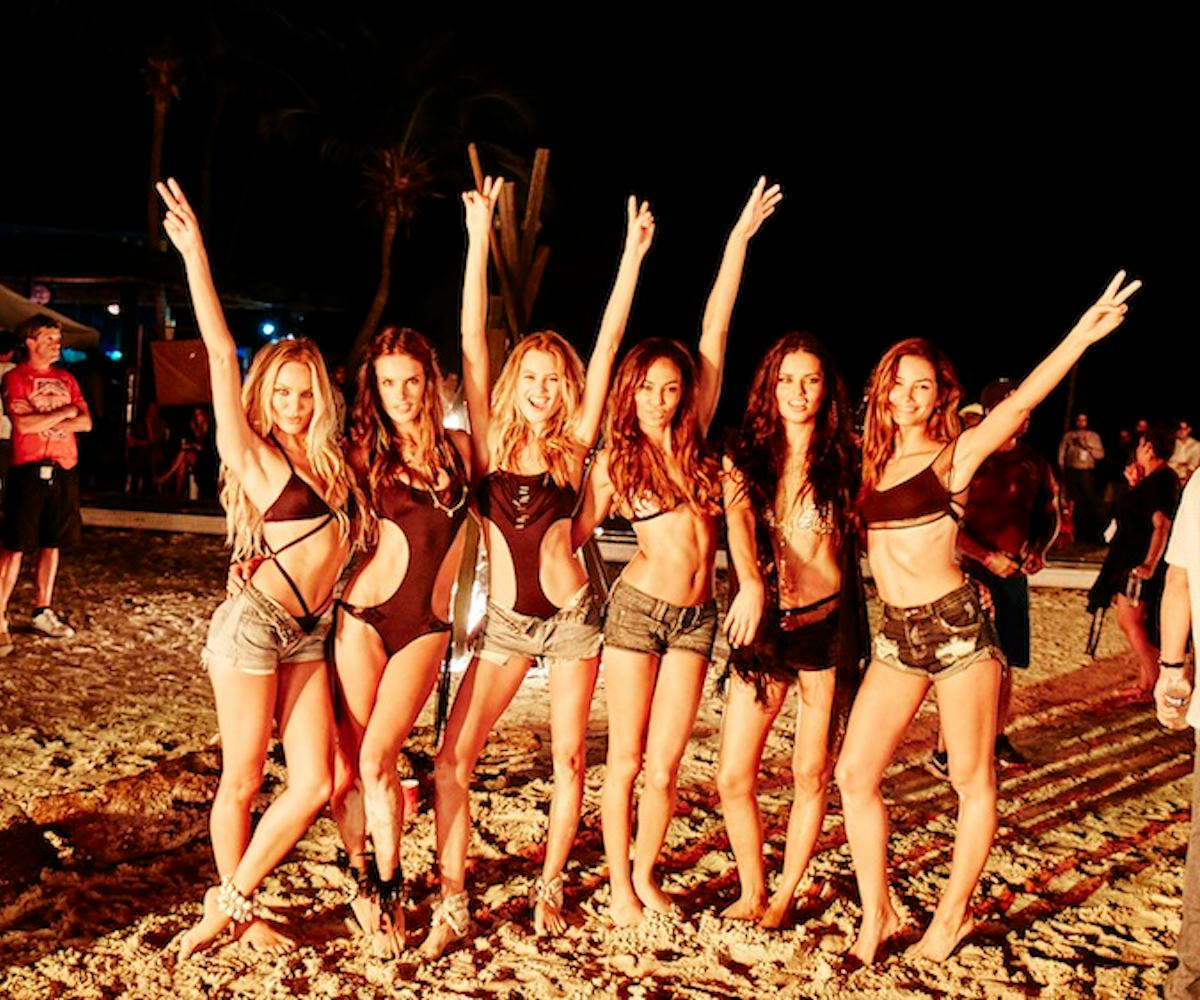 photos via victorias secret
victoria's secret angels share their favorite beach songs
It's probably hard to imagine shedding all the layers of your winter wardobe for an itsy bitsy bikini right now—especially if you're stuck in negative degree weather like us—but spring break is almost on the horizon, ladies. And the Victoria's Secret Angels are here to help you get back into that sunny state of mind.
A few months ago, Lily Aldridge, Karlie Kloss and Elsa Hosk told us their favorite jams before they killed it on the VS catwalk, which included everything from Adele and alt-j to Nirvana and the Spice Girls. This time around, Angels Adriana Lima, Joan Smalls, Alessandra Ambrioso, Candice Swanepoel, Lily Aldridge, and Behati Prinsloo are sharing their favorite feel-good beachside jams to celebrate their VS Swim Special Puerto Rican getaway. Insert the palm tree emoji because you're about to be transported to *~*~* p a r a d i s e *~*~*. At least we can pretend that we're drinking piña coladas in front of a blazing beach bonfire with the Angels, right? Not delusional at all...
"I love reggae. I think it goes perfect on the beach and for the summer because it's very relaxing and uplifting and positive." - Adriana Lima
"Drunk in Love" by Beyoncé" - Joan Smalls
"Nothing is better than reggae in the summertime. Anything by Bob Marley is great.  "Sun Shining" is one of my favorite vacation songs." - Alessandra Ambriosio
"Redemption" by Bob Marley" - Candice Swanepoel
"I think the whole Bob Marley collection is my favorite vacation music. One song… maybe 'Sun is Shining'." - Behati Prinsloo
"I love any song by Empire of the Sun." - Lily Aldridge
The Victoria's Secret Swim Special airs on CBS February 26 at 10 p.m. EST.