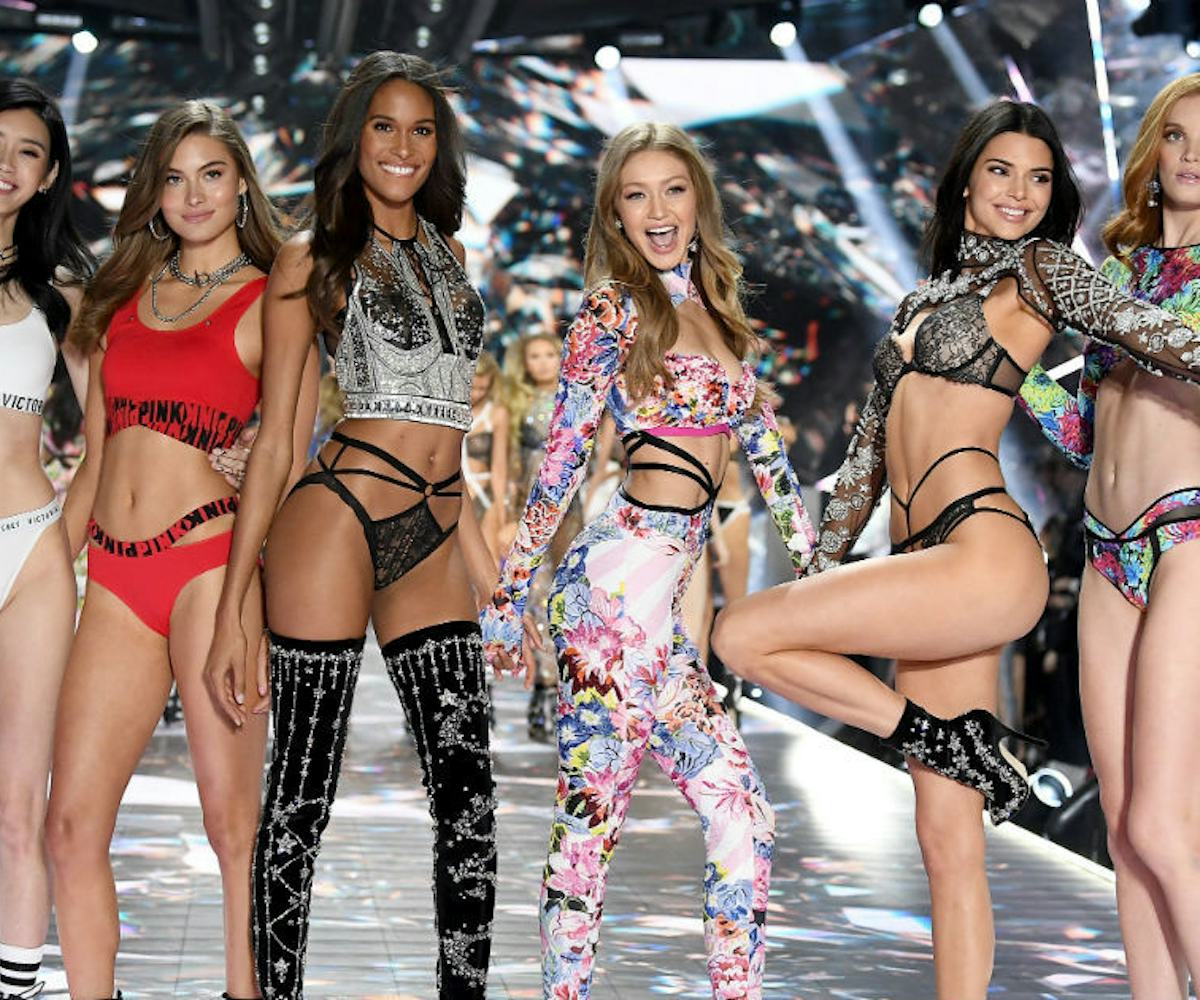 Photo by Dimitrios Kambouris/Getty Images for Victoria's Secret.
Do Victoria's Secret "Architects" Really Want To Throw Shade At Savage x Fenty?
The Victoria's Secret Fashion show took place last night in NYC. It won't air until December 2, but editors and insiders gathered for the 23rd year in a row to see models walk down the runway in lingerie and parachute wings.
Now, it's no secret that the event causes controversy every year for its lack of inclusivity. A plus-sized model has never walked and the show just cast its first natural haired model three years ago and its first Filipino model this year. If you think high fashion shows are delayed when it comes to diversity, you'll think Victoria's Secret is its sloth companion. And yet! In a recent interview with Vogue, Ed Razek, the brand's chief marketing officer of L Brands and Monica Mitro, executive vice president of public relations, were bold enough to equate their event to Rihanna's inclusive Savage X Fenty show.
"Everybody keeps talking about Rihanna's show," Razek says. "If we had done Rihanna's show, we would be accused of pandering without question." When Vogue's Nicole Phelps asks: "Pandering why?" Razek says: "Because the brand has a specific image, has a point of view," he continues, "By the way, we've had three pregnant models walk the show. Everybody had the conversation about Savage [x Fenty] having the pregnant model in the show. We watch this, we're amused by it, but we don't milk it. And all of these things that they've 'invented,' we have done and continue to do." 
The thing is, Rihanna's shows also include women of all body types, not just those who fit into a size eight or below (it's worth noting that all the pregnant models who walked in the Victoria's Secret show were very early in their pregnancies, and not yet showing; Slick Woods was having contractions when she walked in Fenty, she delivered her baby, full-term, right after the show). And though her brand hasn't been around for very long, Rihanna has made it a priority to incorporate women of color in its narrative from the very beginning. You don't see models organizing a diverse catwalk in protest of Savage X Fenty is all we're saying.
Adding to our point, later on in the interview, Razek weighs in on the plus-size conversation, stating:
If you're asking if we've considered putting a transgender model in the show or looked at putting a plus-size model in the show, we have. We invented the plus-size model show in what was our sister division, Lane Bryant. Lane Bryant still sells plus-size lingerie, but it sells a specific range, just like every specialty retailer in the world sells a range of clothing. As do we. We market to who we sell to, and we don't market to the whole world… We attempted to do a television special for plus-sizes [in 2000]. No one had any interest in it, still don't.
Razek also goes on to talk more about why "transexual" models likely won't be included anytime soon, explaining: "Shouldn't you have transsexuals in the show? No. No, I don't think we should. Well, why not? Because the show is a fantasy. It's a 42-minute entertainment special. That's what it is. It is the only one of its kind in the world, and any other fashion brand in the world would take it in a minute, including the competitors that are carping at us."
He then doubles down on what he previously said about not being able to "market to the whole world" and, well, we'll let him take the reigns on this one:
I don't think we can be all things to all customers. It is a specialty business; it isn't a department store. I'm always asking myself: If we do that, what is the reason we did it? Why did we include that person? And did we include them to shut up a reporter? Did we include them because it was the right thing to do or because it was the politically correct thing to do? Do they take the place of somebody who worked for a year for the opportunity and cried when they found that they got it? Yeah, we made some fashion mistakes. We were late to the party on bralettes; we were late to the party on downtown influences in our looks.
You can read the full interview over on Vogue. It's a doozy.