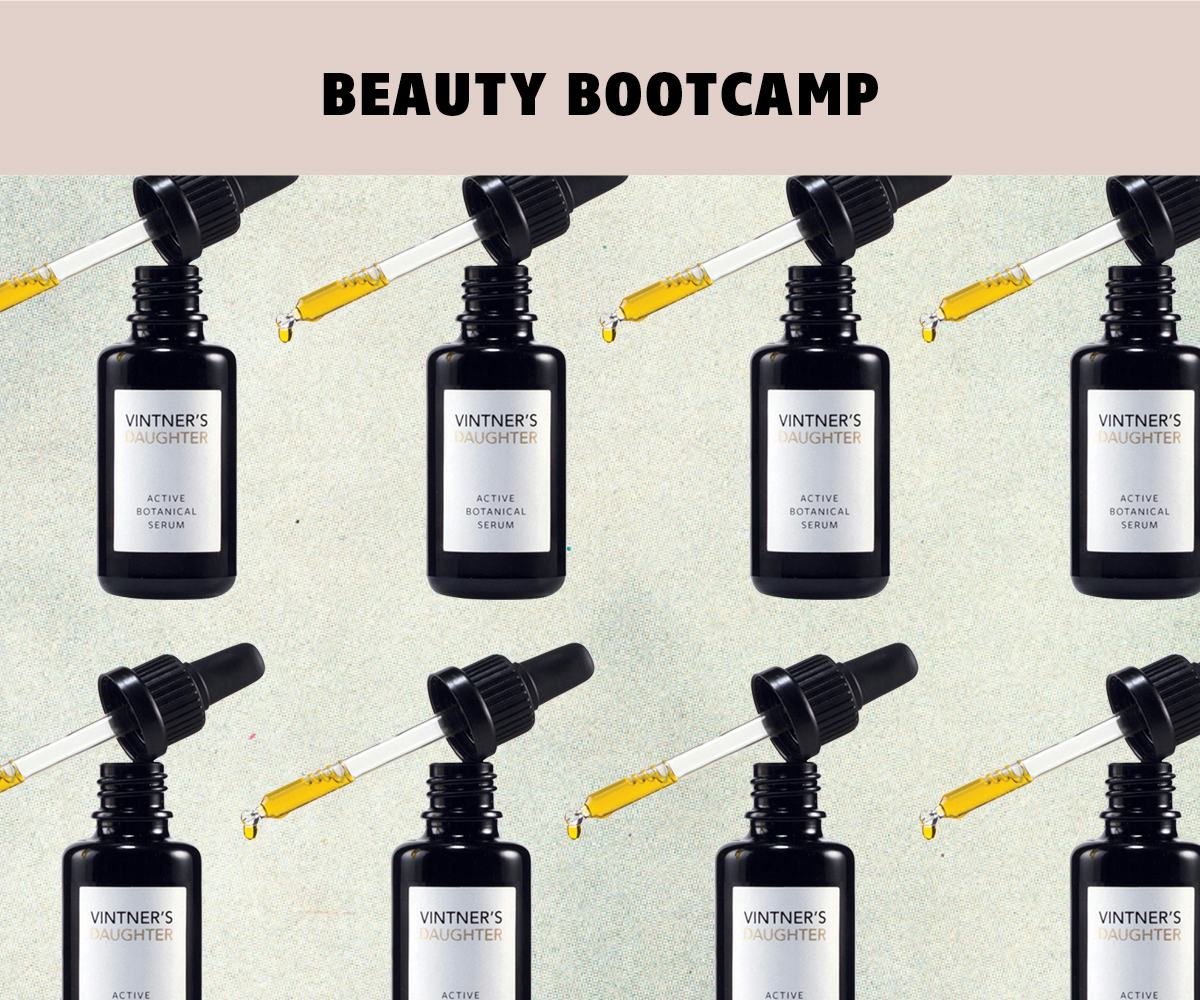 This Face Serum Has A Cult Following For A Reason
Beauty Bootcamp: Vintner's Daughter Active Botanical Serum
Before I was sent a sample of the Vintner's Daughter Active Botanical Serum, I was asked to hop on a phone call with the company's founder, April Gargiulo. This isn't normal. I've written about beauty products for years now, and this is probably the first time a brand has asked this of me. But Gargiulo wanted to explain personally the product in more detail, to learn more about what issues were plaguing my skin, and to find out what other products I use. I was intrigued before even picking up the dropper.  
ABS is a simple product with a storied background. Gargiulo, who is the literal daughter of a vintner, grew up in California making wine. About 10 years into running her family's vineyard, she became pregnant and started looking into what goes into luxury skin-care items. She didn't like what she found—basically, a lot of cheaply made products with subpar ingredients. "Making wine, it has a luxury price tag and is made with the finest ingredients," she says. "So, I thought, how do I create a similar product that is also uncompromising and performance-driven?" What she decided to do was gather a team of natural beauty veterans and take her time formulating it, so as to better come up with the ideal product.
And it is ideal. Made up of 22 of the "most nutrient-rich, active, multi-correctional ingredients in the world," Gargiulo explains, including bergamot and avocado oils as well as rosehip and turmeric, ABS feels like a magical concoction made of very earthy ingredients. They all work together to do things like combat inflammation and breakouts, stave off aging, and help you attain more even-toned skin.
When I spoke with Gargiulo, I told her I was having trouble with breakouts and the scars that often come with them. "Oh, yay!" Gargiulo declared when I told her the issues plaguing my skin. "I mean, I'm not happy for you, I'm just excited because this is going to be so good." And, it has been. I've been using it steadily for the past couple of weeks. After toning, I place about six to seven drops in my palm, rub it together to warm it up and activate the ingredients, and push-press it into the skin so that it fully absorbs.
The product is closer to an oil in texture than a typically watery serum, which is probably why ABS provides more moisture than a serum typically does. In fact, I haven't been following the application with a cream like I normally would at night, but it's still provided me with enough moisture to get me through the recent ultra-dry weather. I usually get a tight feeling in my forehead when my moisturizer isn't doing an adequate job, but that's disappeared. It leaves me with the kind of "glow" I thought was only attainable in the summer. Plus, my pimples have been more at bay (except for the occasional hormonal breakout—aka the I-need-pizza-now breakout—here and there), and my skin is gradually evening out.
Now, for the not-so-great news: ABS is $185, and that's a lot of money. This is due to the high-quality ingredients, but knowing that doesn't make it any easier to find an extra $185. Gargiulo often says this is a great product for the person who's tried all of the tonics and product concoctions and is ready for one that does it all. This is definitely that. And, when you think about the creams and serums and oils you'll be able to stop spending money on once you start using the Botanical Serum, then the price can maybe be justified? I don't know! The choice is ultimately up to you! What I will say is this: The product has amassed a cult following for a reason and, once you start using it, you'll be chanting take me to your leader soon enough—and once you see her incredibly clear, glowing skin, you'll know you're in the right place.