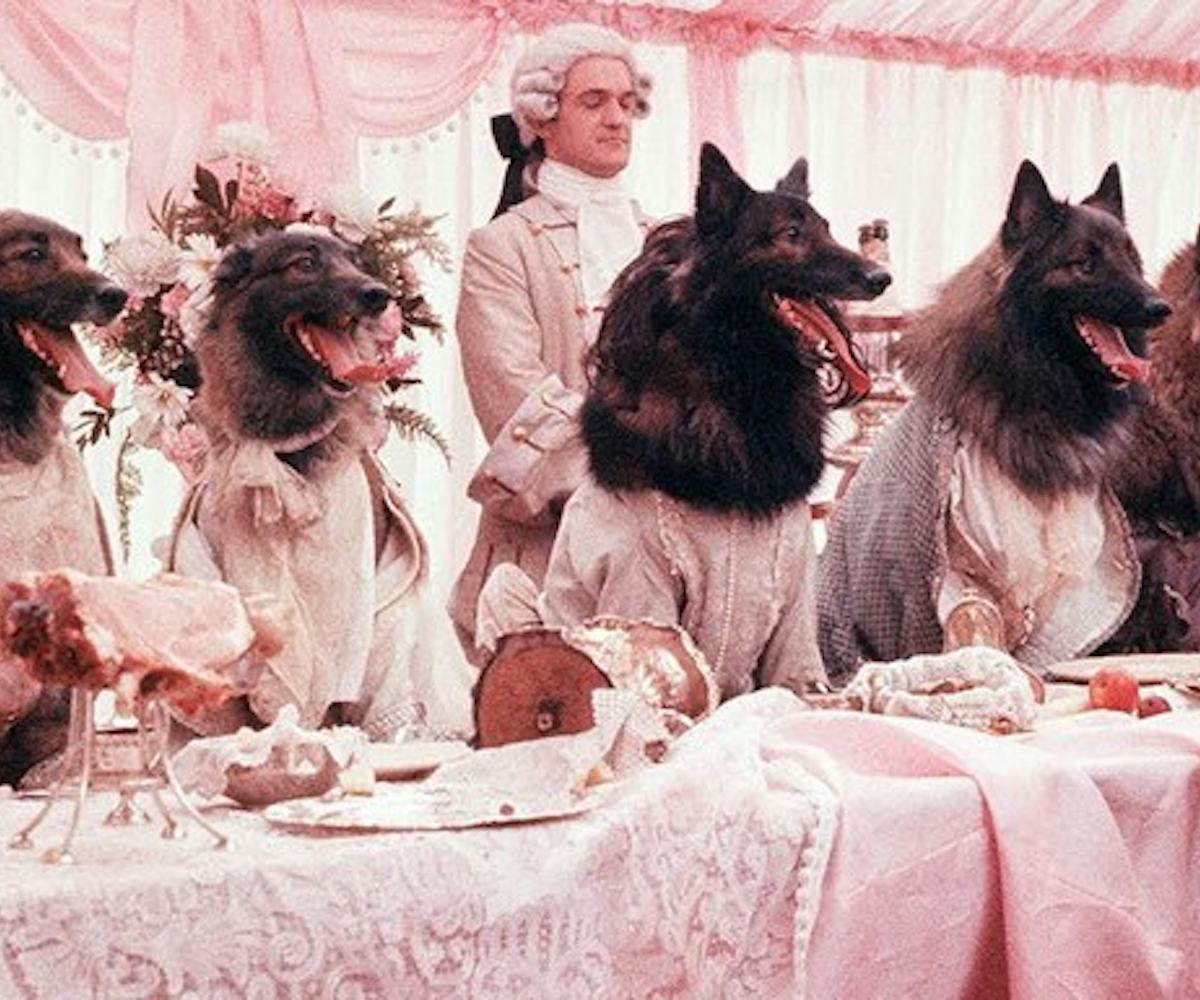 The 10 Most Stylish Horror Films Ever Made
Get lost in a beautiful nightmare
Guts, gore and… glitter? The horror genre is known for its ghastly, brutal imagery, but it's the films which possess an unexpected sense of beauty that haunt us, horror aficionados, the most and make some of us wish we could live inside a scary movie ourselves. (Preferably one with poetic justice and a few gorgeous Gothic gowns, anyway.)
While we're partial to a good gnarly bloodbath or ghostly specter, there's something about a candy-colored witches' coven (Suspiria) or a shimmering pastel prom scene (Carrie) that can either charm us out of our fear or heighten it—or, in some cases, both. Below, swoon over 10 of the prettiest horror films ever put to celluloid.
Rosemary's Baby
There's nothing pretty about the shocking plot of controversial director Roman Polanski's diabolical 1968 film about a satanic cult that terrorizes a young woman. Visually, however, it remains one of horror's most arresting films. Even from the pre-millennial pink bubblegum hue of the title card and first few opening frames, it's clear that Rosemary's Baby is a masterclass in aesthetics. Despite the sinister atmosphere permeating the Bramford building, the charming uptown decor in Rosemary's (Mia Farrow) apartment, as well as her unforgettable mod wardrobe (styled by costume designer Anthea Sylbert), lend to the film's dreamy ambience.
Crimson Peak
A tragic Gothic romance, Guillermo del Toro's Crimson Peak is as gorgeous as it is spine-tingling. From the dripping candlesticks to the twisted archways and ornate antiques, the 2015 ghost story is brimming with opulent late 19th-century fashion and architecture—all bathed in scarlet-hued gore, naturally. Crafted specially for the film, del Toro has stated that the mansion itself (the titular Crimson Peak) acts as a "vital character of the movie," and even the frilly white Victorian nightgown worn by Edith (Mia Wasikowska) serves as a sartorial foil for the heroine's ferocity.
Black Swan
Darren Aronofsky's 2010 psychological horror-thriller about a ballerina plunged into a hallucinatory nightmare is tense, disturbing, and as every bit beautiful as it is frightening. Starring an impeccably cast Natalie Portman, Black Swan follows Nina, a delicate would-be prima ballerina who descends into madness during her quest for technical perfection. Featuring a breathtaking cinematic crescendo, the Academy Award-winning film is a visual dream, all tulle and feminine motifs and frothy pastel hues contrasted by stark, feathery, black and white stage costumes.
The Neon Demon
A twisted tale of supermodels literally possessed by their own ambitions, The Neon Demon offers a surreal, supernatural look at the Los Angeles fashion industry in all its deadly—and beautiful—glory. Starring Elle Fanning as a naive young model named Jesse, Danish filmmaker Nicolas Winding Refn weaves a wicked psychological melodrama of neon-drenched glitter and gore, drizzling each murderous scene with candy colors and stylish drama.
Suspiria
Drenched in visual homages to German expressionism and art deco, Italian filmmaker Dario Argento's iconic Suspiria is rather far removed from the design de facto of the 1970s and more like a dark, luxurious fairy tale. When American ballerina Suzy (Jessica Harper) first pulls up to her new dance academy in the German countryside, all juicy apple red and grandiose, it almost resembles the witch's candy cottage from Hansel and Gretel. The columns guarding the entrance are like two peppermint sticks, and the moulding around the door frame is draped like buttercream frosting. Fittingly, the school is a front for an ancient witches' coven, transforming each colorful, dreamlike frame into that of a beautiful nightmare.
Hausu
Nobuhiko Obayashi's 1977 supernatural horror-comedy romp is a technicolor trip through classic J-horror at its cutest. When a group of schoolgirls visits their friend's aunt's mysterious home in the countryside, they are devoured by the titular house one by one via a series of cartoonishly gruesome incidents. Featuring spooky cat ghosts, gorgeous floral kimonos, and floating heads, all awash in swirling rainbow hues, the movie is a funhouse of adorable psychedelic frights. 
Carrie
Brian De Palma's Carrie is one of horror cinema's most iconic titles, but the 1976 film, based on the Stephen King novel of the same name, is also one of the genre's most dazzling and colorful. From the delicate pink satin gown worn by Carrie (Sissy Spacek) during the movie's glittery, glitzy-kitsch high school prom climax to the hazy dream sequence at the end of the movie, Carrie is as aesthetically pleasing as it is harrowing. One thing's for sure: A bucket of pig's blood never looked so pretty.
A Tale of Two Sisters
An emotional ghost story by way of a psychological thriller, this suspenseful 2003 South Korean film by Kim Jee-woon is loaded with stunning visuals. Drenched in rich color and featuring vibrant set pieces and haunting feminist themes, A Tale of Two Sisters is as sumptuous and unnerving as a white nightgown soaked in blood. (A striking visual which, by the way, appears heavily in the film.)
The Company of Wolves
Based Charles Perrault's Little Red Riding Hood, Neil Patrick Jordan's 1984 The Company of Wolves is a confectionary of sugar-dusted terror. The British Gothic horror-fantasy is both whimsical and creepy, with a pastel-hued dinner scene as delectable as anything in Sofia Coppola's Marie Antoinette. Equal parts charming and spooky, the film is a dark fairy tale we'd love to get lost in.
Bram Stoker's Dracula
One should expect nothing less than cinematic perfection from the maestro of New Hollywood, and Francis Ford Coppola's 1992 lavish horror-drama Bram Stoker's Dracula, based on the literary classic, is no exception. A pure Gothic romance with all the macabre bells and whistles, the film, which stars Winona Ryder at the height of her career as the industry's Goth It Girl (Beetlejuice, Edward Scissorhands), contains gorgeous nods to Victorian-era fashion, design, and atmosphere. From the sensual vampire brides to the ornate lace ruff on Lucy's couture funeral gown, being undead never looked so lovely.