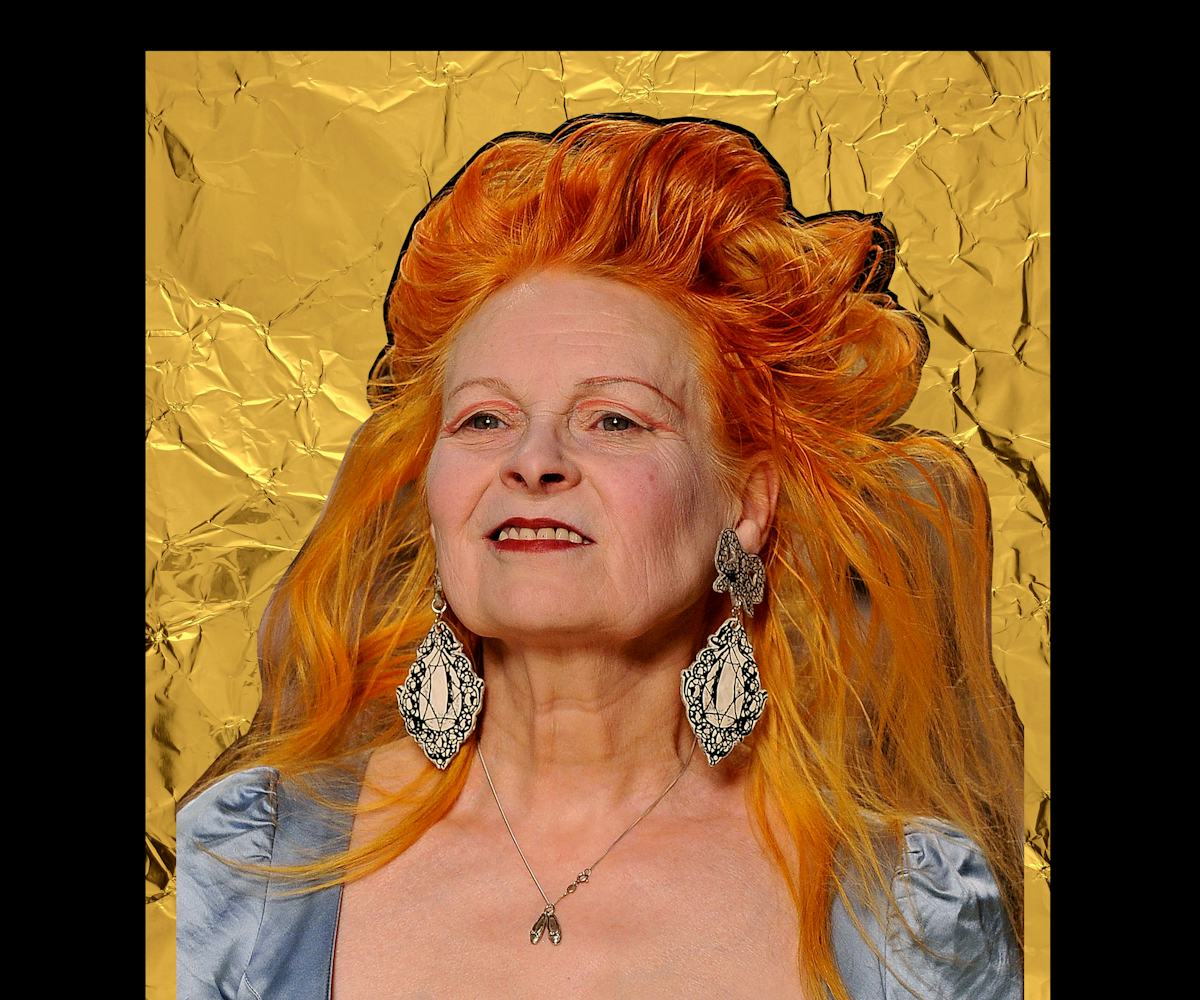 Photo by Pascal Le Segretain / Getty Images
Five Times Vivienne Westwood Was The Hero We Needed
An ode to fashion's punkest dame
During her long, iconic reign of England's fashion scene, Vivienne Westwood has been named Britain's Greatest Fashion Designer, taken a hit at some of the 21st century's biggest political challenges, and flashed the Queen. On the global stage, Vivienne is still as iconic, these days devoting her time to environmental activism, her label, and her most recent project, Get a Life: The Diaries of Vivienne Westwood. It's an anthology of her work over the last six years with her organization Climate Revolution, environment, art, politics and, of course, fashion. The Dame may be best known for her subversive punk days, but the work she's doing these days is just as revolutionary.
In honor of her latest release, we've rounded up our top five favorite Vivienne moments of the past six years.
Viv Goes Ethical
In 2011, Dame Vivienne packed up her bags and flew to Kenya with photographer Juergen Teller to work on her Ethical Fashion Africa Collection. For the Autumn/Winter 2011-2012 season, the designer enlisted thousands of local woman, and some men, to produce her collection, offering them fair wages in return. This collection, which runs in partnership with the Ethical Fashion Initiative, features everything from patchwork bags, unisex backpacks, and Maasai hand-beaded clutches and key rings—all made from reused and recycled fabrics and produced in Kibera, Nairobi's biggest slum. Last year, Westwood celebrated five years of the line—and the fact that 950 children have been able to go to school because of it. Not too shabby at all.
Viv Leads a Protest
Remember that one time Westwood led a protest against fracking? In 2014, she guided hundreds of Londoners in a vivacious protest that ended outside of the Shale Gas Forum, a conference held to talk about the controversial process. Hydraulic fracturing, or fracking, is a way to extract gas and oil from shale rock. It's the process of drilling down into rock and directing a high-pressure water mixture at it to release the gas inside. Westwood is a huge advocate against the dangerous process and cites the end of it as the first step of the climate revolution. And, as she pointed out to Dazed in 2014, public opinion is what will save the world in the end. According to her, the public has been misinformed on the dangerous of this process. Fracking, she explains, poisons millions of gallons of water with all the chemicals which split the shale rock to release the gas. Thankfully, the protest went well and no one was arrested. It's not like that would have stopped her anyway.
Viv Drives a Tank
Never satiated with the bare minimum, it is in true Aries nature that Vivienne finds a spark and sets the world aflame. In the name of politics, as usual, she took to driving a tank to then-Prime Minster David Cameron's home. In a colorful anti-fracking protest, Westwood was vocal about her outrage at Cameron for his involvement, specifically that the government would offer licenses for fracking in more than 25 locations in Yorkshire, the North West, and the east Midlands. If there's one thing we know about Vivienne, it's her ability to drive change, fashion, and, apparently, a tank.
Viv Goes Assange
When she's not making a personal trip to the prime minister's home, you can find Vivienne doing what she does best: working with clothing. By crafting her runway shows around a political ideology, theme, or intention, Westwood's presentations take on a life of their own. At her Spring/Summer 2017 MAN show, Vivienne made a very stark declaration that Julian Assange was being detained unlawfully. The presentation began with a video of Westwood asking for the Wiki founder's release. Vivienne has been an active advocate of Assange for years, and let us not forget the "I'm Julian Assange" shirts her site sold back in 2012, with 100 percent of the profit going directly to the cause.
Viv Goes Genderless
It comes as no surprise that the mother of punk would one day say "fuck this" to gender constructs in fashion. The fact that she did it, however, is still cause for celebration. The house introduced a line of unisex knitwear for the first time at the Spring/Summer 2014 MAN show, and at her Gold Label Autumn/Winter 2015-2016 show, she sent out men in oversized dresses and corsets and women in suits. Vivienne's eye for details means that this transition was no easy task. As the designer points out, for every little detail, from the waists of skirts on men to trouser width for women, to look just right, she had to look at everything with a new set of eyes. But, for Westwood, this is where the sex appeal lies—when you change someone's dress so drastically, you're forced to look at them differently. And that, apparently, is the secret to Westwood's magick.