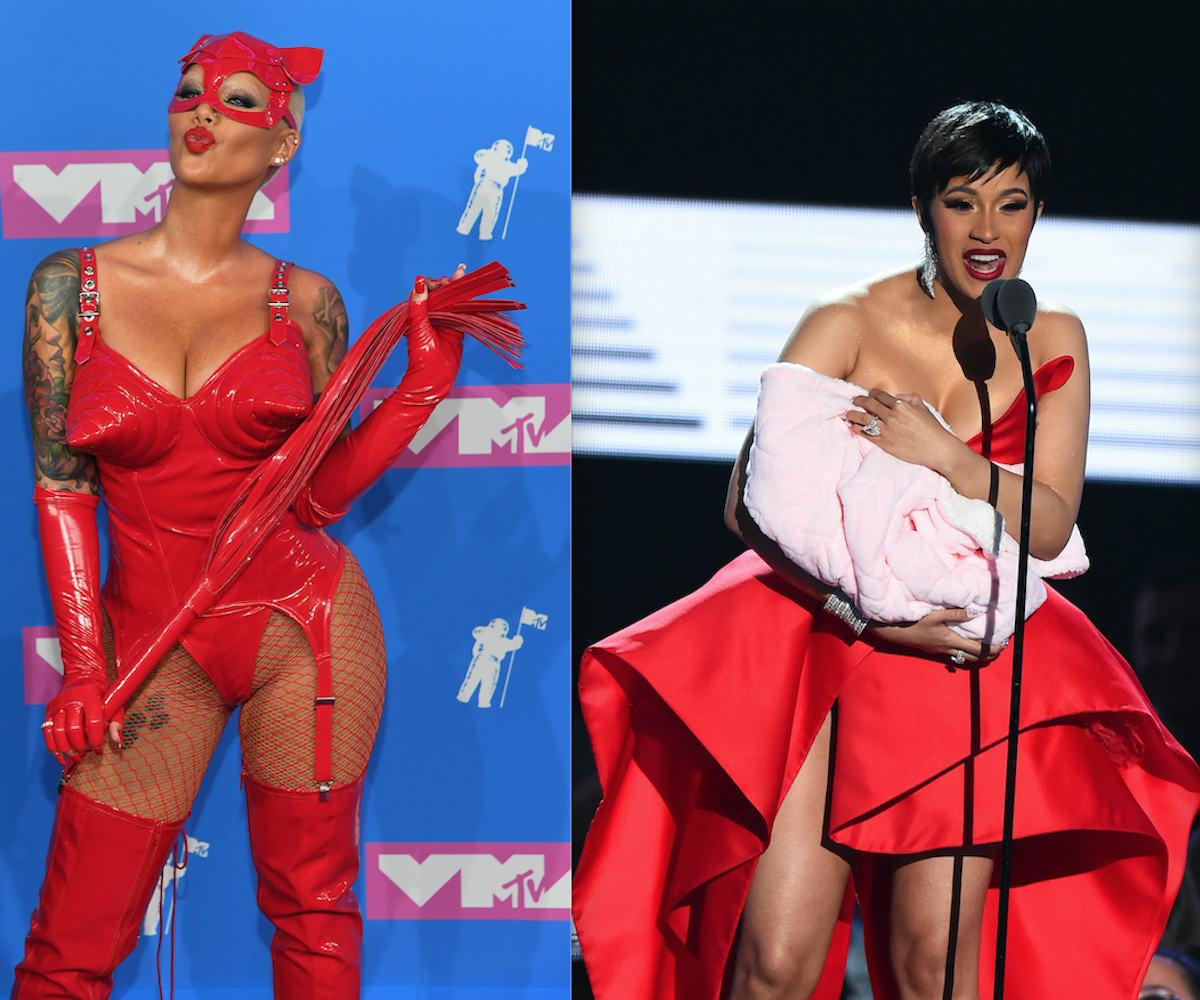 Photos by Nicholas Hunt, Theo Wargo, and Jamie McCarthy/Getty Images
The 9 Weirdest Things That Happened At The VMAs
The MTV Video Music Awards last night were, erm, interesting, to say the least. The show itself was pretty lacking, but there were some moments that we, and the rest of the internet, couldn't help but fixate on. From the cheesiest couples and the craziest fashion choices to the most cringeworthy moments, here are the weirdest things we saw last night.
Pete Davidson wore a beaded bracelet with the initials "AGD" on it, which likely stands for "Ariana Grande Davidson" and has some overzealous fans wondering if they're already married.
Photo by Michael Loccisano/Getty Images for MTV
Cardi B pretended to breastfeed while opening the show, singlehandedly owning everyone who thought she couldn't have a baby and a career.
Amber Rose channeled HIM from The Powerpuff Girls on the pink carpet.
Nicki Minaj ended Tiffany Haddish for hating on Fifth Harmony.
Travis Scott wore a Minion-esque getup during his performance. What's with all the cartoon character fashion moments?
The Backstreet Boys sang all the contenders for Song of the Year, and people had mixed feelings about it.
Madonna gave a self-centered tribute to Aretha Franklin, talking mostly about her own music journey.
JLo wore crystal Timbs, a bedazzled Yankees hat, and an outfit reminiscent of those Juicy Couture tracksuits to prove that she's still (a slightly elevated) Jenny from the block.
DJ Khaled ended JLo's epic performance by "rapping" a bunch of nonsense.
The Carters rented out the Louvre, and their video for "Apeshit" still didn't win...