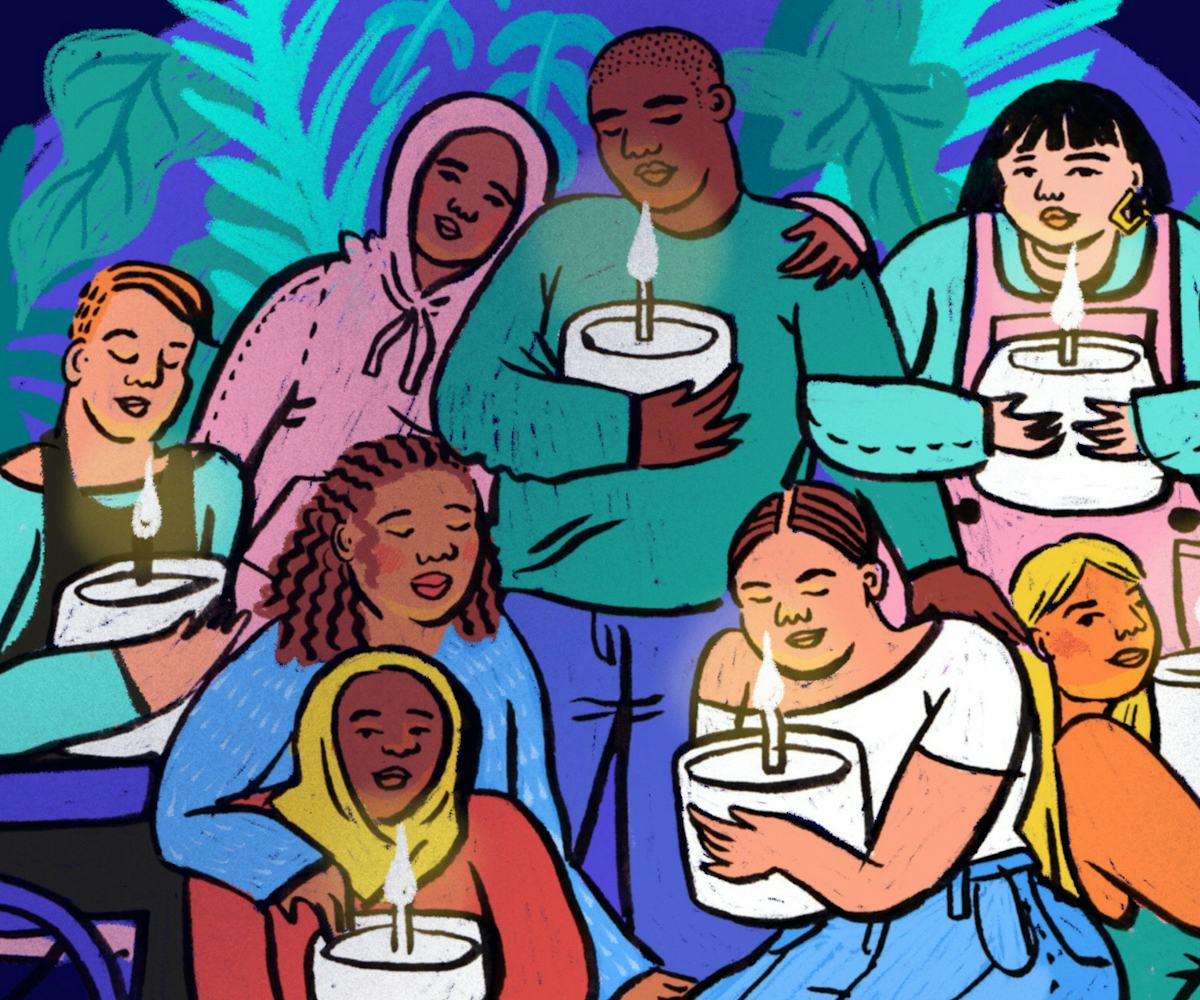 Illustration by Ashley Luka
These Young Artists Are Bringing Their Activism Straight To The UN
"Let's create concrete visions and suggestions for a more peaceful and just world"
Need a good source of activism to get you inspired to take on this week? Today, Get Lit, the leading youth poetry and storytelling organization of Los Angeles, is premiering its handcrafted art zine "United Voices of Peace," which was created around personal and communal ideas of seeking equality and peace for all. With it, the organization is launching a global initiative of the same name and performing their new works during the United Nations 73rd General Assembly today. If you're not one of the lucky few in attendance at the UN this morning, don't worry: The zine will be distributed to hundreds of schools across the country.
"We hope these themes, like using creativity to build peace and letting our voices be heard," Hadas, the creative director of the zine says, "will inspire other young people to join us in the coming years and to create their own creative pathways to peace."
Zine editor Veronika Shulman adds, "I think sometimes we get stuck. It's easy to say world leaders aren't doing enough to end violence, poverty, hunger, bias, and the like. But instead of hating, let's help them." In line with the International Day of Peace, Shulman says that artists are the exact people to whom we should be turning in order to find a catalyst for change. "Let's create concrete visions and suggestions for a more peaceful and just world. Throughout time, whenever politicians, scientists, citizens are stuck, we always turn to the artists, the philosophers, the magic-makers, the shamans, to unlock. Artists and poets are the locksmiths of society."
Get Lit knows the power of poetry is in diversity. "I think the poetry world is not just above average in its intersectionality and attempt to center marginalized voices," Shulman says, "it is, in fact, a sanctuary industry and a thought leader in this action."
NYLON premieres this incredible zine, below, just as Get Lit makes its voice heard at the UN. Flip through and get ready to join the cause. There's no better time than now. 
Cover by Amber Ibarreche
Art by Loveis Wise
Words by Cyrus Roberts, art by Anaka andHadas
Words by Mila Cuda, art by Ashley Lukashevsky
Words by Mila Cuda, art by Amber Ibarreche
Words by Amaya Blankenship, Art by Laci Jordan
Words and art by Emma González, words by Bryce Banks, art by Amber Ibarreche
Words by John Choe, art by Ashley Lukashevsky; words by Mika Judge, art by Art Twink
Words by Arlene Campa and Lukas Lane, art by Koy Suntichotinun
Words by Yoko Tamada, art by Jheyda McGarrell andHadas
Words by Olympia Miccio, art by Amaya Blankenship; words by Kiyah Gentle, art by Grandfather
Art by Migra Spora
Art by Gracie Lee Pekrul
Art by Amber Ibarreche