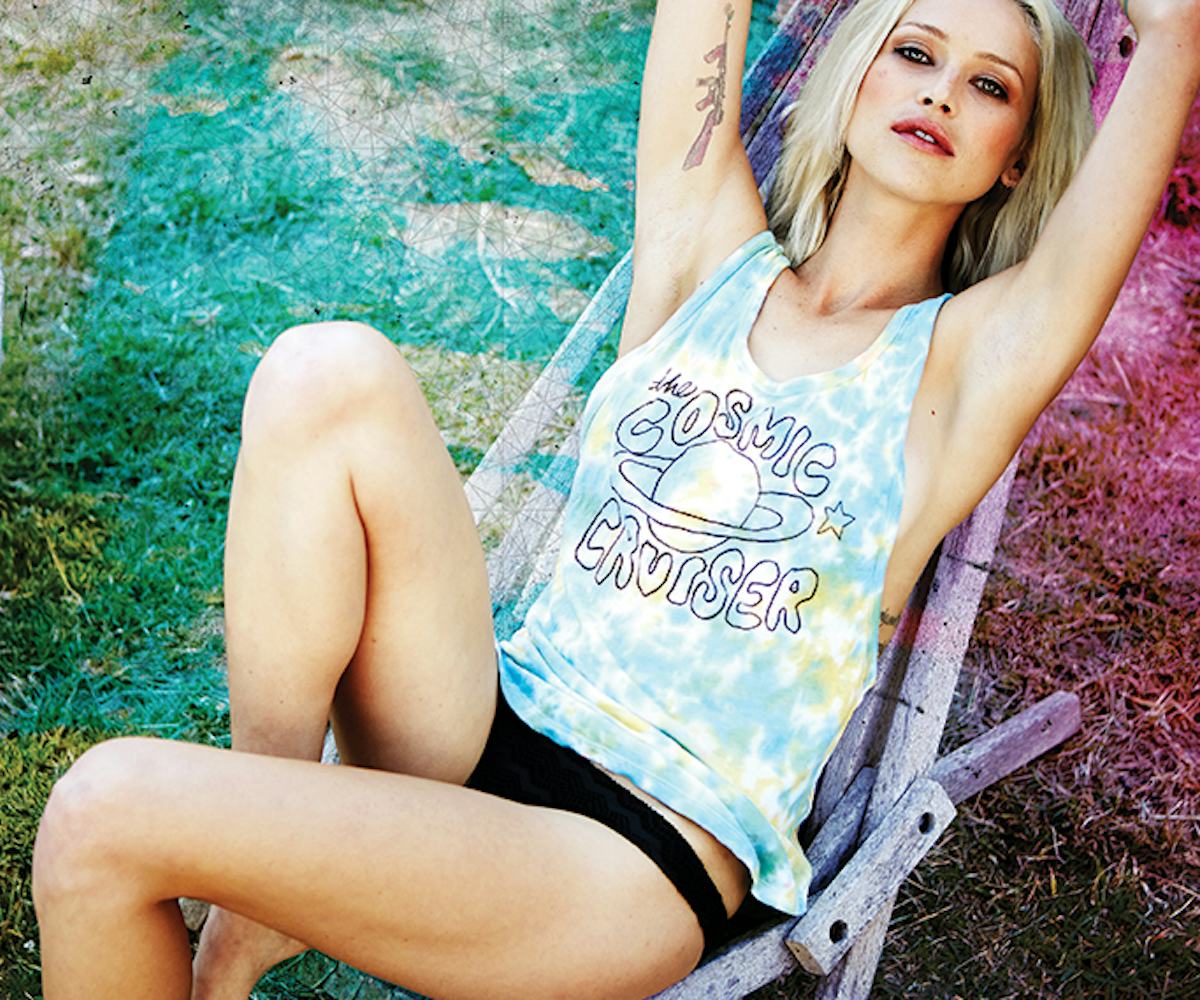 photos courtesy of volcom
soul surfer
check out volcom's rad collab with ozzie wright.
Here's the status at NYLON right now. After a weekend of warm, spring weather, we've been subjected to total mid-winter temperatures (20 degrees!) and are looking at a snowstorm tomorrow. So, yeah, you could say we need a little summertime inspiration to get us through these dark days.
Luckily, Volcom's new collaboration with surfer, artist, and musician Ozzie Wright just landed on their website and it is full of rainbows and good vibes. The collection of board shorts, tees, and summer accessories is 100-percent radical, with plenty of tie-dye, bright colors, and happy slogans to make even the greyest March day feel like the fourth of July. (We're particularly fond of the "Anti Bad Vibe Shield" hat.)
We caught up with the Aussie dude via email while he's traveling in Japan to ask him the
tough
questions (about forehead tattoos and brain swapping) and also find out all his inspirations in life, surfing, and art. Read on for a dose of summer. 
What are five songs that perfectly embody your collab with Volcom? 
Actually some of the graphics [in the Volcom line] are song titles from songs I've written. "Shoot Rainbows into Fascism" and "The Smell of Rebellion" are from an album I recorded with Mylee Grace who is a great singer and the beautiful mother of my children. You can download it on
. The album is called Mylee Grace and Ozzy Wrong Songs--haha, plugging it! There is alo a song called "Anti Bad Vibe Shield" off our new
record which is coming out soon. The other two songs [the embody the collection] might be the digital theme music for a japanese photobooth in a horrible mall. Or any thing by
, my favorite band at the moment.
If you had to get one thing tattooed on your forehead what would it be? 
A unicorn horn.
What's you're favorite sentence? 
Hard to pick one but I'll try, "Don't be frightened, you are enlightened."
Where's your favorite place to get inspired?  
Well, I'm in Japan right now. Even though it is frightening how futuristic and sci-fi like these cities are, there's also tons of inspiration here, but I'm going to say Bali is my favorite place to rejuvenate creative motions.
If you could trade brains with one person, who would it be? 
I would not want to trade my brain, but I'm going say Adam Green because I went to see him play in Austin one time, and he rocked the house like few others.... He also makes mad fun art and long shitty movies, which I dig! I just supported his
for $150 bucks, can't wait to see
Aladdin
.
Where's the best beach in the whole world? 
I'm going to go with my home beach, Bungan, in Sydney. It's a beauty!
Volcom x Ozzie Wright Cosmic Tank -- $32
Volcom x Ozzie Wright Towel -- $35
Volcom x Ozzie Wright Hat -- $27
Volcom x Ozzie Wright Striped Socks -- $15