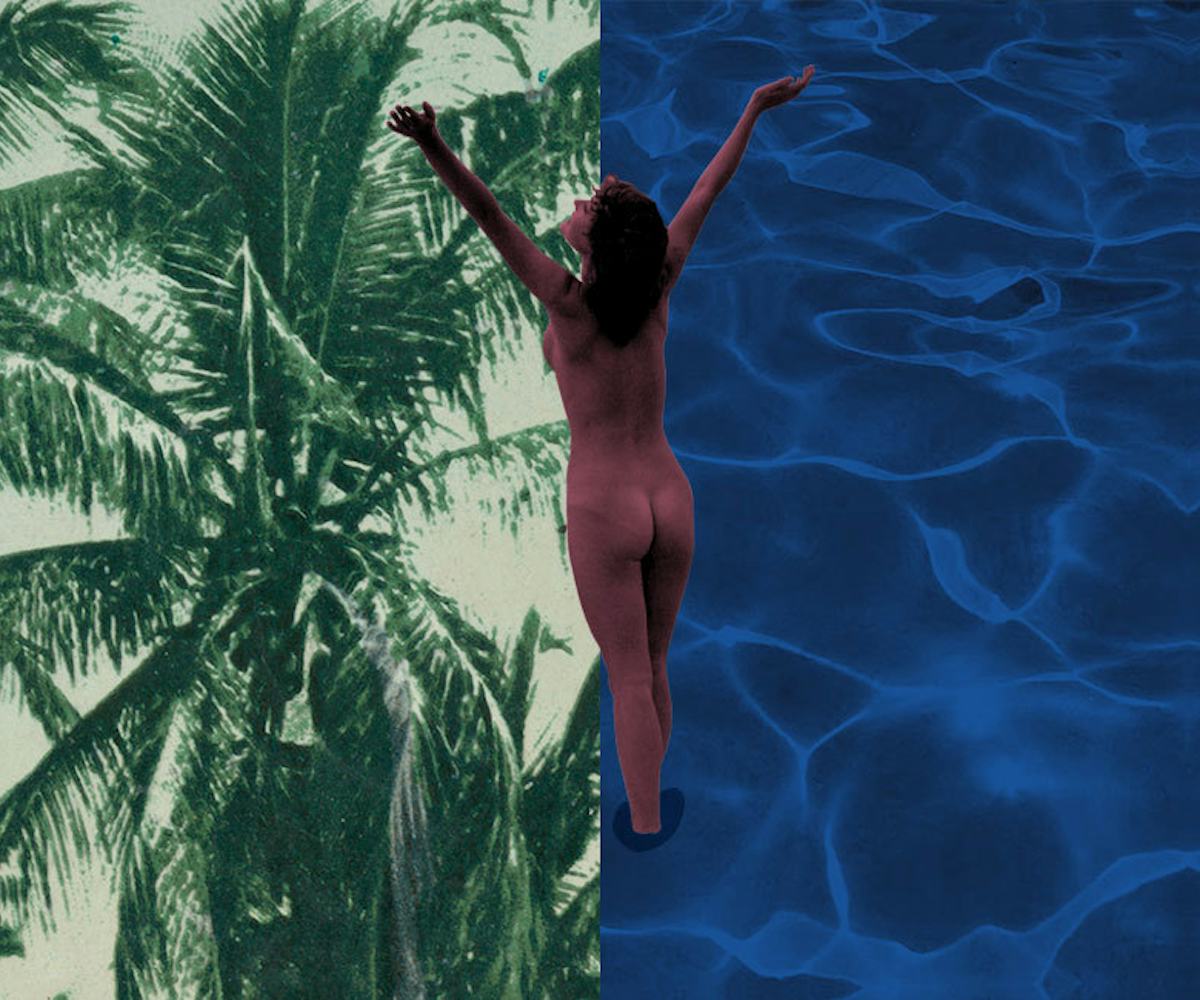 Collage photos by Getty Images.
What It's Like To Spend A Weekend At The World's Most Iconic Adult Playground
Hedonism II has a "nude" side and a "prude" side
Upon exiting the front door of the Sangster International Airport in Montego Bay, Jamaica, you'll immediately be offered a frozen margarita. The source of said margarita is a Jimmy Buffett's Margaritaville (which features a playlist almost exclusively comprised of Buffett songs), and the message is clear: You're here to have fun, and fun begins with something cold, sweet, and boozy.
Two brain freezes later and my boyfriend Rob and I are on a shuttle full of wide-eyed tourists, heading west along the coast to Negril. The margarita sloshes in my stomach as we careen past postcard-perfect beaches and concrete shanties painted in bright pastels. Men selling fruit and candy crowd the roads under flame red Poinciana trees. They press their bodies against the shuttle at stoplights, tap on the windows, speak beseechingly in the local patois. The tube-topped blonde sitting in front of us snaps photos through an expensive-looking camera. It's impossible not to feel like a bit of an asshole when visiting countries like this, fair shores imperialized by exclusive, self-contained resorts packed with sunburnt hordes, but I'm trying to block that out we hurtle toward our destination: Hedonism II, "the world's most iconic adult playground."
My journey here began with an email that, by all accounts, should have been spam. Subject: "Hedonism II's Jerk-Off Culinary Competition." Opening it against my better judgment, I found not the virus I probably deserved but instead, a bona fide invitation for an all-expenses-paid three-night trip to Jamaica. As a "top media personality" (which I'm now adding to my email signature, below my actual credentials of "food editor at Atlanta alt-weekly, who has less than 300 followers on Twitter"), I had been invited to participate in a jerk chicken competition called, for reasons that will soon become obvious, the Jerk-Off.
Originally dubbed Negril Beach Village when it opened back in 1976, Hedonism II (there was never a Hedonism I, though no one has yet been able to provide a satisfactory answer as to why) sits on a once-quiet stretch of sand called Seven Mile Beach. Columbused by western hippies, the area quickly morphed into a bastion for, well, hedonism, fueled by the free love movement and a steady stream of ganja. Today, the area is home to a Sandals, and also a water park called Kool Runnings.
Hedonism II is the granddaddy of clothing-optional, adults-only resorts friendly to "the lifestyle"—as in, swingers. "Experience what you only read about in erotic novels and let loose!" reads the website, as photos of hot people in various states of undress making out in oceans and pools scroll by. I read of sexy theme parties (Hedonistic School Girl! Fetish Night! Bare As You Dare!), naked snorkeling, and the mysterious "Romping Shop Playroom." And despite my Catholic upbringing and lifelong history of par-for-the-course female body shame that makes even wearing a bikini at a pool party with friends a small existential crisis, I am intrigued. Plus, I've been to Burning Man; I could handle this. And I'm certainly not someone who turns down free trips to the tropics.
The entrance to Hedonism II is weathered but grand—a whitewashed fountain emblazoned with two busty mermaids, silhouetted face to face, a large trident between them (no one would accuse this place of subtlety). The lobby is dotted with chairs shaped like butts and a framed Mona Lisa with one exposed boob. A smiley Jamaican bellhop who claims to read minds takes us to our rooms, pointing out the sights along the way: "There's the all-you-can-eat buffet, there's the piano bar, there's the giant chess board, there's the gift shop [which is full of dildos]..."
The first thing to know about Hedo, as the regulars call it, is that there's a "nude side" and a "prude side." The former is strictly nude, while the latter is the Hedo version of prude, meaning clothing optional, plus you can have sex pretty much anywhere you want sans conséquence. A series of tiered pools, one of which has a pool table inside it (hedonism!), leads down to a long curving stretch of white sand beach. Our room is on the nude side. It has mirrors on the ceilings (duh) and a TV stocked with free porn channels (also duh). There is no hot water, though, because you can't have it all.
After settling in, we dine on jerk chicken and stewed beef at the beach grill, then wander around, getting our bearings. Rob agrees that some time to digest is in order, because who wants to get naked on a full stomach? Not us. A dude on a boat sloshes up to the shore to offer us weed: "Hello, my friends!"
Back at the prude bar, as I'm making the dubious order of pineapple juice and tequila, a woman in a red bikini with an official Hedo name tag struts over, sliding into a stool beside us like an old friend. "First-timers?" she asks, raising an eyebrow. "I can tell." This is probably because I'm wearing overalls and smell like a plane, but I take it as a challenge. Don't mention Burning Man. Don't do it.
"Let's get naked now," I say to Rob instead. We take the shortcut to the nude beach, down a palm-lined walkway festooned with wooden plaques honoring guests past. "Knitty ♡ Bunny 2017" reads one above an image of two ladies, one sitting on a man's face, the other riding his D cowgirl-style. "Rubness one love July 16," reads another. I have so many questions, not to mention a rather glorious image in my head of a bunch of sexed-up swingers whittling these things between bang sessions, but it's time to move on.
Quite unlike the near-desolate prude side, the nude side is poppin'. A DJ blasts top 40 hits—think Katy Perry and Sir Mix-A-Lot—while naked bodies of all shapes, sizes, shades, and ages (though mostly on the higher end of the latter spectrum) cram the pool. A doctored ski slope sign on a tree reads, "Tits Up." A gray-haired couple is slow-fucking in the hot tub. A buxom blonde is getting double-teamed beside the swim-up bar. But most people are just chatting and sipping their self-serve piña coladas, unperturbed by the acts occurring around them. One thing I notice quickly is very little body hair, even among the men. Freshly waxed balls glisten in every direction.
We head past the pool to the beach. People are looking at us, and I realize it's because we're still wearing clothes. Not legit. Buying time, I busy my hands with non-tasks, taking great care to remove errant pieces of jewelry and putting them one by one into my bag. My courage builds, though, with each furtive glimpse at the naked bodies around us, sprawled on bright blue beach chairs and striding with confidence over the sand, bits all a-flop. Nearly everyone here is decidedly imperfect, and nobody cares.
Removing my top is easy; I hesitate more with the bottoms. But by this point, Rob (who usually won't even take out the trash in his boxers) is all in, and there's nothing left to do. I rip off my underwear in one not-as-sexy-as-I'd-planned move, and there I am, naked as I've ever been under the Jamaican sun. "Wanna go in the water?" asks Rob. Uh, yes.
We go. It's warm—bath warm, with beds of seaweed swirling underfoot and schools of tiny silver fish I'm worried will swim right into my no-no places. But they don't, and I start to relax. Swimming in the ocean naked is a special kind of heaven. The sun sinks low in the sky, casting a golden glow over everything. I can see for miles, boats puttering by in the distance, palms swaying across the inlet. Despite the fact that "The Thong Song" is blasting from the shoreline and some kind of blowjob simulation contest appears to be starting up at the pool, I feel deeply at peace.
That evening, we meet our fellow top media personalities—a lovely group of young and attractive people, one of whom is on MTV's Wildin' Out and all of whom have significantly more Instagram followers than I. We also meet Michelle Facey, whose actual job title is Chief Pleasure Officer. She's from the States but has worked at Hedo for decades—since she was 16 years old. "Hedonism for me is home," she says. "It is the only place on earth that I actually feel normal." Indeed, nearly all the staff we meet, most of them locals, tell us they love working here. It doesn't seem like an act.
As the night rolls on, we attend a theme party. There's one every night of the week, and tonight's is togas—and also foam. It revives vaguely anxiety-inducing memories of frat parties past, but it's also fun to dance wearing nothing but two strips of cloth. Then we discover the Romping Shop, which is basically a grotto full of mattresses where you can go and do your dirtiest in front of—or with—a bunch of strangers. At this point, several Bob Marley shots in, I'm feeling pretty uninhibited, but the room is empty aside from a somewhat elderly foursome that looks busy, so Rob and I keep to ourselves. Apparently, the only thing you can't do in the Romping Shop is fall asleep, which we learn when two exceedingly polite staff members rouse and escort us out at 3am.
The next day, after gorging on the breakfast buffet, it's back to the nude side. I'm cool with going there on a full stomach now. I return to it like an old friend. Maybe it's the lack of judgment, or the free-flowing rum, or just good old-fashioned bandwagoning, but it's amazing how quickly one finds a sense of comfort and belonging in a pool full of hairless genitalia. As that old sexpert Georgie Bataille once wrote, "A man enters the dance because the dance makes him dance." He was referring to orgies, which feels appropriate.
The nude pool also serves as Hedo's de facto meat market, and being some of the youngest folks here (our fellow young folks are on the prude side keeping their Instagram stories up to date—no phones allowed on the nude side), we're a bit of a hot commodity. Soon after entering the pool, an earnest pair of 30-somethings from Myrtle Beach, South Carolina, start complimenting my tattoos.
"We saw y'all last night in the romp room!" says the woman, who has very large round breasts that her husband keeps honking from behind. "You were asleep."
The husband tells us it's their first time at Hedo, then launches into a long and winding story about the time he smoked weed with Lil' Jon in Atlanta. They are very friendly and clearly want to bang us, but we're not feeling it, so we politely disengage and mosey over to the nacho station. Later, this very same couple will win a resort-organized game of "How many sex positions can you simulate in 15 seconds" and be crowned Kinkiest Couple at the Pool, while we will remain Couple That Fell Asleep at the Romping Shop, so, you be the judge.
Anyway, the nacho station: Know how every now and then you experience a moment of pure and unadulterated joy so great that you are lifted completely outside your own body until you're up in the clouds looking down at yourself from on high? Eating tortilla chips soaked in liquid cheese naked on a Jamaican beach was one of those moments for me. Later, we have sex in the ocean. It's also pretty great, despite the fact that two middle-aged people on floaty rafts wearing nothing but visors nearly mow us down halfway through.
An observation: While I feel no particular attraction to any of the other folks here, the whole place feels suffused with sexual energy. It crackles through the air like electricity, lighting every limb. I mean, Rob and I have been together nearly seven years. We fart openly and with impunity. We just adopted a pair of cats. But at Hedo, we're insatiable—like two people just meeting for the first time. Over the course of the weekend, we bang on the beachfront massage tables, in the romping shop, under the ceiling mirrors in our room, in the hot tub, in the pool, in the Playboy Mansion-esque grotto behind the pool, on a cabana in the pouring rain. We try out my new Broad City-themed cock ring and admire our respective bods in the ceiling mirror (v. flattering). We never swing, but we don't need to—breaking through the taboo of public sex and nakedness feels like a new and novel entity all its own.
The weekend rolls on. We gorge ourselves on an aphrodisiac-themed dinner served by hot ladies in glitter and bustiers on a candlelit dock. We cruise around the bay on a catamaran with the top media personalities drinking rum and dancing like we're in a music video ft. Rick Ross in 2012. We snorkel through a cave and cliff dive from a bar and take sexy booty pics on the beach. I lose the Jerk-Off Competition (like literally, I come in dead last), but who cares?
Hedonism II is nothing if not consistently on-brand. It's hokey and decadent and kinda cliché, but there's no bullshit, no judgment, and no pseudo-spiritual narrative about finding a higher purpose. I like that. Sure, it's a fucking portrait of privilege, but that's kind of the point. Everything that happens here happens for one purpose only: the pure and simple pursuit of pleasure.
When it's time to go, I want to stay. But the shuttle has arrived. Hungover, cranky, and overdressed, we load in with the rest of the tourists, most of whom have been picked up from other all-inclusives around the island—I can tell by their tan lines. Why would you go to any resort besides Hedonism II? I ask them with my eyes. Back at the airport, we watch some dude pitch a fit because the TSA agent won't let him on the plane with his souvenir bottles of hot sauce. We split a taco salad and sit at the Jamaican Bobsled Café where Cool Runnings is playing on a loop. I post a picture of my butt on Instagram. Moments later, I delete it.