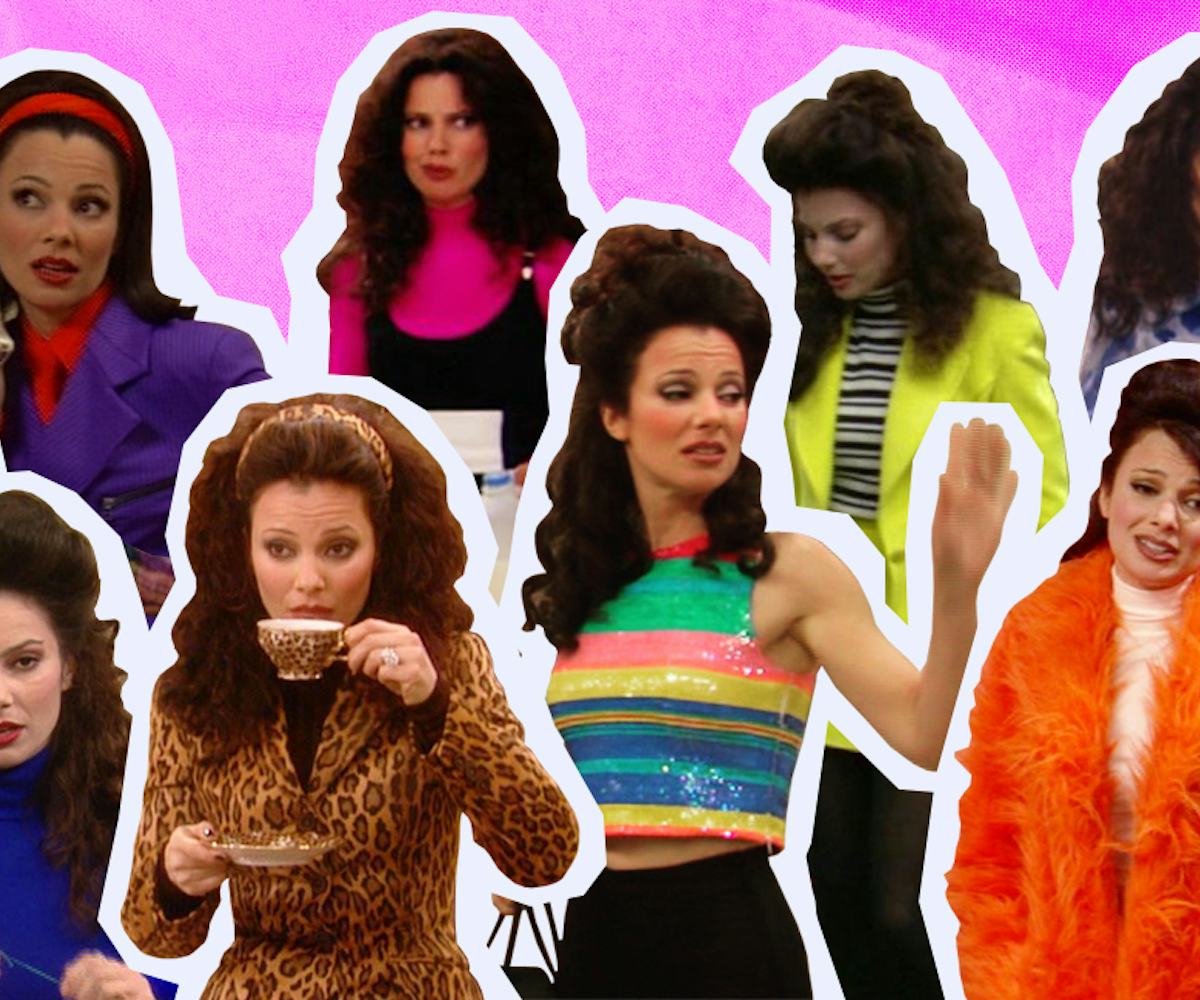 IMAGE by lindsay hattrick
Meet The Genius Behind This Amazing Fran Fine Instagram Account
@WhatFranWore is my favorite thing on the internet
Here's a question: Did anyone watch The Nanny for its goofy plot? I sure didn't. I watched it for one thing and one thing only: Fran Fine's killer 'fits. And though I mostly watched the show while still a child, it wasn't until I got to college that I realized Nanny Fran was one of my biggest style icons. And it wasn't only because she is one of few people who can effortlessly pull off wearing a baseball cap and a Versace dress, but also because Fran and I had a similar upbringing. 
Watching television late at night (when I was supposed to be sound asleep) was a no-no when I was growing up, but I low-key didn't care (sorry, mom!), especially if it meant getting to see Fran's fashionable antics on the small screen. I spent countless nights sitting in the hallway of our shoebox-sized apartment in the projects of Queens, New York, feeling that if fellow Queens-native Fran could make it, I could too. Granted, I don't have a career in childcare, nor do I own any designer items (save for a pair of Louboutin heels my mother and I now share), like Fran did, but that isn't really the point. Fran's style wasn't about labels (although her eventual financial come-up was well-deserved and inspiring to see), but rather about using fashion to convey her strength in being an unapologetic woman who refused to let anyone put her down. It was that quality that truly made me a Fran Stan™. 
And while I don't watch too many old episodes of The Nanny now, a recent discovery has reignited my obsession with Fran and the show: @WhatFranWore Instagram account. Created by 28-year-old patient care technician Shanae Brown, the Instagram account meticulously chronicles all of Fran's best looks. Once I discovered it, I found myself back in the throes of Fran-inspired mania and needed to find out more about how this masterpiece of an account came to be.
Below, I speak with Brown about how the account started, how she tracks down each look, and what her favorite looks are. Check out the Q&A, below, and be sure to check out WhatFranWore, here. 
When did you decide to create WhatFranWore and why?I started the account in April of 2016. I was originally just posting screenshots on my Tumblr account, and people kept asking me what designers Fran wore. I didn't know so I challenged myself to find out. 
When did the account start to blow up?
The account started blowing up when Paper Magazine posted this article in July 2016. 
Tell me about your research process. Have you managed to track down every look? 
I couldn't believe nothing like this existed before! I made sure to do a lot of Google searches to see before I actually started doing it myself. I found a 1995 interview with the show's costume designer, Brenda Cooper, where she listed some of her favorite brands she liked to dress Fran in. I used that information and worked my way from there. I haven't managed to track down every look—Fran has A LOT of outfits! I still have a holy grail outfit I'm trying to track down—this dress covered in candy wrappers.
I recently read some information about the show and learned that they had to stop filming in front of a live audience because of her frequent costume changes. The research process is incredibly long and often difficult. A lot of people assume that I have a background in fashion to be able to track down the designers, but I don't. When I start researching, I don't look for anything specific most times, I look at EVERYTHING! It has helped to build my fashion knowledge and learn about brands from the '90s.
What are some of your favorite looks of Fran's?This red turtleneck top with checkered black-and-white Moschino skirt; this light pink-and-baby blue Rifat Ozbek skirt suit; this velvet, silver brocade Vivienne Westwood dress; this animal print, halter, sequin dress; and this Versus Versace holographic mini dress. 
What posts perform the best online?Anything tight, short, animal print, and sequined! Or posts that don't even feature Fran at all but Yetta! 
Do you have friendships with other show-related fashion Instagram accounts?
I wouldn't say I have friendships with any of the other accounts, but we're all fans of each other. I feel like I may have started the show-related fashion Insta trend.
Have you learned anything about yourself since creating the account?
I'm really into '90s fashion! I definitely developed a new interest I didn't have before, and I'm also really into vintage shopping. I've built up really good Google and eBay search skills.
If you could, would you want to make your living from running the account?
I absolutely would! I'm not sure what I could offer with my acquired fashion knowledge of the '90s. There is still so much I need to learn. I would maybe love to run a vintage store one day.