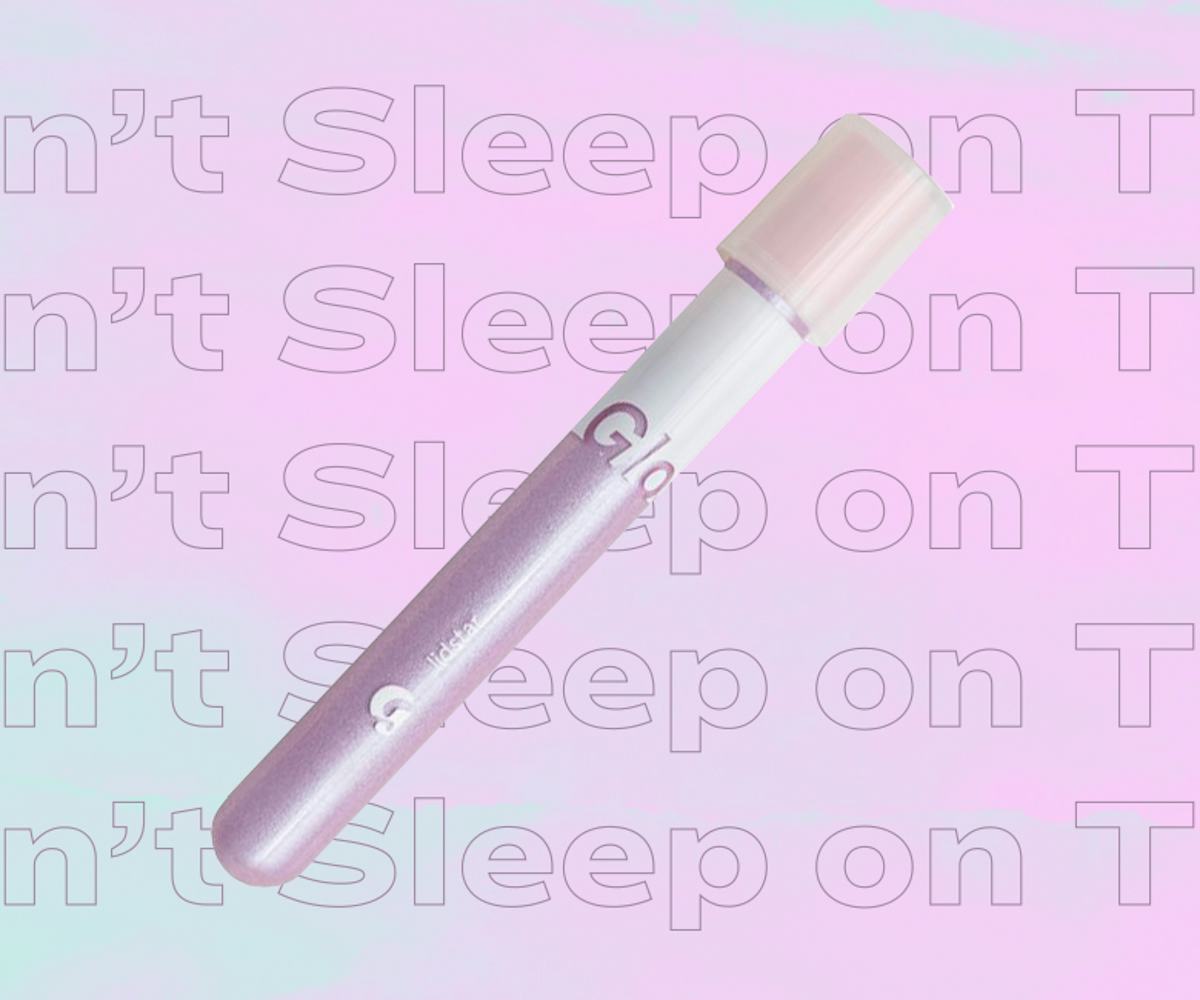 This Is The One Lavender Eye Shadow That Looks Good On Absolutely Everyone
Bonus: It makes the whites of your eyes look really, really white
Friends don't let friends miss out on all the cool, under-the-radar things they know about, like which little-known beauty brand is low-key making the best highlighter around. And because we consider our readers to be like friends, we gather together all our best finds in our Don't Sleep On This series. Check in every week to see what things we can't wait to share with you.
On the block where I used to live, there was a flowering plant that grew up and out of a tree bed located about six or so buildings away from mine. Every time I would walk past it, I would run my fingers through its somewhat scraggly stalks, crushing a few of the soft, tiny blooms between my fingers, and then raising my hand to my nose, so I could inhale their musky, herbaceous aroma. Ooh, lavender, I would think to myself, or sometimes say out loud, if I were walking with someone. I love lavender, I would think (or say). 
As it turned out, that plant I would walk past and routinely disturb was actually Russian sage (if you ever walk past a similar plant, do as I did, and crush its soft, tiny blossoms between your fingers, raise your hand to your nose, and breathe in deeply; only think to yourself, Ooh, Russian sage). 
But, you know, that's hardly the point, because the point right now is: lavender. I love it! I love its smell (even when that smell is actually Russian sage); I love how it promises to relax me (what an ambitious thing to promise!); and I love, love, love its color—a specifically soft hazy veil of pale purple that is, as it turns out, all I want to wear on my eyes from now on. 
Lavender, of course, has been teasing us about having a moment ever since Lorde wore a gorgeous pale lavender Monique Lhuillier gown at the 2017 MTV VMAs. Trend reports started citing the hue—named "melodramatic purple" by The Cut's Emilia Petrarca—as being the heir apparent to millennial pink, and the fascination with the power of purple has trickled well into this year, with Katy Kelleher exploring the power of this in-between shade in The Paris Review, citing its role as the color of "half mourning, doomed hotels, and fashionable feelings."
But as much fun as lavender is to intellectualize (and, honestly, it's so much fun), wearing it, I think, proves a bit trickier, because it has the tendency to veer toward—and then smash right into—sweetness. While there are ways in which lavender was long thought to be less saccharine than pink—probably since it's laced with melancholic blue—pink's recent ubiquity has conspired to place that color firmly in neutral territory, while lavender still comes off like it enjoys performing gender, as if it's only suited for wear by a Disney Princess or a host on Fox & Friends. 
And it's because of this that I'd avoided lavender, particularly when it comes to beauty, where I like a neutral makeup look. Or, I did, anyway, until I tried Glossier's Lidstar in 'Lily.' I was instantly skeptical—it appeared sparkly and shimmery in its tube, less the dusky lilac-y shade of my dreams, and more holographic nightmare. But once on, it transformed my eyes, giving them the sheerest sheen, making my lids look just slightly darkened, as if I'd only just woken up, but also making the whites of my eyes appear even whiter, so that it looked like I'd had a great sleep. This is, as it turns out, my ideal look.
But it's not just me: Everyone I know who's tried this shade absolutely loves it; it looks beautiful on people with every skin tone, hair color, and eye color. It can be worn with pretty much any other makeup look, dressed up or dressed down, and is the rare season-less beauty product. And, as with all Glossier Lidstars, it can be layered on for a more dramatic effect, should you really want to lean into this whole lavender thing. But personally, I prefer to just do one swipe across both lids, blend in with my fingers (it dries fast!), and then go about my day knowing that I don't look like a Disney Princess, but that I definitely have something just a touch royal about me—and that I've maybe fooled someone into thinking I got more than five hours of sleep.
Glossier Lidstar in 'Lily,' $18, available at Glossier