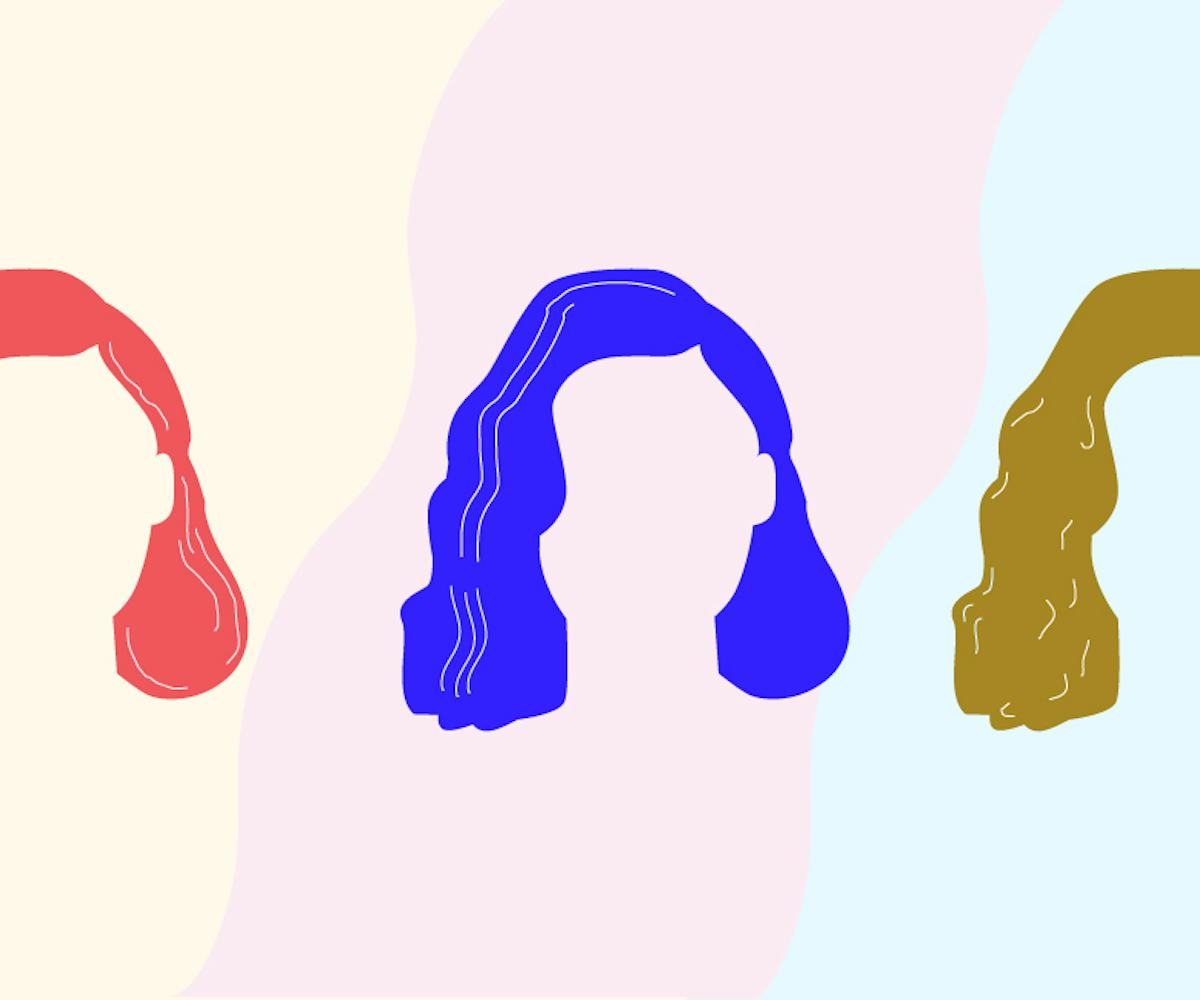 Everything You Need To Know Before Dyeing Your Hair A Bold Shade
Things to consider before taking the leap
Bold and unconventional hair colors are having a moment. While it's become normal to walk into your office job with a neon pink 'do, if you're still a bold hair color novice, only now considering trying the look out for yourself, you're bound to have some questions.
Personally, I've gone just about every color of the rainbow, and each new color I've tried has had a lesson to go along with it. Not surprisingly, quite a few of us here at NYLON have had our fair share of wild hair color experiences. If there's one thing we can all agree on, if you're considering taking the leap from the ordinary to a powerful punch of color, there are some things you need to know first.
Below, we share everything we wish we knew before getting into the salon chair (or, heading into our bathroom with a bottle of bleach and some Manic Panic). And, of course, we tapped professional hair color extraordinaire David Adams of Fourteenjay for his input on the matter, too.
Finding yourself color curious? Read on and get some reassurance that going bold is right for you.
Once you go bold, it's not easy to go back
First and foremost, know that once you go bold, it's not easy to go back. While some colors fade and wash out quickly, others will stick to your hair much longer. Should you decide the color just isn't for you, it'll either be a long and miserable wait, or an expensive trip to the salon.
If you're having a hair emergency, by all means, have a salon professionally remove the color rather than suffer through its presence. Just know that decision comes with hours in the salon chair, an expensive fee, and some unnecessary hair damage. (And, in some cases, multiple sessions.)
So, before you go for it, Adams wants you to ask yourself the following: Will I get bored of my color? Will it be easy to remove the color? If I want to return to my regular hair color, will it take several services?
Based on your answers, you might want to reconsider or make sure you find a shade you're 100 percent comfortable with.
Be prepared for a ton of upkeep
Color is rarely a one-and-done situation—it requires tons of upkeep to stay looking fresh, and the upkeep for candy-colored hues is no joke. Doing it once and letting it fade/grow out naturally is something that rarely ever ends up looking good. (Trust me on that one.)
Unless you were born with perfectly icy blonde locks, coloring your hair an unconventional color usually requires a bleached base, and that in itself needs constant root maintenance. You should be prepared to make a trip back to the salon at least every six weeks—that is, if you don't want your hair to look like total crap.
"I wish I would have known not to wait so long in between dye jobs," says Julie Humeas, associate publisher and head of brand partnerships at NYLON. "My roots had grown in so much that it made the next root touch-up job almost impossible to match the previous color—and it took forever. I don't like to get my hair done often, but it's worth it now to not have to sit in the chair for six hours because I waited too long to redo my roots."
In addition to keeping up with bleach touchups, your color might also start to turn a little funky within just two weeks. "Bold colors start out bold—and then they fade with shampoo. If you want your color to remain bold, you may need to refresh it every two weeks," says Adams.
If you want it to last, you have to put in the effort
Colored hair not only requires heavy upkeep, it also needs to be handled with special care in between visits if you want it to stay bold and bright.
It all starts with what you use to wash and condition it. "For the color to last a long time, the hair needs to be in good condition, and using the correct shampoos and conditioners is important," says Adams. Opt for products that are moisturizing, anti-damage, and color protectant. (And keep heavily stripping shampoos far, far away from your hair.)
Check to see if your salon offers complimentary moisture or protein treatments to its guests, especially after color. If not, you can always opt for deep-conditioning treatments in between visits to maintain hair strength.
Extra hair care also means taking any upcoming vacations into consideration. As Adams explains, bold color fades very quickly under the sun and in the pool and ocean, so you might want to hold off on going lime green until after you're back from your island getaway.
The color will bleed long after salon visit
So, you may find yourself standing in a pool of color the first time you wash your hair post-dye job. Gabrielle Korn, global editor-in-chief of NYLON, wants you to know that this is okay, and it's going to keep happening. "It's going to bleed every time you wash it, so don't be alarmed when the water runs purple, pink, or blue. However, this also means it's going to look different after every time you wash it."
While this probably won't stain your tub or your sink, be aware that the color may transfer to other surfaces. "Be prepared to sacrifice a towel to drying it!" warns Korn. From personal experience, I also suggest never falling asleep with damp hair—unless you're also looking to dye your pillowcase. (And invest in an umbrella. I repeat: INVEST IN AN UMBRELLA.)
You'll need to rethink your wardrobe and beauty routine
Taking your hair color to electrifying new levels involves a lot more than just changing the hue of your locks. You might just have to change the color of everything else, too.
Hayden Manders, senior staff writer at NYLON, says he wasn't expecting how much the dye job would affect the way he dressed: When I first bleached my hair in 2009, I had no idea how much it would drastically affect my wardrobe. Suddenly, certain colors did not jibe with my complexion and hair, I felt uncomfortable wearing colors I used to love. But, I loved my hair more; so the longer I kept bleaching and whitening it, the more I transitioned into my now-near-all-black closet. This, thankfully, made it easier to experiment with bold colors, like magenta, lavender, orange, and blue.
Think about it: Dyeing your hair cherry red and then wearing all-red clothes might look unflatteringly monochromatic (and green would be just a little too festive around the holidays). 
This also applies to your makeup. As someone who loves lipstick, I was sad that I had to put away some of my favorite lip colors for months at a time, as they clashed with whatever hair color I was currently rocking. (Insider tip: If you're someone that loves orange lipstick, don't dye your hair lavender.)
As you pick a shade for your head-turning new 'do, keep these questions from Adams in mind: "Will the color compliment my skin tone? My eye color? How will it fit into my current wardrobe?" If you feel comfortable with the answers, then go for it!
It might affect how you carry yourself
Aside from the physical changes that would need to be made, there are some internal changes to consider, as well. Changing your hair color has the potential to change the way you carry yourself—both positively and negatively.
"Another thing I wish I knew before going into the weird and wonderful world of bold hair is how it was going to affect how I held myself and interacted with people," says Manders. "Bleached hair was fine, but the color was wearing me instead of me wearing it when I first started Manic Panicking. It took a handful of tries and mistakes to finally find colors that I know work well with my complexion and also make me feel powerful and, well, more myself."
With that said, keep in mind that it might take a few tries before you find the color that feels "you."
Before you do anything, schedule a consultation
While the previous tips will help prepare you for what could come along with the bold and bright hair you're longing for, before you do anything involving bleach or dye, the most important step is to schedule a consultation with a colorist (even if you plan on doing it at home yourself).
Chances are, your colorist already requires you to book a consultation before making any remotely drastic changes to your hair, but just in case they don't, you should plan to book one yourself. This way, they can analyze your current hair and have a better idea of how the change will affect your daily life (and give an honest, trusted opinion if something just isn't going to work).
"Going a bold color is not just about changing your hair color—it's about making a fashion and lifestyle statement. It's saying, 'I'm a new person,'" says Adams. "While changing your hair color can be fun, psychologically, you have to be prepared for all the things that need to change with the color." So, chat with an expert before reaching for the Manic Panic.
While this is a lot of information to process, none of this should steer you away from going bold if you're itching for it. "Color is a hell of a lot of upkeep, but if it makes you feel invincible, do it," says Manders.