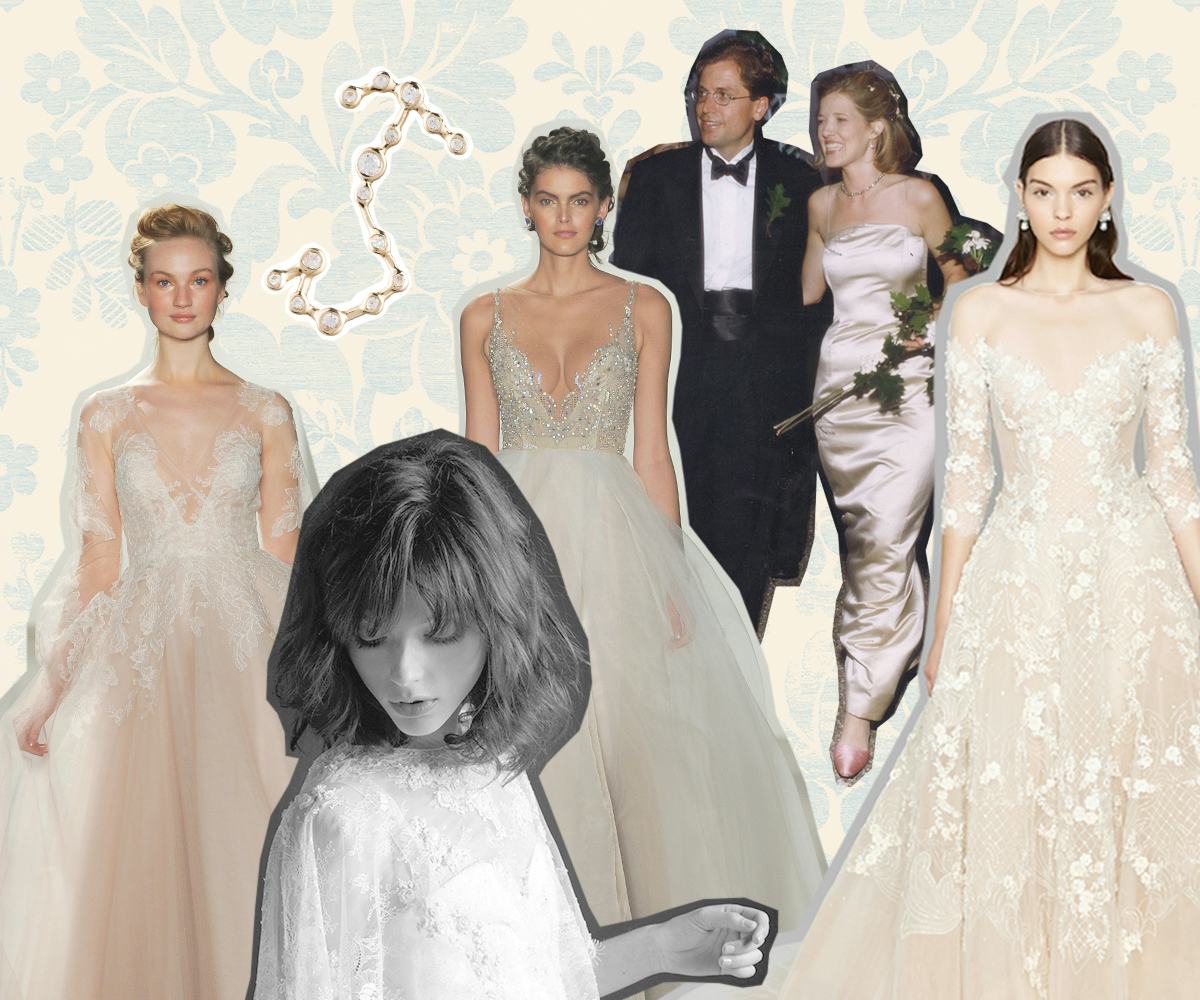 7 Bridal Designers On What They Wore On Their Wedding Day Then, What They Would Wear Now
Finding that one special wedding gown is almost comparable to finding that one special partner. (Minus the whole "one dress for life" part, since society frowns less upon having two wedding-day dresses than having two partners. Go figure.) With an abundance of stunning gowns (and bridal jumpsuits and separates out there), the sartorial options are truly endless for what some consider to be the most important day of their lives. 
Behind all the dreamy offerings are creative fashion designers who too once faced the question of what to wear while walking down the aisle. With an even greater bounty of choices than what brides are faced with, thanks to their own custom creations where the only limit is their own imagination, we were curious as to what their hearts stopped on when they were wedding dress shopping. We caught up with six married wedding wear and one bridal accessory designers to find out what they donned on their wedding day and, given the fleeting nature of trends and personal tastes, if they would wear something different if they were to get hitched today. Ahead, they reveal.
Lela Rose, Lela Rose
Wedding date and location: 1999, The Dallas Museum of Art in Dallas, Texas.
Wedding day look: I had a tree-themed wedding and had a tree branch embroidered all around my gown, which I designed. Fun fact: I have the same tree branch embroidered on our bed spread and change it every few years.
What would you wear today: I might opt for a chic pant and top. I love this look from our Fall 2017 Collection… we named it "The Pearl Street."
Georgina Chapman (right) and Keren Craig (left), Marchesa
Wedding date and location: 2007, Connecticut (GC); 2008, North Wales (KG).
GC: I designed my wedding dress myself. It was a tulle ball gown with a corseted bodice. I also wore a pair of custom shoes from Christian Louboutin with crystals all over and blue soles—Cinderella shoes.
KG: My wedding dress was a gown from our runway collection that I custom made in ivory. It was one-shouldered and had a hand-embroidered bodice and flowing chiffon empire skirt. For my shoes, I went with a custom pair of ivory Christian Louboutin heels with corded embroidery. I chose not to wear a veil, but, looking back, I wish I had—when else do you get the chance to wear one?!
What they would wear today: We couldn't possibly choose one! While we adore our fall collection, we would always stick to what we originally wore as that day was so special and memorable that we wouldn't change a thing.
Lisa Salzer, Lulu Frost
Wedding date and location: 2015, Gurney's Montauk Inn and Seawater Spa, Montauk, New York.
I wore a Romona Keveza dress that I loved for its clean, simple lines and transformability. It had three looks in one thanks to the removable sleeves, plus a horsehair overskirt that completely morphed the look over the various phases of the evening. For accessories, I wore my grandmother Elizabeth Frost's pearl and diamond earrings, a Scorpio stud (for me), plus a Cancer stud (for Marlon) from my new ZODIACS collection.
What she would wear today: I would absolutely wear the "Calliope" cashmere wide-leg cream pants and "Persephone" cropped turtleneck that I wore, and named, in the Houghton shoot for a bridal look—it is utterly beautiful in its simplicity and glamour. I would wear amazing vintage Art Deco bracelets and major earrings to up the oomph factor.
Hayley Paige, Hayley Paige
Wedding date and location: 2015, Lake Tahoe, Nevada 
I designed three different looks for day-of, because why not? I adamantly believe more is more when it comes to wedding-day wear. The first look was a tinted lavender A-line dress with long sleeves and stained-glass inspired embellishment. The second was a cropped top and ball gown with colorful hand-painted silk flowers. The final look was a prismatic sheath with a holographic rhinestone work, plunging low back, and nude illusion detail.
I am a firm believer in being of the moment and very self-aware of my ever-changing attraction to style. I went into the process knowing I would want something entirely different in a few months, so I very much embraced exactly how I was feeling and what I fancied at that moment in time.
What she would wear today: Every dress from my spring 2017 season... like every single dress. But I guess, if I had to, I would narrow it down to Kenny (bottom left), Chandon, Winnie (bottom right), and Lumi (middle), although that's really not narrowing it down that much.
Babi Ahluwalia, Sachin & Babi
Wedding date and location: 1996, New Delhi, India.
My look was actually made in my mother's atelier. I chose it because it was a classic and traditional Indian design in a deep bordeaux.
What she would wear today: I love the hand embroidery mixed with the light lace on this gown, making it a free flowing silhouette that's both effortless and fun.
Stephanie White, Odylyne The Ceremony
Wedding date and location: 2011, The Holly Farm, Carmel, California.
I wore Monique Lhuillier. There were no bridal boutiques or showrooms in L.A. that catered to independent small wedding designers that were offering something new at the time. Most of the dresses that were out there during the time in my search were made by the larger wedding designers. Social media sites such as Pinterest or Instagram were either just starting out or not available at the time, making it extremely difficult to connect to or learn about smaller brands.
What she would wear today: Our Lady Wren gown. It's beautiful all-lace slip on a caftan gown that is free flowing and falls into a dramatic cascading sweeping train.