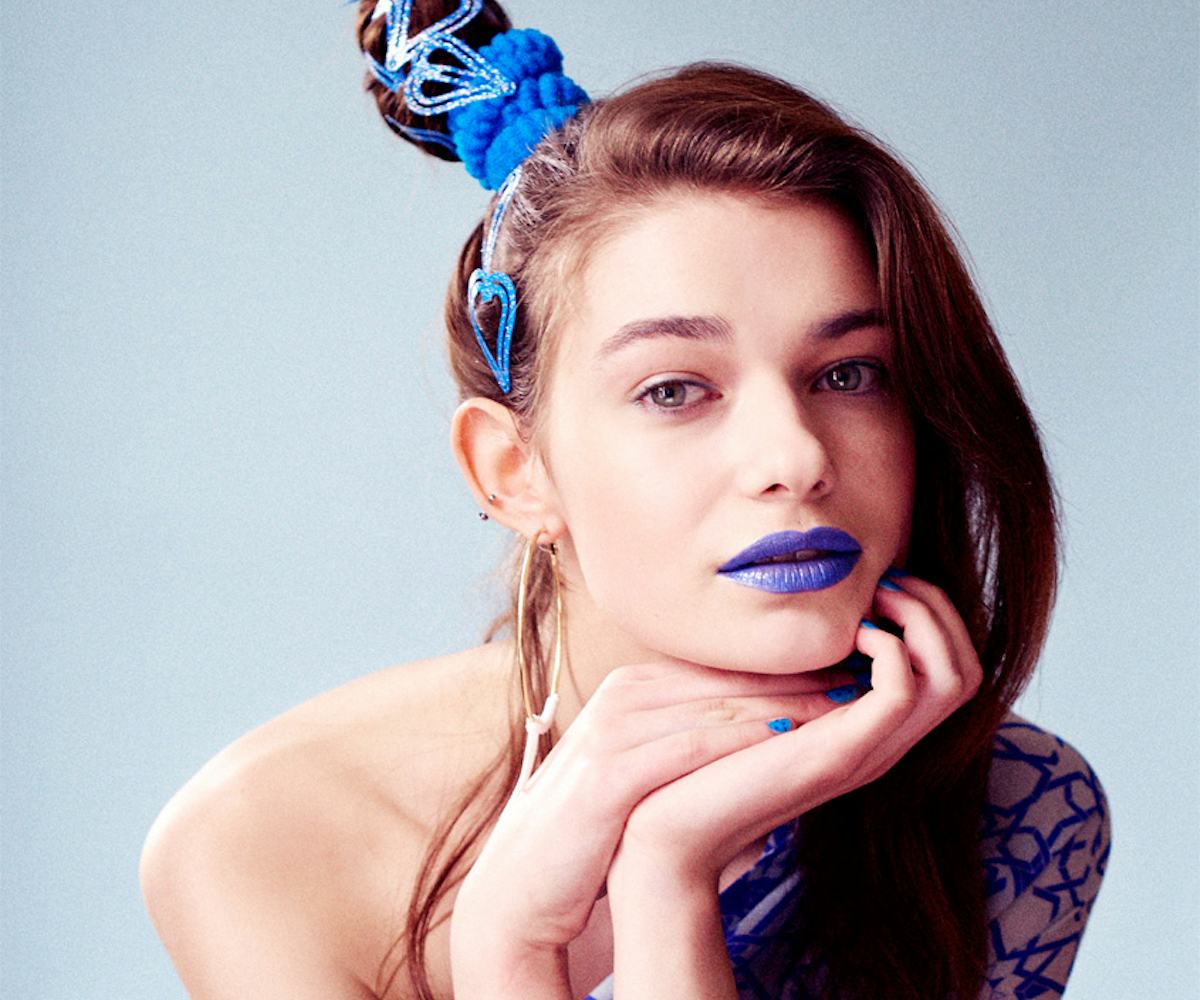 Photo by Kristin Vicari
what your bun says about you
by gabrielle korn + yasmeen gharnit
You can do your go-to bun while walking backwards with your eyes closed uphill, but what does the shape you create say about your personality? Maybe you are more of a quirky, fun-loving bun-wearer; maybe your bun indicates a lust for life that cannot be controlled with a simple hairband. Either way it speaks volumes. Ahead, we get to the bottom of this existential quarry. Click through the gallery to read our findings.
Lazy BunYou have a lot of things going on in your life—perhaps you're on the brink of discovering the cure to the common cold, busy brushing up on your history (your main subject: Queen Elizabeth II), or working on a conceptual feature film about the life and times of Kim and Kanye—why spend any of your valuable time on creating a stylized bun? After all, you only lifted your wrist and wrapped that elastic band around your locks because it was getting in the way. And nothing gets in your way. Nothing.
Half-Up Fashion BunNothing screams "British high-street fashion kween" quite like your go-to 'do. We know your secret: You're not only attempting to make a major style statement (with your '90s tattoo collar and oversized sunglasses and all), but you're looking to pick up some inter-galactic frequencies as well. One day, you'll unlock the secrets to the universe. And we'll all just be sitting here clueless with our lazy, loose waves.
Braided BunYou used to be a dancer (duh) and the braided bun is one of many leftover habits. It's way less complicated than it looks, which allows you to maintain a sense of mystery. Unlike people who want to look like they put zero effort into their appearance, you like to look like you put a ton of effort in, while actually just rolling out of bed. You appreciate a subtle feminine touch to every outfit: Even when you're rocking a leather jacket, you manage to throw in floral print or a bow somewhere. 
Double BunsYou're a fun-loving '90s girl who desperately wishes that raves weren't just an aesthetic in Bushwick. You stick your tongue out in selfies and have pictures of Gwen and Miley on your wall. You own more bobby pins than you could possibly ever keep track of, which comes in handy when doing a double-bun 'do that's going to last all night. Speaking of lasting all night, you are always the one who wants to stay out when your friends are all going home. It's hard to be the life of the party, but someone's gotta do it.
Man BunYou are a man with a bun, meaning you are so evolved that you have figured out how to transcend gender roles while still reading as extremely masculine. Yes, you wear your hair in a style that is, in recent years, predominantly seen on women: But you are too busy running your street-style photography empire to notice. Your man bun looks particularly good in a suit—something about the juxtaposition of expensive clothes with unwashed hair just works, and also represents your view on life. You wear a lot of fashion sweatpants (joggers, if you will), and are thrilled that they are currently trendier than skinny jeans. You are an accidental babe magnet. You might play a lot of video games. Your girlfriend will never stop wanting to practice braid crowns in your hair; someday soon, you will find yourself letting her.
Side Bun
You've always been a little odd—a little 
quirky
. You have learned to not only accept this fact, but also embrace it. You're the kind of person that everyone wants to talk to at a party, but are intimidated by because you're just 
so
damn cool and sure of yourself. You'd never admit it out loud, but you secretly believe that if you sought out a new therapist, you would turn the tables and end up helping 
them 
(you grew up reading Skinner, Roger, and Freud). In your spare time, you write haikus and watch '80s TV shows that no one has even heard of. You keep rocking that smiley face-embossed crop top, girl. You do you.
Fashion TopknotYour bun is a street-style star. How you get it so close to your forehead is one of the great mysteries of the world (do you flip upside-down? Do you do your hair in an anti-gravity chamber?) and it has a sort of sculptural, Scandinavian-minimalist quality to it that makes it more runway-friendly than gym-ready. You wear your fashion bun with circle-shaped sunglasses and a long, wide, swingy wool coat that's not very warm. You might be a blogger or maybe you just read fashion blogs all day. Either way you are ahead of the curve, picking and choosing which trends to partake in, all the while maintaining your ultra-modern chicness. In fact, "chic" is one of your favorite words.
Sleek Bun You've got a jar full of high-shine pomade on your dresser and you're not afraid to use the vast majority of it for your go-to bun. You don't like to mess around: Like the sharp part that tends to accompany your bun, you are a no BS kind of girl. You drink black coffee not because you like it but because it's efficient. Most people don't understand your sarcasm. You really hate that the '70s are coming back, but have more important things to worry about.