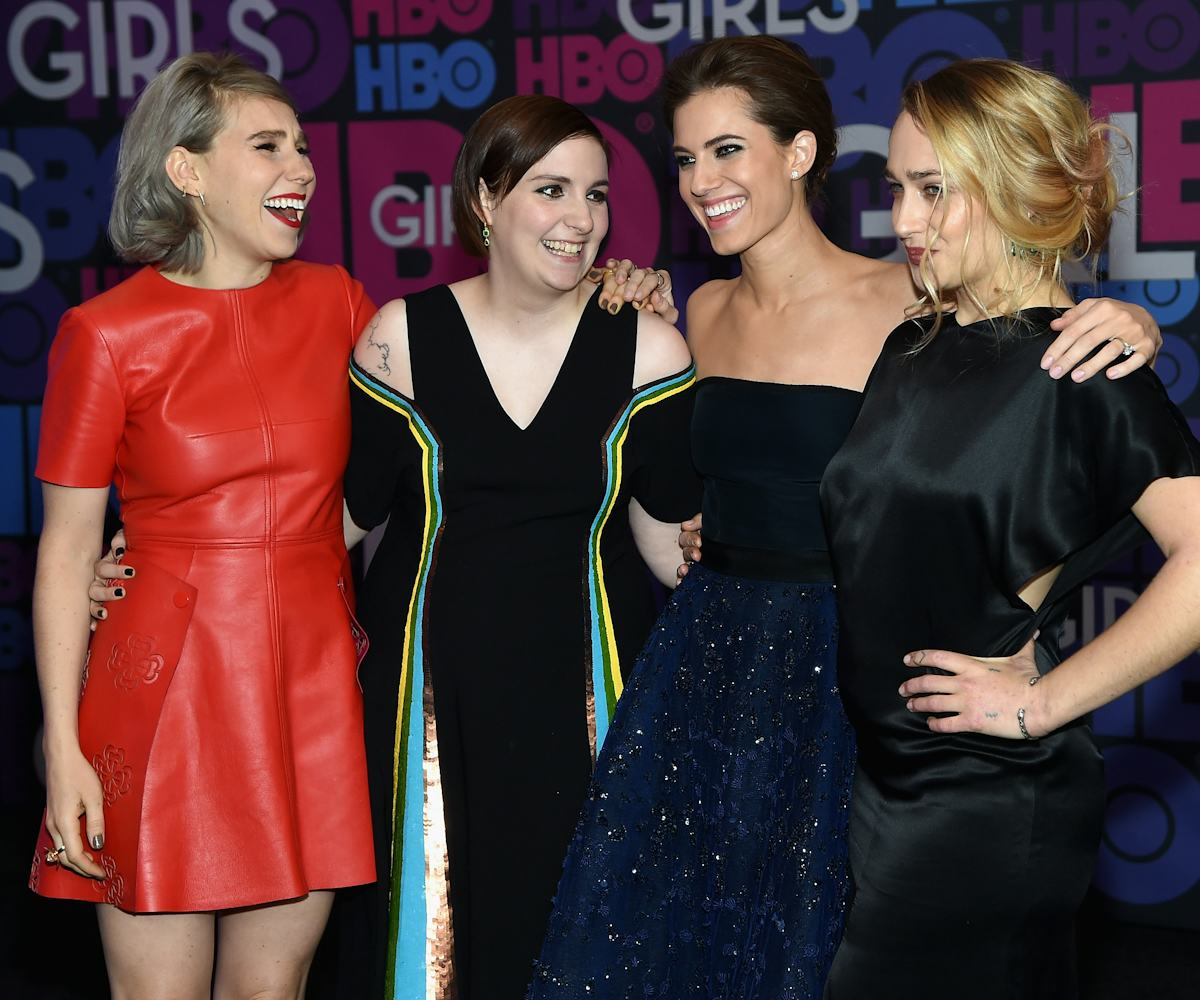 Photo by Jamie McCarthy / Getty Images
Now That 'Girls' Is Ending, Where Do Its Stars Go Next?
A look at their next career moves
With the premiere of the final season of Girls airing this Sunday, the internet's hot take machine has spun into overdrive, with writers pondering the legacy of Lena Dunham and Jenni Konner's often controversial brainchild. What exactly the legacy of Girls will be is still up for debate, but one thing that's inarguable is that it's made bona fide stars out of four previously unknown actresses. Dunham, Jemima Kirke, Allison Williams, and Zosia Mamet will forever be identified with the characters they played, and each of them now has to contend with the double-edged sword of opportunity and the challenge of trying to shake off their iconic characters. Here's a look at the direction that each of them is heading in so far. 
Lena Dunham
Lena Dunham could never act again, and she'd still be one of the most powerful women in entertainment. Dunham, who created Girls, and wrote and directed many episodes, has evolved from a creator into a full-fledged media mogul. Her online publication, Lenny Letter (which she also created with her creative soul mate Konner), is a force to be reckoned with and this year will evolve into a publishing imprint. 
In the acting department, Dunham currently doesn't have any projects officially lined up, but it doesn't sound like she's interested in scoring a role in a high-profile, studio movie anytime soon. "I don't have a case of great man syndrome," she told The Wrap. "The be all and end all for me wouldn't be like if a dude called me up and said, 'It's finally your time.' It sounds so tiring to get bossed around by a dude for six months." Instead, Dunham has said she wants to focus on writing and directing more, which would be a return to her creative roots (she first made her name with the indie movie Tiny Furniture, which she wrote, directed, and starred in). Dunham, who also hosts a recurring podcast, was supposed to write and direct a new show for HBO called Max, starring Zoe Kazan as a magazine writer in the 1960s, but there is no word on the current status of that project. 
Allison Williams
Perhaps more than any other cast member on the show, Allison Williams will be trying the hardest to shed her character, simply because by consensus, Marnie was not just the most unlikeable of the characters on the show, but on all of television. Williams, who first gained attention by displaying her very good singing voice, tried to remind people that she can do more than play a stuck-up 20-something with zero self-awareness when she boldly took on the role of Peter Pan in the NBC musical Peter Pan Live! Williams, like the production itself, received mixed reactions, but there are few actresses we could think of that could take on that role, in that environment, and pull it off. 
A good barometer for how Williams' post-Girls career might go will be Jordan Peele's highly-anticipated horror movie, Get Out.  The film, which hits theaters on February 24, will introduce Williams to a whole new demographic when she stars as a young woman bringing her African-American boyfriend home to meet her family for the first time. If you've seen the movie's terrifying trailer, you know how that turns out. Williams doesn't have any more movies lined up according to IMDb, but if Get Out is the hit people are expecting it to be, that could change very soon. 
Zosia Mamet
If there's one actor on Girls who fully disappeared into their role, it would be Zosia Mamet, whose Shoshanna—who also received her fair share of hate over the show's five seasons—is least like the person who plays her. Shoshanna is also the character least rooted in reality, a kooky caricature of spoiled trust fund kid who moved to New York because Sex and the City was her truth. But every once in a while—especially during last year's Japan storyline—Shosh revealed an inner depth, and Mamet, who long ago proved her comedic chops, got to show off her talents as a dramatic actress. 
As such, her post-Girls filmography looks mighty promising and leans heavily on the dramatic side. She's starring as Patti Smith opposite Matt Smith's Robert Mapplethorpe in an upcoming biopic of the late photographer and has a role opposite Andrew Garfield and Riley Keough in David Robert Mitchell's anticipated follow-up to It Follows. Mamet has also launched a few music projects, including one with her sister, but they each failed to take off.
Jemima Kirke
Although Jemima Kirke blamed her recent divorce on her acting career, it doesn't look like she has any plans to retire. For a preview of Kirke's professional life after Girls, look no further than this year's Sundance Film Festival. It was there that the multitalented actress showed that she was willing to work outside the traditional Hollywood system on alternative projects like Strangers, a Refinery29 and Indiegogo-funded digital series about a woman (Zoe Chao) who rents her apartment out on Airbnb to various people who change her life in a certain way. Kirke, who is clearly down with the digital revolution, has another web series on the way, called New York Is Dead, about two broke New Yorkers who become hitmen. But Kirke's biggest and perhaps most challenging role will come in Untogether, where she plays a recovering heroin addict who tries to become an author. The kicker? She stars opposite her real-life sister, Lola.