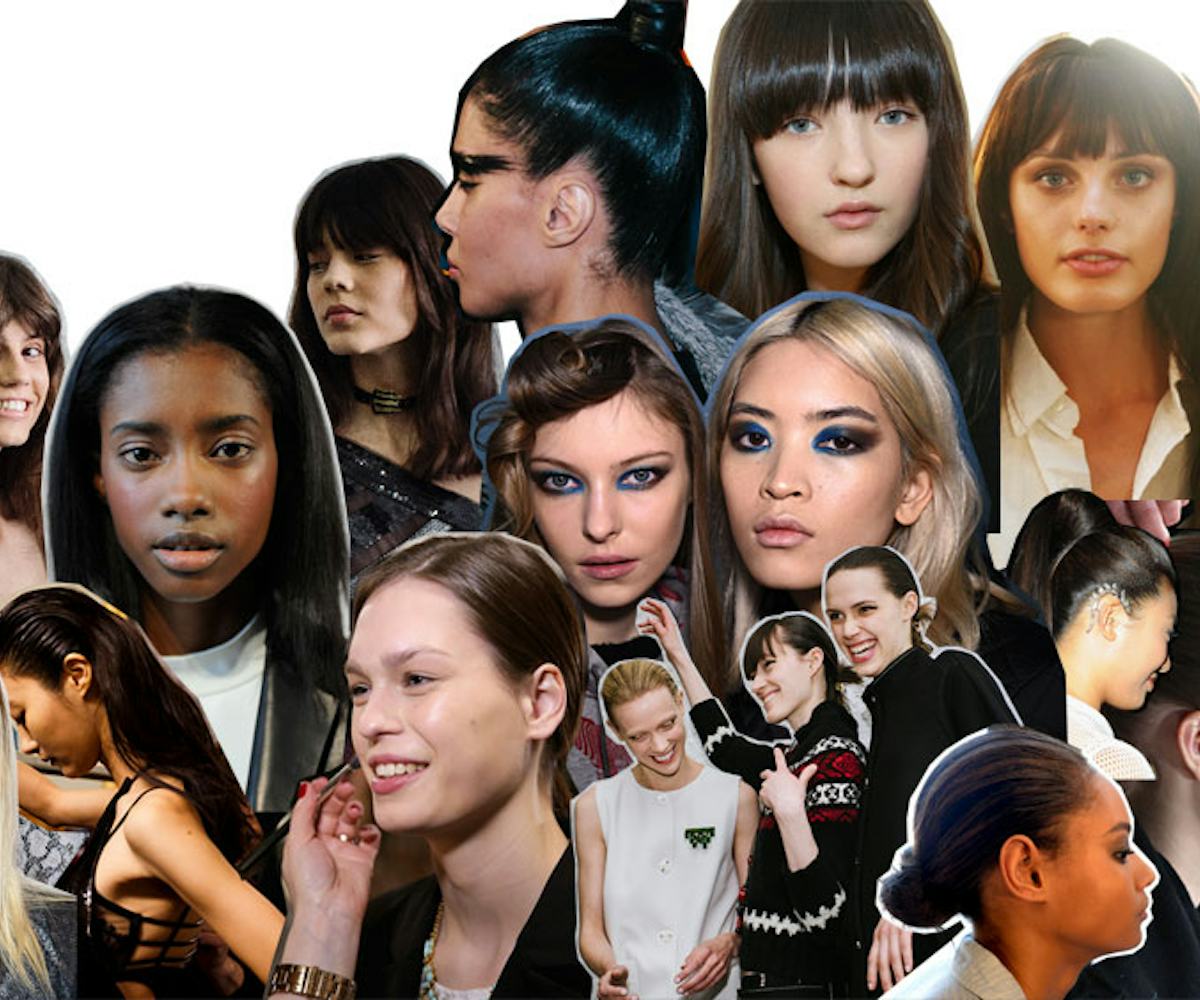 Collage photos by Nina Westervelt, Erin Yamagata, Atisha Paulson, and Getty Images.
5 Hairstyles Everyone Is About to Be Obsessed With
For whatever reason, now's about the time you're going to start to see spring hair trend stories crowding your news feeds. Ethereal, pretty, and fresh, these looks will be great—in like, three or four months. For now, though, a braid crown is just not going to work under your beanie hat (neither physically nor emotionally). So, in the name of staying in the present and living for the moment, we rounded up the hair trends everyone is about to start wearing now. And lucky for the lazy girl in all of us, they're all pretty simple. 
From the length you're going to want to get yesterday, to the 'do that's going to replace your top knot, we've got the looks you'll want to master—stat. Click through to check them out. 
Bangs
When bell-bottoms first re-appeared on the runway a few seasons ago, we knew it would only be a matter of time before the beauty looks became retro, too. Bangs are back this winter in a seriously '70s way: Rather than the blunt fringe that was trending a few years ago, the coolest way to get this look is with a soft, layered edge.
Don't be afraid to let them grow out—the closer the ends get to your eyes, the better. As long as you can still see, of course.
Last time we all had bangs, having them part in the middle was maybe the worst thing that could happen. Not so this time around: Let 'em do what they want.
Collarbone Grazing
While last year's angled bob took home the title of It Haircut, this winter, go for a collarbone-length chop with less layers and more attitude. It's a universally flattering length, with a minimalist edge that'll look great with your all-black everything.
Go ahead and work a middle part with this length, too—it'll be a striking statement.
Fresh, simple, bold, and easy to style—what more could you want from a cut?
Low Buns
It's safe to say that a sleek, low bun is the new top knot for the fashion set. Instead of making a hair pile at the top of your head, comb it all back into a tight coil at the nape of your neck.
For a softer vibe, simply keep your part in place when you put your hair back.
If it feels a little boring, throw an accessory on there.
Slicked Back
If you're looking for a way to get your hair out of your face but don't want to put it up, this trend is perfect. Grab a strong-hold gel and comb it through the top of your hair, stopping just past your ears. Leave the rest down and free of product. The combination of sleek on top with a natural texture on the bottom is super modern, with an androgynous feel to it.
Add some waves to the bottom of your hair to make it fancier.
The best part? This looks awesome on hair of any length. 
The Highest Pony
Our go-to lazy-day hairstyle just became edgy, which means we might never do anything else with our hair again. Slick it back, get it high up, and go: This is one no-nonsense trend we can totally get behind. 
The trend is also a great opportunity to throw an ear party.
If you're feeling extra ambitious, wrap a piece of hair around the elastic holding your ponytail together. It's a small detail but a fashionable upgrade nonetheless.