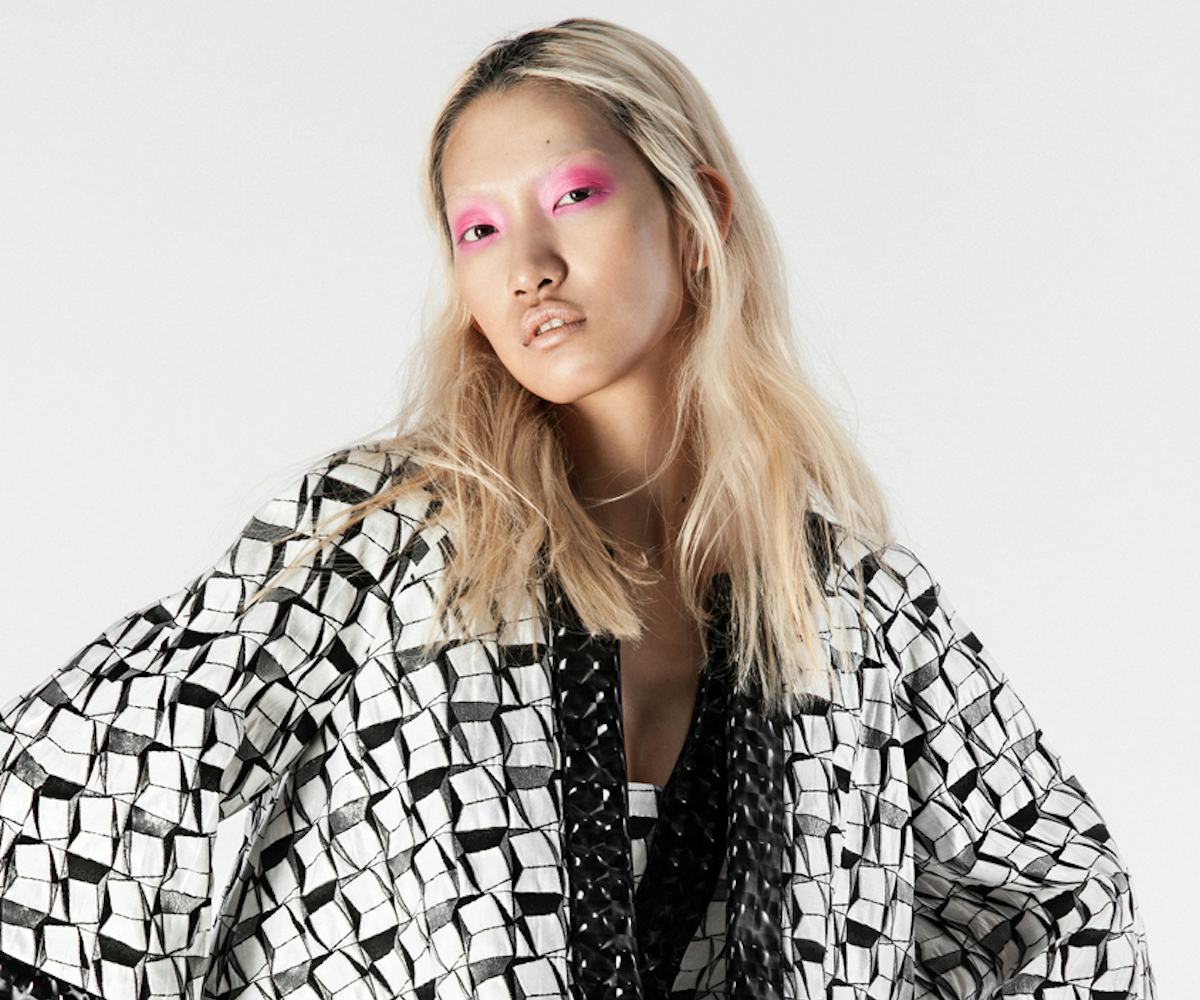 photo by ben lamberty
the case for going blonde in december
winter whites: not just for sweaters
If there's one thing we're rarely concerned with, it's rules. In fact, we kind of love disregarding guidelines: We're known to wear white the day after Labor Day, and defintely rock a bold eye and lip together. That said, there's one so-called rule that we have yet to break—and that is the notion that once winter hits, coloring your hair dark is the only way to go. This year, though, we're not buying it.
We're officially ditching that darker-hair-in-winter idea and proposing a new (much cooler) one: Go–or stay–light. Better yet, platinum. Blonde is a natural mood-enhancing shade that is bound to make you shine brighter during the gloomy months head. To prove so and get the low down on what you'll need to know when going light, we turned to pro colorists Aura Friedman and Roxie Darling for their expert assistance. Read on for the dirty details.   
Who Can Pull It Off? 
If you're thinking that you can't rock a lighter hue in the winter, you're most likely wrong. According to both experts, platinum hair works on almost every skin tone. However, "With skin that is red or flushed with cool undertones, it's not a good idea to make the hair too cool or too golden," says Aura. Also, according to Roxie, platinum hair isn't flattering on girls with a lot of freckles. Instead, she suggests opting for an icy-pink hue.  
Will It Wash You Out?
In short, the answer is no: "As long as the tone itself is appropriate on the skin, any amount of lightness should be okay," says Roxie. She stresses the importance of being in the hands of a good colorist, with whom you've had a consultation and who knows what will and won't work with your specific skin tone.  
Warm Or Cool Tones: What To Know
In terms of the actual tone you want to go for, first you need to think about the colors in your skin that you'd like to accentuate. "Warm, light tones enhance a rosy skin tone, giving a healthier look," says Friedman. In contrast, cool light tones will bring out the cooler tones in your skin – it's ultimately up to you and what you'd like to emphasize most. 
Should You Add Low Lights Or Highlights? 
When deciding whether to add highlights or low lights, Roxie says it all depends on whether you want dimension or flat color. "Either can work, depending on the skin tone," she said. "For example, if you have darker skin, you'll want to make sure that if you get highlights, they aren't too brassy." In turn, low lights will add a contrast to the hair that actually make the blonde look brighter, Friedman tells us, which subsequently brightens the rest of your features. 
How Can You Keep It From Fading? 
Roxie swears by the Purely Perfect Cleansing Creme, saying it changed her hair and her career. "Without detergent, it protects color and returns hair to a more natural, balanced state," she said. "Since the hair is intrinsically healthier, I can push the limits with bleach and color and the color will last so much longer because there is no stripping in the shower." 
For Friedman, her hero product is the Nexxus Color Assure Pre-Wash Primer, which she suggests using before washing your hair to keep color vibrant while repelling water. 
What To Discuss With Your Colorist Beforehand
Establishing a good relationship based on communication with your colorist is essential. Roxie advises touching on the need-to-know basics of going platinum with your colorist, such as how often you'll need to go to maintain it, what they think is the best shade of blonde for your skin tone, and if it's better to do it all at once or gradually so as not to damage the hair. Going platinum, whether it's a more golden tone or pure winter-white, is definitely a lifestyle choice that can be a real investment, so be warned: You definitely have to be ready to commit to it. That said, it looks incredible.
How Can You Combat Damage?
It's no secret that bleaching your locks, as well as maintaining the color, can lead to excessive dryness and breakage–not fun stuff. To keep your hair in a happy state, Friedman advises using oil products such as the Shu Uemura Essence Absolue Luxury Nourishing Hair Oil in addition to weekly deep conditioning treatments. 
Rethink Your Makeup, Too
Another important thing to be aware of is that when dyeing your hair a statement hue like platinum or winter-white, your makeup may need some revamping. According to makeup artist Toby Fleischman, using a cream bronzer to warm up your complexion can really help when your pale skin and lighter hair are similar in hue. As for lip colors that enhance your new icy-toned hair, Fleischman suggests going for hard-hitting color while keeping the rest of the face fresh for a modern approach. "Having lighter hair is a perfect excuse to really punch it up on the lip color, whether you are into the orange tones or deep pinks or dark berries," she said.