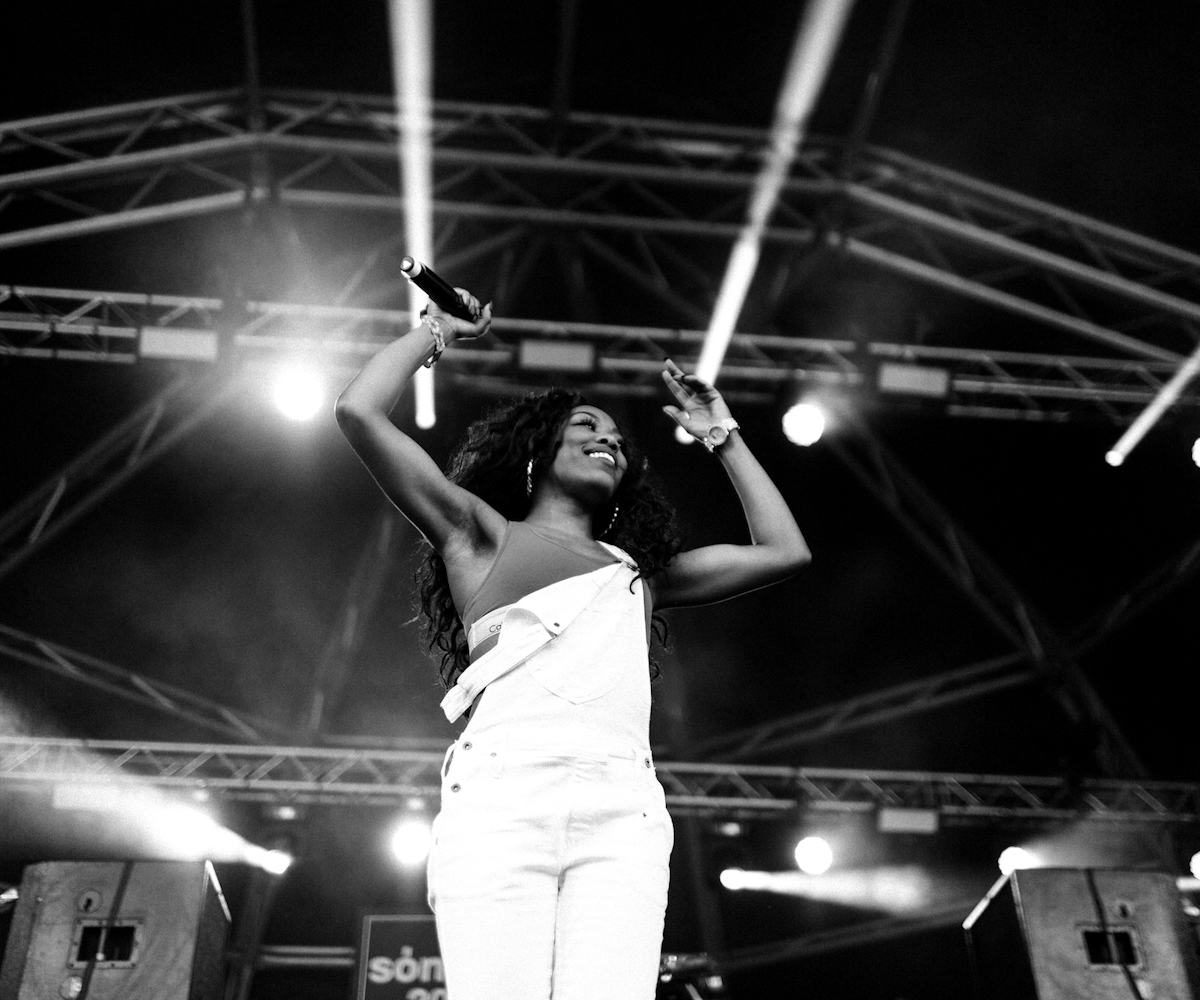 Lady Leshurr photographed by Vicky Grout.
Meet The Five Most Powerful Women In Grime
The following feature appears in the September 2016 issue of NYLON.
Born out of East London's Bow neighborhood in the early 2000s, grime music has become the voice of a voiceless generation, with many likening the genre to punk for its DIY, anti-establishment nature. Whereas hip-hop spoke to and for the ghettos of the United States, grime did the same in England—but that is pretty much where the comparisons end. Stylistically its influence comes from Jamaican soundsystem culture more so than it does American rap, being that it was created in an environment with a penchant for jungle, U.K. garage, ragga, and dancehall.
The beats are metallic riddims that blast at 140 beats per minute, derived from Fruity Loops plugins and Music 2000 (yes, the Playstation game); the lyrics are just as icy, with bars centered mostly on the trappings of street life. With the help of MCs such as Wiley, Dizzee Rascal, Kano, and Skepta—as well as newcomers like Stormzy, AJ Tracey, and Novelist—grime is now respected not only as a genre, but also as a culture. It's all in the walk, the talk, and the swag. 
It's also a male-dominated scene; very few females have made long-lasting impressions. However, grime's popularity can be partly attributed to women such as Lady Leshurr, whose "Queen's Speech" freestyle videos helped the genre go viral, and without writers Chantelle Fiddy and Hattie Collins, who were the first to cover the genre in the press, we wouldn't even have a name to call this thing. Here, we touch base with five other lady bosses who are dominating the worlds of journalism, radio, photography, and, of course, music, all in the name of grime.
Shystie, MC
Known to many as the first lady of grime, MC and actress Shystie has undoubtedly earned that title. Having set out on her musical journey back in 2003 with a remix of rapper Dizzee Rascal's "I Luv U," she is the epitome of a boss: She was one of the first in the scene to get a major record deal, played the leading role in the British television series Dubplate Drama, and can count rapper 50 Cent among her many fans. "I'll forever be grateful to grime," says Shystie. "It's set me up for nothing but success."
Sian Anderson, DJ
"I love grime because it personifies me; that raw, honest, zero-tolerance approach is very much a part of who I am," says Sian Anderson. Apart from hosting a popular show on BBC Radio 1Xtra, she has penned articles for Noisey and The Fader, among others, establishing herself as one of the leading voices in grime. Add the fact that she runs SighTracked, one of the biggest music PR firms in the United Kingdom, and it's clear to see this woman is about her business. "Grime is a lifestyle. It's my lifestyle," she says.
Flava D, producer
It's difficult to highlight grime's inclusiveness when you can only count its female producers on one hand. That hasn't deterred Flava D. Raised on a diet of Crazy Titch and other stars from Channel U—a British television station that played music from popular American rappers alongside rising artists in the U.K.'s urban music scene—the rawness of the riddims and gritty London swag resonated within the Bournemouth beatmaker. "The lyrical content gave an honest insight into what it can be like living and struggling in London's concrete jungle," she says. Now signed to the blog-turned-music label Butterz, Flava D is a force that is being felt in the underground arenas of grime, bass, and U.K. garage.
Laura "Hyperfrank" Brosnan, journalist
"I can safely say that grime saved my life," says Laura Brosnan, better known as Hyperfrank. The blogger, writer, and promoter has spent the last decade writing grime-focused articles for the likes of MTV, i-D, and Complex, establishing herself with a straight-to-the-point style. "It allowed me to channel my pain, anger, and loss from losing my mother into something that represented who I was. I was a broken shell, treading on thin ice, but grime and the people in it pieced me back together, and soon it became my home sweet home," she says.
Vicky Grout, photographer
A grime rave doesn't feel the same without Vicky Grout running rings around performers and snapping away. With an impressive portfolio that includes images of artists like Skepta, AJ Tracey, Novelist, and Stormzy, this photographer has already made her mark on the scene—and she's still in her teens. "Grime has this sense of unity and energy that not a lot of other genres have," says Grout. "There's literally nothing better than hearing a grime tune that makes you bass-face and want to punch something [laughs]."