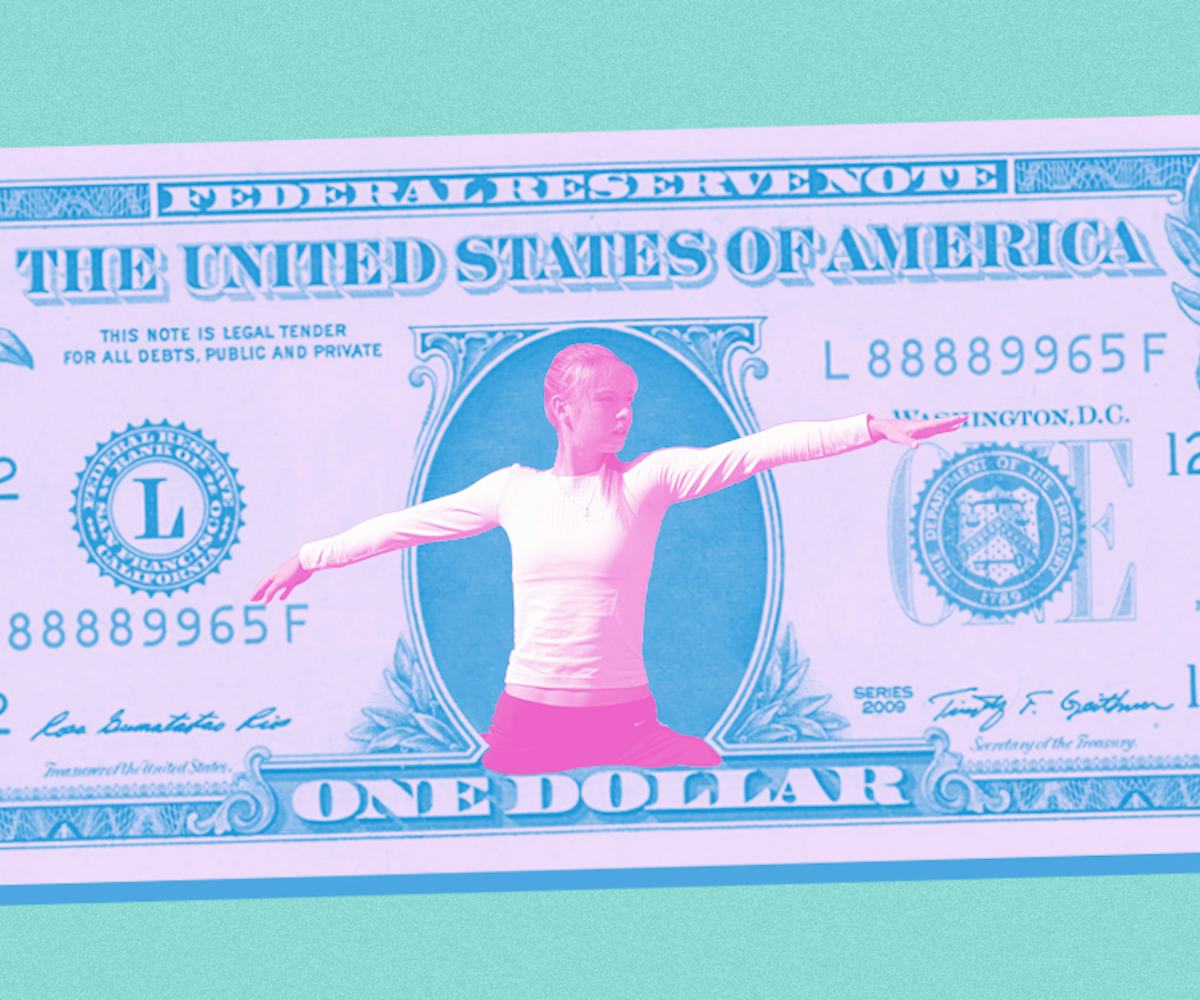 How To Work Out On A Budget
When you love boutique fitness classes, but can't afford them
If you live in a city, you know that working out can get expensive quickly. With classes ranging from $30 to $40 a pop and gym memberships going well into the three-digits, staying in shape can make a dent in anyone's budget. And while it may seem impossible to work out in boutique fitness studios (for those of us who find the gym uninspiring) without spending several hundreds of dollars a month, over the years of living in NYC, I have learned to work out on the cheap(ish) by jumping from studio to studio and scouting every free workout that the city offers.
Ahead, everything I've learned about working out on a budget.
Look for studios/gyms that offer free first classes/passes
From FlyWheel to CKO Kickboxing, Orangetheory Fitness to Physique 57, there are no shortage of studios that offer complimentary first classes nationwide. Narrow down the list to the types of exercise you know you like and see if the studios offering those workouts have introductory offers on their websites. Don't see one? Call or email the studio and ask about one. I've had several studios extend a free class to me when I expressed genuine interest in trying a workout for the first time. For those who are willing to spend a little, or who are done with all the free classes (same!), certain studios (SoulCycle, 305 Fitness, Beast, and Swerve Fitness) offer two-for-one classes, while others (CityRow, Hit House, and SLT) offer discounted ones. Gyms that offer good classes (Crunch, David Barton Gym, Gold's Gym, and Sports Clubs), similarly, offer one-to-seven-day free passes and have plenty of boutique-y options like aerial yoga and surf-inspired HIIT. If you don't mind switching up studios and workouts, you can go for months trying different classes for free.
Look for studios with intro months
There are likewise plenty of studios that will have introductory offers that extend for a few weeks or even a month should you settle on the one workout you enjoy. While some studios, like CorePower Yoga, offer a complimentary week (!!!) to newbies, there are other fitness spaces that have reasonable rates (at least, given their popularity) like Pure Barre, Pop Physique, and Y7, who all have unlimited monthly packages for $100 and under.
Ask studios for extended intro rates
If you're not keen on jumping around from studio to studio, testing every offer out there, know that many will offer a discounted rate for the next month or two following the completion of your introductory package. While they will typically be more expensive than the first one, occasionally they will extend the same rate for one more month or provide you with an option of keeping the same rate if you commit to a six-month or year-long contract, which could totally be worth it and in your budget if you end up loving a studio or class.
Sign up for newsletters
Most studios will automatically add you to their newsletters when you sign up. Don't unsubscribe from the studios, as they often offer sales and special offers around holidays and slower times. Through 305 Fitness emails, for example, I found out when they started offering off-peak rates and community classes, which are significantly cheaper than normal classes. An email forwarded from a friend who goes to New York's Overthrow Boxing Club alerted me to the fact that the studio offers donation-based classes benefitting ACLU and Planned Parenthood on Monday nights, which might not make the class cheaper, but could allow you to workout and feel even better than just what you'd get from a post-exercise high.
Look for promotional packages on discount websites
I would need several more hands to count on my fingers how many times I've used discount sites like pulsd and Gilt City to buy fitness packages over the years. Find ones that offer month-long unlimited classes and try to get them around holidays, like Memorial and Labor Day, when the sites put out additional promo codes. Sure, it's only a limited number of options available in terms of classes, but they end up being the best bargains. (I most recently got an unlimited month of spinning for $60.)
Look for newly opened studios and start-ups
Scout recently opened studios and new start-up business that are looking to get customers. At the time of writing, Brrrn, a brand-new cold-temperature Manhattan studio that offers yoga, conditioning, and HIIT classes and an infrared sauna, has launch deals including two-for-one classes and six sauna sessions package for $150 (originally $198). FitHouse, a service that launched earlier this year, offers access to unlimited boutique classes for $99 a month (though it doesn't have any plans to change the rate moving forward, ClassPass has forever made us doubt the longevity of anything that is too good to be true). Even new locations from well-established businesses often offer more competitive rates to fill new spaces.
Try online workouts
We said it once, we'll say it again, online workouts work. Even the buzziest workouts, like modelFIT, barre3, Peloton, and The Bar Method, offer remote classes with actual instructors that teach in-person for a much cheaper rate—and the workouts are just as good. Our current favorite is Manduka's online yoga streaming platform, Manduka x Yogaia, that has a free 14-day trial and offers live yoga classes which you can participate in using your camera and interact with the instructor (should you wish).
Join an outdoor group
If you're anything like us, the hardest part of not being able to pay for our favorite classes or an expensive gym membership (with many of our favorite classes!) is not having the motivation that you have when you sign up for a class (and get penalized when you miss it!). By joining a running or a yoga in the park group, with minimal (if any) fees, you will feel the need to show up to scheduled meeting points. 
Look for special events
Big sportswear brands often host free workouts in their stores. Lululemon, REI, Athleta, and Reebok are just some of the brands that offer everything from yoga to running, Zumba, and circuit training. During the summer, watch out for community events (like Manhattan's Sweat Sessions) that offer free outdoor workouts taught by popular trainers in nearby parks and outdoor spaces.
Check your health insurance
I've recently discovered that my work's health insurance covers 80 percent of my gym membership if I go often enough. Before that, my insurance offered super-affordable corporate discounts at high-end gyms with great classes. I know other people whose insurance allowed for a certain amount to be refunded monthly for going to any studio of their choice. All to say, check with your HR or insurance packet to see if there are any fitness discounts.
Look for gym deals
If a gym with classes is, at the end of the day, the cheapest route for you, sign up for a membership in the summer (when no one wants to be inside) or in late-December, before the New Year's resolution-based rush in January. Usually, this is a time when there are no enrollment, contract, or administrative fees, so it's the best possible discount.